Duquesne Light Providing Community Relief by Supporting the Emergency Action Fund
$500,000 Donation will Benefit Customers in Allegheny, Beaver Counties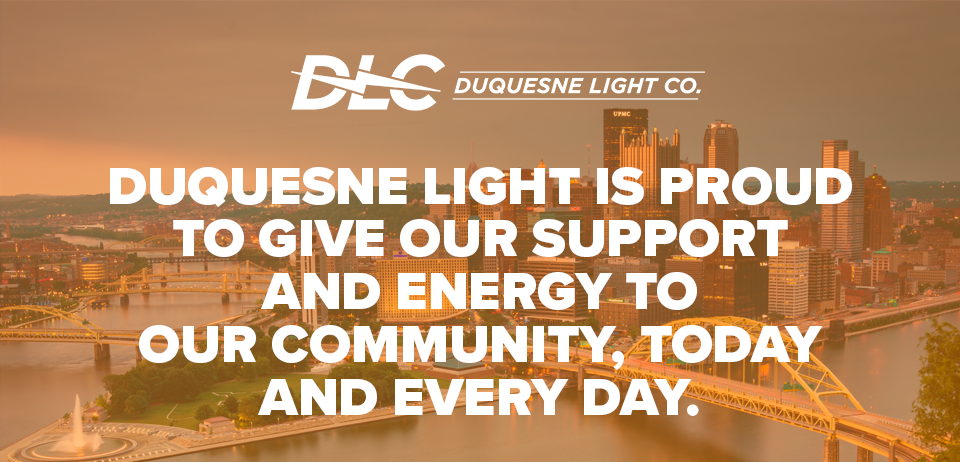 PITTSBURGH – During these unprecedented and challenging times, it is more important than ever for the community to come together to address the widespread impacts of the COVID-19 pandemic. To help in this, Duquesne Light Company (DLC) is contributing $500,000 to the Emergency Action Fund held at The Pittsburgh Foundation to provide relief and support to its customers in Allegheny and Beaver counties.
"At Duquesne Light, we are proud members of the Pittsburgh community and know that together we will overcome the unprecedented challenges ahead of us. Many of our neighbors are struggling with the significant disruption in our community and need support not only with safe and reliable power, but also with other basic needs." said Steve Malnight, President & CEO, DLC. "We are asking all area leaders and businesses to join us in supporting the Emergency Action Fund, as an effective way to help small business owners, those losing wages and our entire community in need."
A joint-effort between The Pittsburgh Foundation, Heinz Endowments, Richard King Mellon Foundation, Hillman Family Foundations and the United Way of Southwestern Pennsylvania, the Emergency Action Fund is intended to help the region's vulnerable populations recover from the COVID-19 public health challenge.
"Duquesne Light is showing what it means to be a great corporate citizen of the Pittsburgh community. I hope other firms follow in their wake and contribute to the Emergency Action Fund in this unprecedented time of need," City of Pittsburgh Mayor William Peduto said.
The Emergency Action Fund will help local organizations assisting vulnerable community members with expenses surrounding basic needs such as food, shelter, health and utilities. Additionally, it will fund organizations supporting those impacted by lost wages and childcare strains resulting from school closures.
"In the last week, heroic contributors have stepped forward from across the Pittsburgh region to further empower the fund to lessen the damage inflicted by the COVID-19 virus," said Pittsburgh Foundation President and CEO Lisa Schroeder. "A prime example is Duquesne Light's amazing contribution. In this act of generosity, the company's leaders and employees are ensuring that more assistance gets out quickly to those most in need. This underscores the business sector's long record of support for the community in times of adversity. We hope others will join Duquesne Light."
To inform fund distribution, needs are being assessed in consultation with the Allegheny County Health Department and the Department of Human Services. Funders are also reviewing the results of a community survey of 1,600 nonprofits conducted last week through the United Way of Southwestern Pennsylvania in conjunction with its 211 help-line. The fund will be held at The Pittsburgh Foundation, which is waiving all credit card and management fees on individual donations.
Others can join DLC in giving to the Emergency Action Fund on The Pittsburgh Foundation's website at www.pittsburghfoundation.org/emergencyactionfund.
Building on its community support, DLC has taken many actions under the direction of its Incident Command Team to ease the burden on its customers, protect its employees and ensure safe and reliable power is delivered to the region, including:
Easing the Burden on Customers:
Providing Safe & Reliable Power to the Community:
Increased inspections of equipment powering critical facilities, such as hospitals
Around-the-clock field operations to improve response times
Reprioritization of work, including deferral of many planned outages, to limit customer interruptions to service
Continuing work required for the safety of customers and the community
Protecting Employees:
Implemented paid time off and special leave policies for employees impacted by COVID-19 and school closures
Alternative and remote work assignments for office-based employees
Social distancing policies
Staggered field operation shifts to limit exposure between crews
Limited facility access to critical employees only
Advanced cleaning measures at company facilities
Following federal and state health guidelines for necessary customer contact
Duquesne Light will continue to provide updates related to the COVID-19 outbreak on its website at DuquesneLight.com, as well as on Facebook and Twitter as needed.
As always, customers are encouraged to reach out to DLC at 412-393-7100 to speak with a Customer Service Representative if they are in need of assistance.