Duquesne Light Assists Customers by Waiving Late Fees; Ensuring Reliability
Company Reprioritizing Work to Increase Focus on Limiting Power Interruptions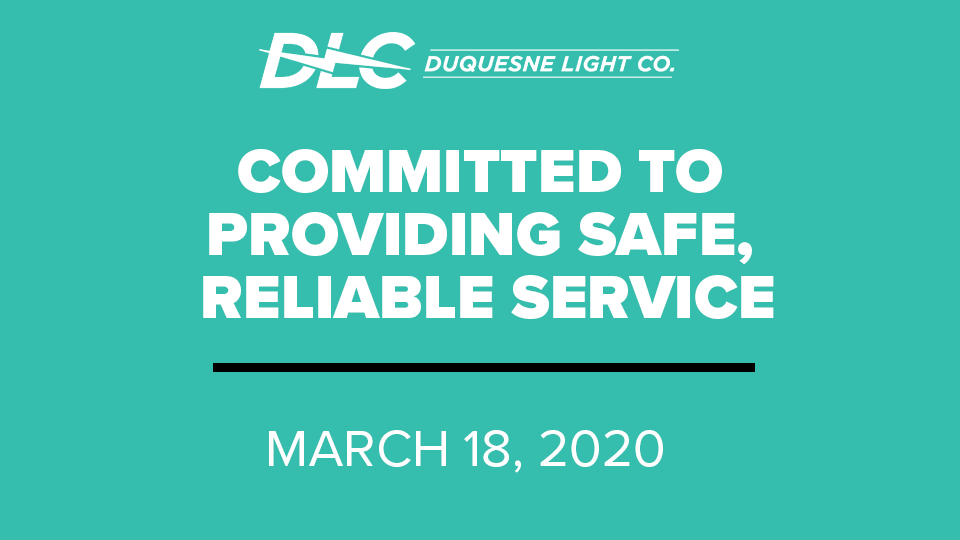 PITTSBURGH – Duquesne Light Company (DLC) is focused on assisting its customers by providing them with safe, reliable power and easing the financial burden placed on them by the ongoing COVID-19 public health challenge. As part of this commitment, DLC is waiving all late fees from now until at least May 1, 2020.
This follows an earlier announcement to discontinue shutoff activities for all customers until at least May 1, 2020. Both initiatives are designed to assist Duquesne Light customers in their greatest time of need.
"Now more than ever before, our customers are relying on us to power their homes and businesses. This is a moment when we can show up for them and offer assistance when they need it most," said Dave Johnson, Chief Customer Officer, DLC. "We have every employee and resource at DLC dedicated to providing our customers with excellent service, including safe and reliable power."
Additionally, DLC is reprioritizing its work, including many planned outages, to minimize power interruptions and ensure employees can focus on the immediate reliability of the critical service DLC provides to residential, commercial and industrial customers. The company also is implementing additional inspections of the equipment powering hospitals and other entities providing critical services to the community to ensure high reliability. All work required for the safety of DLC customers and the community will continue.
Over the last 10 years, DLC has invested approximately $2 billion into the region's electric infrastructure, poising it to maintain safety and reliability in any challenging circumstance, such as the current public health situation facing the region.
Since Feb. 26, DLC's Incident Command Team has been working around the clock in partnership with local government and health officials to prepare for the challenges facing the company and region. At the team's direction, DLC has taken many steps to protect its employees and customers, including remote work assignments for office-based employees, domestic and international travel restrictions for all employees, increased sanitation of critical work facilities and collaborating with contractors and suppliers on COVID-19 prevention policies.
DLC employees needing to visit customers' homes will follow state and national guidelines to prevent the transmission of COVID-19. Upon their arrival to a residence, they may ask questions, such as, "Is anyone in this house ill?" Whenever possible, the company is asking all customers who have an appointment with DLC to proactively reach out to inform the company if anyone inside of the home is sick or quarantined by calling 412-393-7100.
DLC will continue providing updates related to its COVID-19 response on its website at DuquesneLight.com, as well as on Facebook and Twitter as needed.
As always, customers are encouraged to reach out to DLC at 412-393-7100 to speak with a Customer Service Representative if they are in need of assistance.