Duquesne Light Eases Customer Burdens by Discontinuing Shutoff Activities
DLC Taking Measures to Keep Workforce Healthy and Maintain Reliability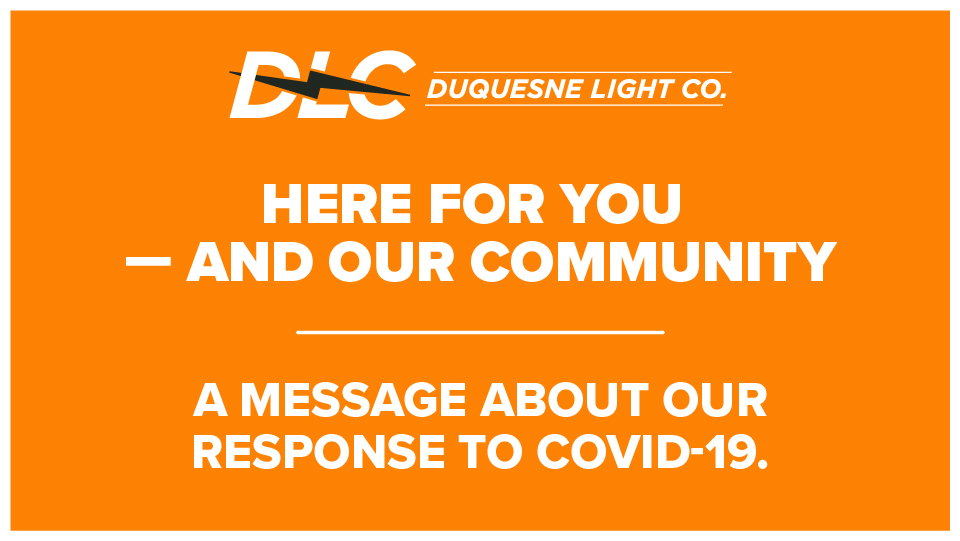 PITTSBURGH – Understanding the burden the COVID-19 public health crisis outbreak is placing on its customers, Duquesne Light Company (DLC) is taking voluntary, proactive measures to protect its employees and customers, including a discontinuation of all shutoff activities.
Above all else, Duquesne Light values the health and safety of its employees and customers. As such, the company has a task force working around the clock in response to the coronavirus (COVID-19) outbreak. Alongside the CDC, Allegheny Health Department and other local officials, Duquesne Light is taking the necessary steps to keep its employees healthy so it can continue to provide the region with safe, reliable power.
Electricity is always critical, but it is especially critical in a time like this. Not only does Duquesne Light power homes and businesses, but also it powers hospitals, research labs and emergency facilities.
In an effort to keep its customers safe, Duquesne Light is discontinuing all shutoff activities through at least May 1, 2020. ​ The company will continue to evaluate additional measures to ensure we address customer needs as the situation evolves including working with community partners to assist customers once shutoff activities resume.
"We understand it's a trying time for customers and are doing everything in our power to ease the burden of this public health crisis," said David Johnson, Chief Customer Officer, Duquesne Light Company. "By canceling all shutoff activities, our customers can rest assured power will continue to flow to their homes."
In addition to protecting customers, Duquesne Light is taking a number of measures to ensure its workforce remains healthy and available to deliver electricity to its more than 600,000 customers in Allegheny and Beaver counties. These include activities such as increased sanitation, social distancing, remote work and travel restrictions.
Duquesne Light will continue to provide updates related to the outbreak on its website at DuquesneLight.com, as well as Facebook and Twitter as needed.
As always, customers are encouraged to reach out to Duquesne Light at 412-393-7100 to speak with a Customer Service Representative if they are in need of assistance.