North Side 10-Year-Old and His Mentor Flipped the Switch on Iconic 'Tree of Lights'
Big Brothers Big Sisters 'Big' & 'Little' Helped DLC Kick-Off the Holiday Season in Pittsburgh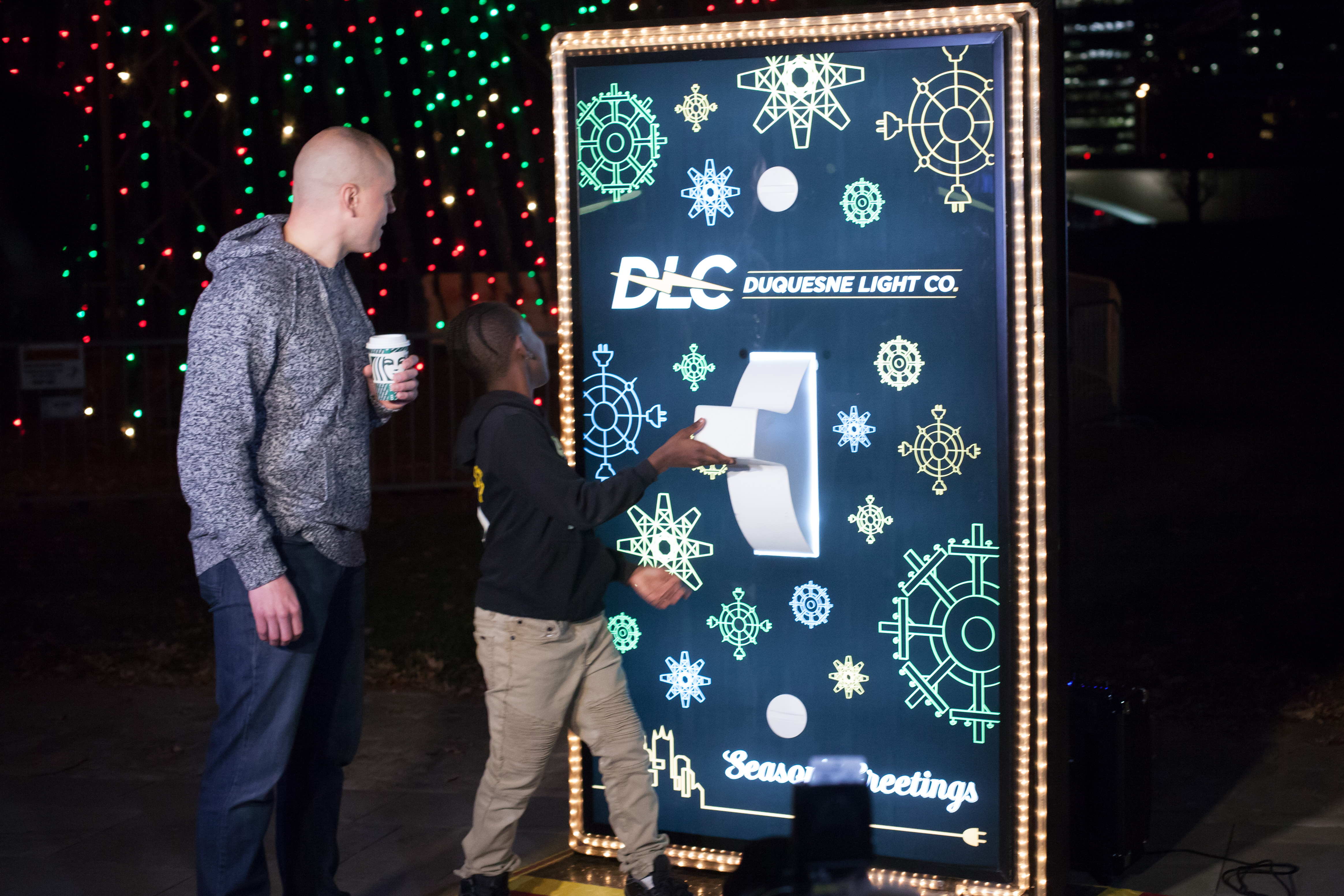 With a giant smile and built-up excitement, Jamari, a 10-year-old from the North Side, patiently waited for the crowd to count down so he could light Pittsburgh's first holiday tree of the season.
5...4...3...2...1 – Jamari flipped the switch, bringing color to the 6,300 bulbs on Duquesne Light's 80-foot 'Tree of Lights' in Point State Park on Thursday, Nov. 21. Jamari was joined by Jared, his 'big' through Big Brothers Big Sisters (BBBS) of Greater Pittsburgh, and his family—his twin sister, little sister and his mom.
"We are so grateful to Duquesne Light for giving our family and big brother this opportunity and for all the wonderful things they do for the city," said Big Brothers Big Sisters CEO Jan Glick. "Last year, we served 1,515 children and so this is a great opportunity for one of our matches to welcome the holiday season."
BBBS helps children realize their potential by matching local children with an adult mentor, who makes a direct and lasting impact on the child. With a variety of mentorship programs, there are many ways to get involved with BBBS of Greater Pittsburgh.
Recognizing the 'Tree of Lights' as a great symbol of community in Pittsburgh, Duquesne Light President & CEO Steve Malnight took time to speak about the company's long-standing commitment to giving back in this region.
"For the last 135 years, Duquesne Light has been a proud member of this community, and we work hard every day to support it both in the work we do, and also importantly in charitable giving and participation," said Malnight at the tree lighting ceremony. "This year alone, we've given over $1.6 million to causes and organizations that make a difference in our community and we volunteered over 3,000 hours of time to help contribute to vital organizations, just like Big Brothers Big Sisters."
At the end of the ceremony, Malnight brought attention to Dollar Energy Fund (DEF), another important community organization. ​ DEF provides utility assistance to our neighbors most in need so they can stay warm throughout the winter.
You can join Duquesne Light in giving to DEF either on our website or on your paper electric bill. The company proudly matches every customer and employee donation to DEF and has donated over $400,000 to the organization over the last year. Learn how you can keep your neighbors warm this winter and make this big impact even larger: