Keep Your Neighbors Warm this Winter
#PowerItForward with Duquesne Light by Supporting Dollar Energy Fund

Choosing between a warm home in the coldest months and putting food on the table is a decision you never want to face—yet many of your neighbors do. They dress in layers and cover themselves in blankets, as they turn down the thermostat to brave the cold air. Together, we can help our neighbors most in need by supporting Dollar Energy Fund.
Dollar Energy Fund provides utility assistance to those experiencing hardships, so they can keep their home warm during the winter and not have to choose between heat and other necessities, like food or medicine.
You can 'Power It Forward' with Duquesne Light by giving to Dollar Energy Fund through our website or by checking the box on the bottom of your paper bill. Duquesne Light proudly matches every customer and employee donation to Dollar Energy Fund.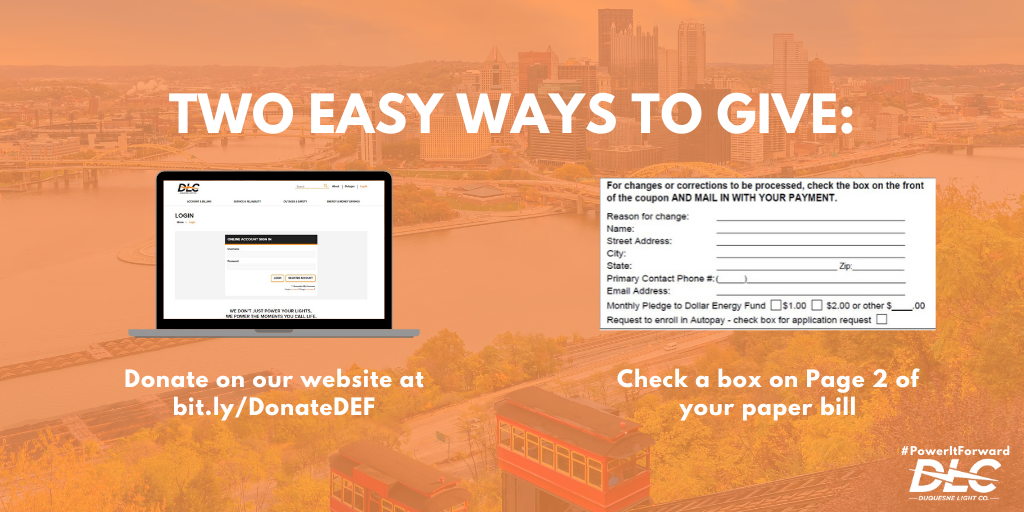 Over the last year, the company has given more than $400,000 to Dollar Energy Fund to provide utility assistance to our neighbors. By joining us in giving, you can make this big impact even larger.
"Whether it's giving to Dollar Energy Fund, or supporting another cause, remember to help your neighbors in need this giving season," said Duquesne Light's President & CEO, Steve Malnight. "Together, we can all power our surrounding communities forward."
We encourage you to #PowerItForward with us so all of our neighbors can enjoy the holiday season in warmth this year! To learn more about Dollar Energy Fund and their important mission, please visit: DollarEnergyFund.org.