#HelpersPGH: Pittsburgh 'Helpers' Pull Together
5 Things Pittsburghers Are Doing to Help Our Neighbors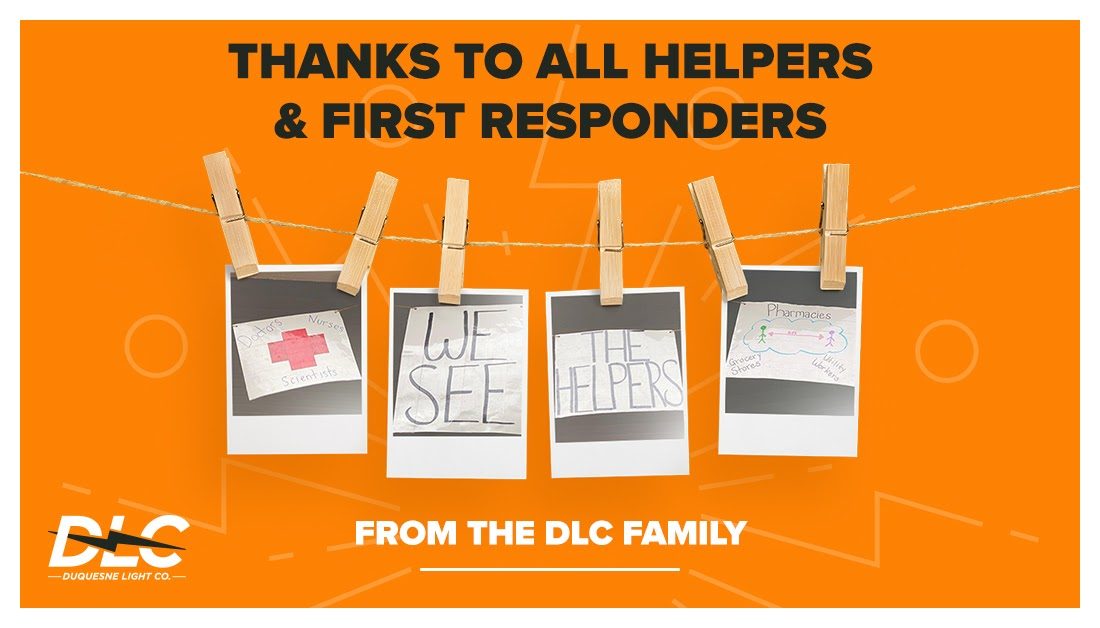 It's no surprise Pittsburghers are pulling together to support one another in this time of great need. After all, this city is Mister Rogers' Neighborhood, where every day is beautiful. It's what we do here in Pittsburgh – care for one another. In the last few weeks, we have seen so many acts of kindness and love, so we're sharing some of our favorites with you in hopes you'll share your favorites with us. Here are just five of the MANY positive stories we've seen:
1. Greater Pittsburgh Community Food Bank Distributes Over One Million Pounds of Food
As of last week, the Greater Pittsburgh Community Food Bank has now distributed over one million pounds of food through 21 total drive-up distributions since its pandemic response began.
Duquesne Light employees recently raised over $60,000 for the Food Bank, including a company match of $20,000. This week, DLC employee volunteers will distribute meals to over 500 families in Allegheny and Beaver counties.
---
2. 412 Food Rescue Launches 'Community Takeout' Program
Inspired by Dr. Mark Baratz's Double Play initiative, 412 Food Rescue recently launched the Community Takeout program. Through the program, local restaurants are paid to produce food that is then delivered to neighbors in need. Learn more and donate here.
---
3. Chatham University Donates Harvested Trout to 412 Food Rescue
Chatham University's Eden Hall donated its aquaculture lab's trout harvest to 412 Food Rescue, where it was prepped into meals for local residents in need of food. Normally, the college uses the fish for student meals and projects, but given the changes to this year's student operations, the fish were used to meet a major community need.
---
4. Pittsburgh Police Partner with Global Links to Launch 'Need A Mask, Take A Mask' Initiative
Global Links donated over 10,000 masks to the Pittsburgh Police in order to launch the 'Need a Mask, Take a Mask' initiative. The program helps local residents obtain free face masks from newspaper boxes donated by Pittsburgh Post-Gazette and TribLive.
---
5. Scratch Food & Beverage Transforms Restaurant into a Market to Help Neighbors in Need
During this time, Scratch Food & Beverage, a Troy Hill restaurant, transformed into a market to help community members access the food and essential supplies they need. Its employees are also delivering food to several local schools and organizations. The restaurant's owner, Don Mahaney, is running steps as a way to encourage those who are able to donate to his restaurant's inspiring efforts.
---
Whether it's quick or time-consuming, free or costly, every act of kindness speaks volumes of this community and helps our neighbors in need. As the challenging days continue, let's join closer together, even while physically apart. We're inspired by the strength and generosity of each and every one of you.
Like you, Duquesne Light and our 1,600 employees are committed to assisting our neighbors in need. On March 19, we contributed $500,000 to the Pittsburgh Emergency Action Fund to support area nonprofits serving our customers in Allegheny and Beaver counties. Nonprofit organizations can apply and find guidelines for those funds here. Additionally, we contributed $375,000 to the Dollar Energy Fund on April 3 to assist our customers in need of support paying their electric bill. Customers may check their eligibility and apply for the fund by reaching out to one of Dollar Energy Fund's partner agencies here. To learn more about the support we're offering, please visit www.DuquesneLight.com/HereForYou.
If you see a helper, share it with us on social media using #HelpersPGH. We want to read your story and help spread positive light in this community.