#HelpersPGH: Pittsburgh 'Helpers' Pull Together
5 Things Pittsburghers Are Doing to Help Our Neighbors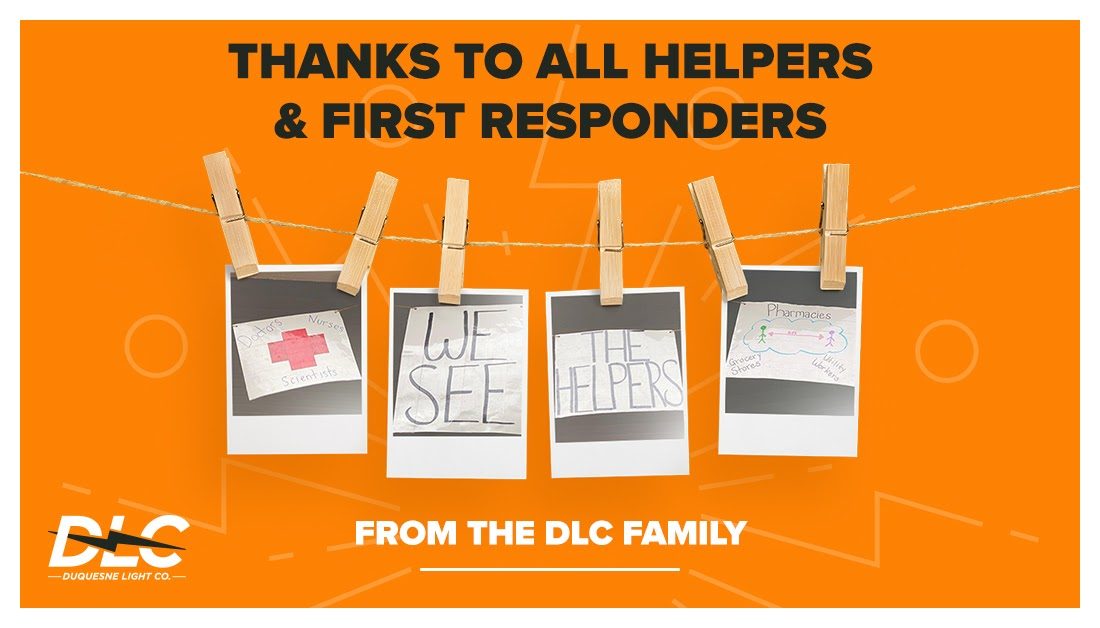 It's no surprise Pittsburghers are pulling together to support one another in this time of great need. After all, this city is Mister Rogers' Neighborhood, where every day is beautiful. It's what we do here in Pittsburgh – care for one another. In the last few weeks, we have seen so many acts of kindness and love, so we're sharing some of our favorites with you in hopes you'll share your favorites with us. Here are just five of the MANY positive stories we've seen:
1. Pittsburgh Penguins Foundation Encourages Support of Dollar Energy Fund
During last week's #GivingTuesdayNow campaign, the Pittsburgh Penguins Foundation encouraged their followers to support Dollar Energy Fund in an effort to bring utility payment assistance to those facing financial hardships.
On Giving Tuesday, ​ Duquesne Light also encouraged support of Dollar Energy Fund. Last month, DLC contributed $375,000 to the Hardship Fund at Dollar Energy Fund and expanded the fund's income eligibility to support its customers in need. Customers can learn more about the payment assistance options available to them here.
---
2. Women's Center & Shelter of Greater Pittsburgh Launches New Efforts
As residents continue to spend more time at home, the Women's Center & Shelter of Greater Pittsburgh is working hard to make sure those who may be experiencing domestic violence are aware help is available and know how they can reach out for assistance. This includes a new 24-hour online chat and text hotline, a partnership with Giant Eagle, and other recently-launched efforts.
---
3. ​ Wesley Family Services Supports Local Senior Citizens with 'In Service to Seniors' Volunteer Program
'In Service of Seniors' is a volunteer program run by Wesley Family Services, which aims to,"maximize the independence of older adults in the Pittsburgh area through volunteer-based practical supports." During this time, volunteers are connecting with seniors in Allegheny County over the age of 60 and delivering food to their homes at no charge to them. If you're interested in volunteering or making a financial contribution to this program, please visit here.
---
4. Mansmann Foundation Offers Local Small Business Owners Expanded Peer-to-Peer Support
During this challenging time, several local small business owners are finding support from the Entrepreneurs Forever program, a peer-to-peer support group facilitated by the Mansmann Foundation which helps small business owners collaborate and seek guidance from others.
---
5. The International Free Expression Project and Greater Pittsburgh Arts Council Support Local Artists
While the International Free Expression Project and Greater Pittsburgh Arts Council are providing direct financial support to local artists impacted by the ongoing pandemic, they're asking Pittsburghers to display artwork in their windows and outside their homes to lift spirits and bring attention to local artists. Learn more about and support the Greater Pittsburgh Arts Council's Emergency Fund for Artists here.
---
Whether it's quick or time-consuming, free or costly, every act of kindness speaks volumes of this community and helps our neighbors in need. As the challenging days continue, let's join closer together, even while physically apart. We're inspired by the strength and generosity of each and every one of you.
Like you, Duquesne Light and our 1,600 employees are committed to assisting our neighbors in need. On March 19, we contributed $500,000 to the Pittsburgh Emergency Action Fund to support area nonprofits serving our customers in Allegheny and Beaver counties. Nonprofit organizations can apply and find guidelines for those funds here. Additionally, we contributed $375,000 to the Dollar Energy Fund on April 3 to assist our customers in need of support paying their electric bill. Customers may check their eligibility and apply for the fund by reaching out to one of Dollar Energy Fund's partner agencies here. To learn more about the support we're offering, please visit www.DuquesneLight.com/HereForYou.
If you see a helper, share it with us on social media using #HelpersPGH. We want to read your story and help spread positive light in this community.