#HelpersPGH: Pittsburgh 'Helpers' Pull Together
5 Things Pittsburghers Are Doing to Help Our Neighbors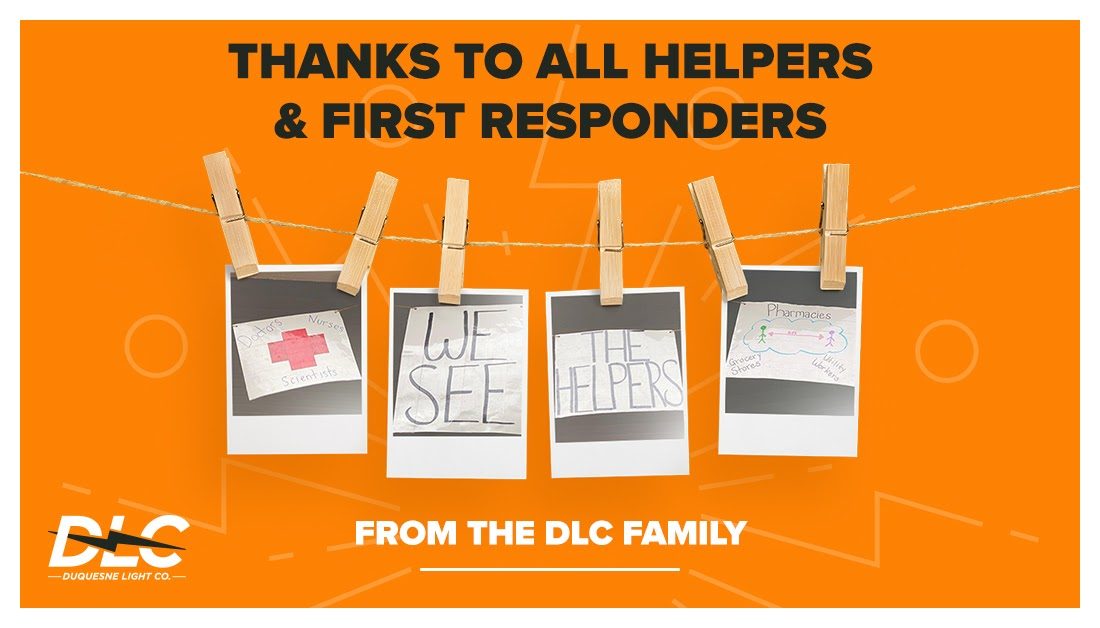 It's no surprise Pittsburghers are pulling together to support one another in this time of great need. After all, this city is Mister Rogers' Neighborhood, where every day is beautiful. It's what we do here in Pittsburgh – care for one another. In the last few weeks, we have seen so many acts of kindness and love, so we're sharing some of our favorites with you in hopes you'll share your favorites with us. Here are just five of the MANY positive stories we've seen:
1. Emergency Food Distribution Held at PPG Paints Arena by Greater Pittsburgh Community Food Bank
On Friday, April 10, the Greater Pittsburgh Community Food Bank held an emergency food distribution at PPG Paints Arena, where they distributed more than 65,000 pounds of food to 1,300 cars. The food bank also held a distribution on Monday, April 13 from noon to 3 p.m. at its headquarters in Duquesne and will have another on Tuesday, April 14 at Alemeda Park in Butler County. More information can be found here.
Over the last two weeks, Duquesne Light's employees have raised nearly $23,0000 for the Greater Pittsburgh Community Food Bank. The company is matching employee contributions to strengthen the positive impact of our employees.
---
2. Boys & Girls Clubs of Western PA Distributed Cleaning Supplies and Easter Treats to Families in Need
The Boys & Girls Clubs of Western PA delivered more than 100 hygiene buckets to local families in need after a survey indicated a need for cleaning supplies. In partnership with Lowes, Quantum Spirits, Heyward House, and other local organizations, the Boys & Girls Club provided buckets including materials such as hand sanitizer, spray cleaner and paper towels to local families. Each bucket also included a chocolate egg, courtesy of Sarris Candies.
---
3. Carnegie Science Center Presents Three Things: 'Something to Read, Something to Watch, Something to Do'
Even though the Carnegie Science Center is closed temporarily due to the COVID-19 pandemic, they are keeping local children engaged in activities by presenting, 'Something to Read, Something to Watch, and Something to Do' every day on its social media pages. The 'Something to Do' activities are sponsored by Duquesne Light. Learn more about these educational activities here.
---
4. Pittsburgh Tech Community Supporting 'Beyond the Laptops' Initiative
The Pittsburgh tech community is coming together with nonprofit organizations to help provide local students with refurbished laptops so they can engage with online learning. A recent survey found that over 7,000 Pittsburgh Public School Students are in need of a laptop. Several organizations, including Aurora Innovation, Pittsburgh Tech Council and Neighborhood Allies are coming together to help fill this need. Individuals can contribute to this 'Beyond the Laptops' initiative by giving here.
---
5. City of Pittsburgh Partners with Penguins, Steelers & UPMC to Launch 'Help the Helpers' Campaign
The City of Pittsburgh joined together with the Pittsburgh Penguins, Steelers and UPMC to launch 'Help the Helpers.' The campaign encourages community members to show their support for frontline workers at their homes and on social media using #HelpTheHelpers.
---
Whether it's quick or time-consuming, free or costly, every act of kindness speaks volumes of this community and helps our neighbors in need. As the challenging days continue, let's join closer together, even while physically apart. We're inspired by the strength and generosity of each and every one of you.
Like you, Duquesne Light and our 1,600 employees are committed to assisting our neighbors in need. On March 19, we contributed $500,000 to the Pittsburgh Emergency Action Fund to support area nonprofits serving our customers in Allegheny and Beaver counties. Nonprofit organizations can apply and find guidelines for those funds here. Additionally, we contributed $375,000 to the Dollar Energy Fund on April 3 to assist our customers in need of support paying their electric bill. Customers may check their eligibility and apply for the fund by reaching out to one of Dollar Energy Fund's partner agencies here. To learn more about the support we're offering, please visit www.DuquesneLight.com/HereForYou.
If you see a helper, share it with us on social media using #HelpersPGH. We want to read your story and help spread positive light in this community.