#HelpersPGH: Pittsburgh 'Helpers' Pull Together
5 Things Pittsburghers Are Doing to Help Our Neighbors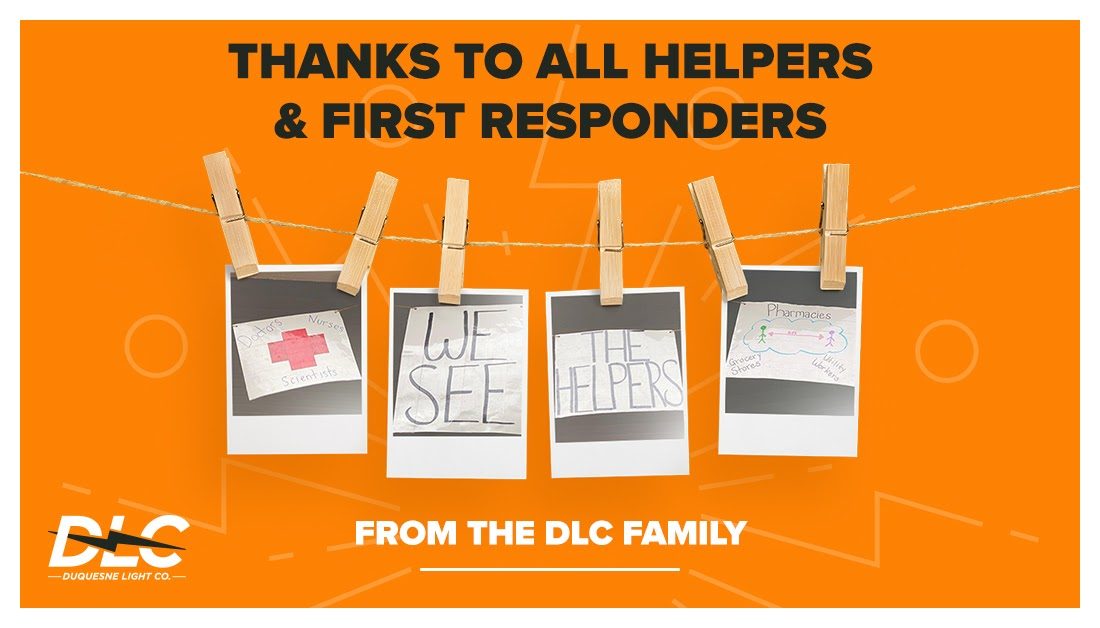 It's no surprise Pittsburghers are pulling together to support one another in this time of great need. After all, this city is Mister Rogers' Neighborhood, where every day is beautiful. It's what we do here in Pittsburgh – care for one another. In the last few weeks, we have seen so many acts of kindness and love, so we're sharing some of our favorites with you in hopes you'll share your favorites with us. Here are just five of the MANY positive stories we've seen:
1. City of Pittsburgh Recognizes Frontline Workers
City of Pittsburgh officials are demonstrating the community's appreciation for frontline workers by naming all of them the March Employee of the Month, usually reserved for just one city employee. Additionally, the City-County building was illuminated in recognition of the Pittsburgh Police, Firefighters, EMS, and healthcare workers.
---
2. New Sun Rising Launches Relief Fund for Small Businesses & Nonprofits in Need
New Sun Rising is now offering $1,000 - $5,000 to small businesses and nonprofits who demonstrate critical economic needs as a result of unemployment or underemployment due to the COVID-19 crisis. The Hillman Foundation donated $100,000 of initial support to seed the Crisis Mitigation Relief Fund. The next deadline for applications is April 17 and the guidelines can be found here.
---
3. Pittsburgh Public Theater Hosting Virtual PlayTime
Even though the physical theater is closed, Pittsburgh Public Theater is hosting virtual PlayTime every Thursday and Friday at 7 p.m. to bring entertainment to our homes. As described by the theater, "PlayTime is a new online reading series, hosted live by Artistic Director Marya Sea Kaminski, that will bring great classic plays and the work of extraordinary Pittsburgh writers right to your living room, computer, or device." While the series is free of charge, the theater is accepting donations. Learn more here.
---
4. Rep. Sara Innamorato Hosts Virtual Phone Bank
Serving a part of Pittsburgh and the surrounding communities, Rep. Sara Innamorato hosted a virtual phone bank for her constituents. With the help of supporters, she called neighbors to connect them with needed community resources for assistance. In addition, ​ Rep. Innamorato also is working to begin mutual aid networks in our communities to assist our neighbors in need.
---
5. Green Building Alliance Celebrates Spring with #SpotIt Series
With Spring officially in the air, Green Building Alliance is encouraging community members to share their photos of the season using #SpotIt on social media for a chance to be featured on their website.
---
Whether it's quick or time-consuming, free or costly, every act of kindness speaks volumes of this community and helps our neighbors in need. As the challenging days continue, let's join closer together, even while physically apart. We're inspired by the strength and generosity of each and every one of you.
Like you, Duquesne Light and our 1,600 employees are committed to assisting our neighbors in need. On March 19, we contributed $500,000 to the Pittsburgh Emergency Action Fund to support area nonprofits serving our customers in Allegheny and Beaver counties. Nonprofit organizations can apply and find guidelines for those funds here. Additionally, we contributed $375,000 to the Dollar Energy Fund on April 3 to assist our customers in need of support paying their electric bill. Customers may check their eligibility and apply for the fund by reaching out to one of Dollar Energy Fund's partner agencies here. To learn more about the support we're offering, please visit www.DuquesneLight.com/HereForYou.
If you see a helper, share it with us on social media using #HelpersPGH. We want to read your story and help spread positive light in this community.