Duquesne Light Company Receives Federal Funding From U.S. Department of Energy for Grid Modernization Projects
Company receives $19.7 million to increase system capacity, unlock more clean energy sources and enable a clean energy future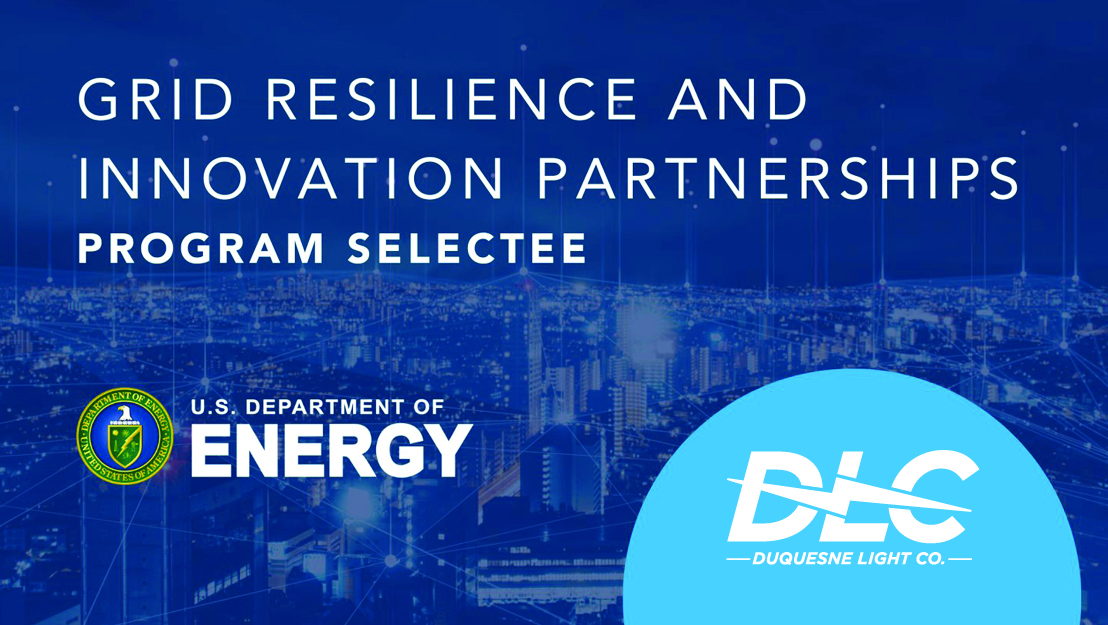 PITTSBURGH — Duquesne Light Company's (DLC) Grid Visibility Program is among 58 projects across 44 states to receive funding from the U.S. Department of Energy (DOE) to enhance the power grid's ability to deliver affordable, clean energy to customers across the country. DLC has been awarded a grant for $19.7 million — and will contribute nearly $21 million in addition — to invest in grid modernization projects over the next five years in Allegheny and Beaver counties. This funding is in addition to the DOE's Clean Energy to Communities grant that DLC recently received alongside Green Building Alliance and the city of Pittsburgh to further invest in the region's clean energy transition in ways that benefit the environment and local economy.
DLC's Grid Visibility Program aims to build a more resilient and equitable grid by decreasing environmental impact, mitigating the rising cost of energy and reducing the frequency and duration of power outages. To accomplish this, DLC will implement grid-enhancing technologies, including grid edge computing, to advance decarbonization efforts and evolve the grid in ways that will protect the power system from increasingly severe weather and climate change, while also maintaining affordable, reliable and safe energy for our customers and communities.
"This federal funding will allow DLC to accelerate investments in Pittsburgh's clean energy future, particularly in disadvantaged and underserved communities," said Kevin Walker, president and CEO of DLC. "It will also enable us to improve reliability and resiliency by implementing grid-enhancing technologies at a faster rate and on a more holistic scale, which are critical to our efforts to meet our customers' evolving energy needs and protect our infrastructure from the increasing effects of climate change."
"Extreme weather events fueled by climate change will continue to strain the nation's aging transmission systems, but President Biden's Investing in America agenda will ensure America's power grid can provide reliable, affordable power," added U.S Secretary of Energy Jennifer M. Granholm. "Today's announcement represents the largest-ever direct investment in critical grid infrastructure, supporting projects that will harden systems, improve energy reliability and affordability — all while generating union jobs for highly skilled workers."
A number of local elected officials also commended the funding, stating the importance of strengthening the grid, supporting well-paying union jobs and protecting our environment.
"Right now, thanks to the federal Bipartisan Infrastructure Law, we have a historic opportunity to do big things in Pennsylvania and complete major infrastructure projects that will connect our communities, grow our economy and create new opportunities for generations to come," said Lt. Gov. Austin Davis. "As a native of southwestern Pennsylvania, I was proud to advocate for this investment, which will help keep Duquesne Light Company customers' energy bills down and create well-paying, family-sustaining jobs."
"This is great news that Duquesne Light Company is receiving Bipartisan Infrastructure Law funding to help strengthen our electric grid, support solid union jobs and deploy more renewable energy in western Pennsylvania," said Rep. Chris Deluzio. "I am proud to have supported their application for this grant, and I will always fight to bring home more funding to the people of western Pennsylvania."
"I'm so proud to deliver this big win for our region," added Rep. Summer Lee. "The $19.7 million going to Duquesne Light Company is going to make our electric grid stronger and more reliable and, on top of that, it's great news for everyone's electric bills and the environment as well. This initiative, standing in solidarity with Pittsburgh's Climate Action Plan, is a testament to our relentless pursuit of environmental accountability, economic innovation and strong union jobs. This money is a step toward making sure we're ready for whatever weather comes our way. We're not just fixing today's problems; we're making a better future for all of us in Pennsylvania. Big changes start with steps like this, and every step counts. This is more than an investment in electricity — it's an investment in our future, and it starts right here, right now."
"I am delighted to hear that Duquesne Light Company has been awarded this IIJA grant," said PA State Rep. Nick Pisciottano. "Their tireless work to improve western Pennsylvania's electric grid and support families with good union jobs has led to this recognition, and I am excited to see them deploy more renewable energy in our region. This is just the start, and it's exciting to see funds from the Bipartisan Infrastructure Law put to work on the ground here."
The funds are part of the Grid Resilience and Innovation Partnerships (GRIP) Program, which seeks to enhance grid flexibility and improve the resilience of the power system against the growing threats of extreme weather and climate change. Funded through the Bipartisan Infrastructure Law and administered by the DOE's Grid Deployment Office, the GRIP program leverages federal and private investments to ensure that communities across the nation have a reliable grid that's prepared for extreme weather; delivers affordable, clean energy; and creates robust opportunities for local economic investment and jobs.
To learn more, visit the Grid Deployment Office's website.
​