Green Building Alliance, Duquesne Light Company, City of Pittsburgh Awarded Clean Energy to Communities Grant
Grant will enable technical assessment of region's grid, capacity and infrastructure — a critical step for the equitable integration of clean energy technologies and resources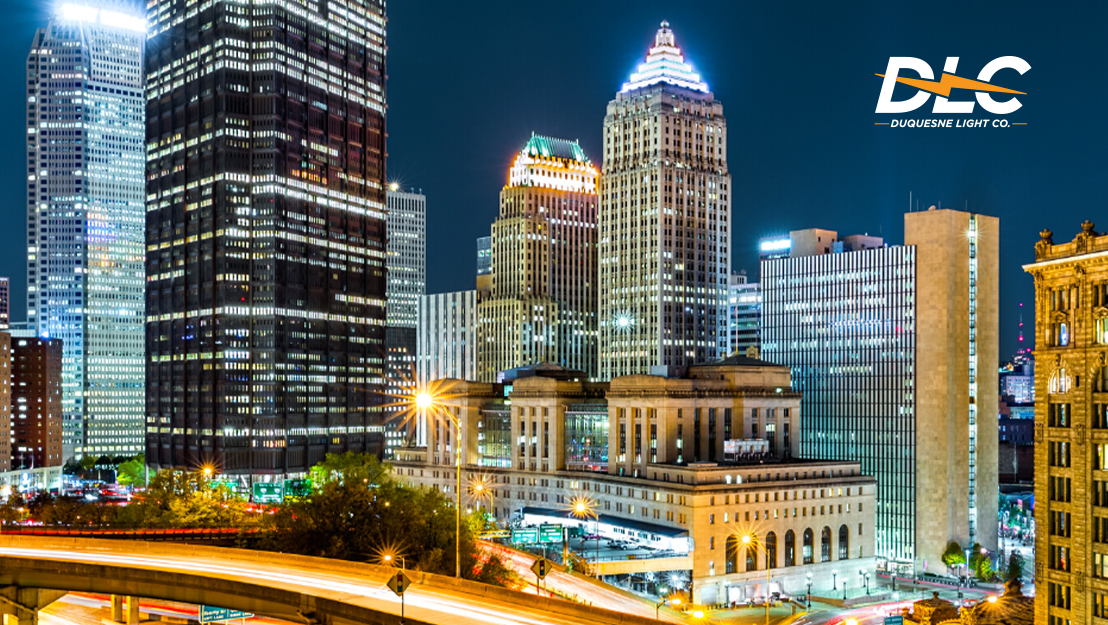 PITTSBURGH — The Department of Energy (DOE) has awarded Green Building Alliance, Duquesne Light Company (DLC) and the City of Pittsburgh Department of City Planning a $4 million Clean Energy to Communities (C2C) grant to develop tailored strategies that will prepare DLC's energy grid — which includes the majority of Allegheny and Beaver counties — to support the region's clean energy transition.
Clean energy technology is changing how traditional energy infrastructure interacts with the grid. The C2C grant will enable DLC to leverage the data analysis expertise of the National Renewable Energy Lab (NREL) to understand current and future impacts to the grid as a result of these changes.
The analysis is a critical step in understanding the capabilities of the region's existing grid and determining where investment in critical infrastructure is needed as technology advances; demand for energy grows; and more people invest in solar, electric vehicles, smart thermostats, heat pumps and more. This analysis will lay the groundwork for ensuring that the right infrastructure and technologies are in place to modernize the grid, ensure continued service reliability and promote increased resilience.
The analysis conducted by NREL will provide DLC with the information needed to plan for and support the equitable adoption of distributed energy resources such as customer-owned solar and battery storage, as well as beneficial electrification. The information will also assist in the prioritization of infrastructure improvements by identifying which communities would benefit from non-wire solutions such as battery energy storage systems and energy efficiency programs.
"Our goal with the data analysis from NREL is to inform system planning in a way that supports equitable adoption of clean energy resources. It will show how we can best serve customers who are interested in clean energy technology, such as solar, electric vehicles, smart thermostats, electric heating and more, while continuing to provide reliable and safe electric service," said Elizabeth Cook, DLC's director of advanced grid systems. "We're eager to work with Green Building Alliance and the Department of City Planning to educate communities on the importance and impact of the evolving energy economy. We want customers to feel empowered and understand how they and their communities can benefit from clean energy solutions."
As part of the project, Green Building Alliance and the City of Pittsburgh Department of City Planning will engage the community in interactive clean energy planning and listening sessions using the data within the NREL analysis.
Goals of these sessions will be to gather information on the location and capacity of neighborhood buildings that are high priority for energy service when there is a threat of outages. These may include neighborhood heating and cooling centers where residents gather during times of extreme heat or cold; senior centers; fire, police and EMS stations; and locations where people might gather during extreme weather incidents such as flooding or storms. Sessions will also equip individuals and community groups with information on clean energy systems and technologies, as well as guidance on applying for clean energy planning and implementation grants available to community nonprofits.
"Migrating to community-scale clean energy is a complex, long-term process that requires not only data, but also the input, collaboration and expertise of a diverse set of stakeholders," says Jenna Cramer, CEO, Green Building Alliance. "In-depth planning is critical to its success. This grant enables the advance work and analysis needed so that when funds to implement clean energy solutions are released, we have the information to direct those funds in a way that will have the greatest impact on the community."
About Green Building Alliance: ​ ​ ​ ​ ​ ​ ​ ​ ​ ​ ​ ​ ​ ​ ​ ​ ​ ​ ​ ​ ​ ​ ​ ​ ​ ​ ​ ​ ​ ​ ​ ​ ​ ​ ​ ​ ​ ​ ​ ​ ​ ​ ​ ​ ​ ​ ​ ​ ​ ​ ​ ​ ​ ​ ​ ​ ​ ​ ​ ​ ​ ​ ​ ​
Green Building Alliance (GBA) positively transforms the world through the built environment to create a sustainable, healthy, and just future for everyone. As Western Pennsylvania's authority on sustainable design, GBA drives the market for healthy communities while equipping designers, manufacturers, developers, and policymakers to catalyze systemic change. GBA manages the largest 2030 District in North America (the Pittsburgh 2030 District), and in 2019, established Greater Pittsburgh as the 2nd International Center of Excellence on High Performance Building in the world. GBA partners across Western Pennsylvania, with strategic alliances including the 2030 District Network, United Nations, U.S. Green Building Council, and International Living Future Institute.