5 Things You Should Know About the COVID-19 Response in Pittsburgh Today
Quick Updates to Help Keep You Informed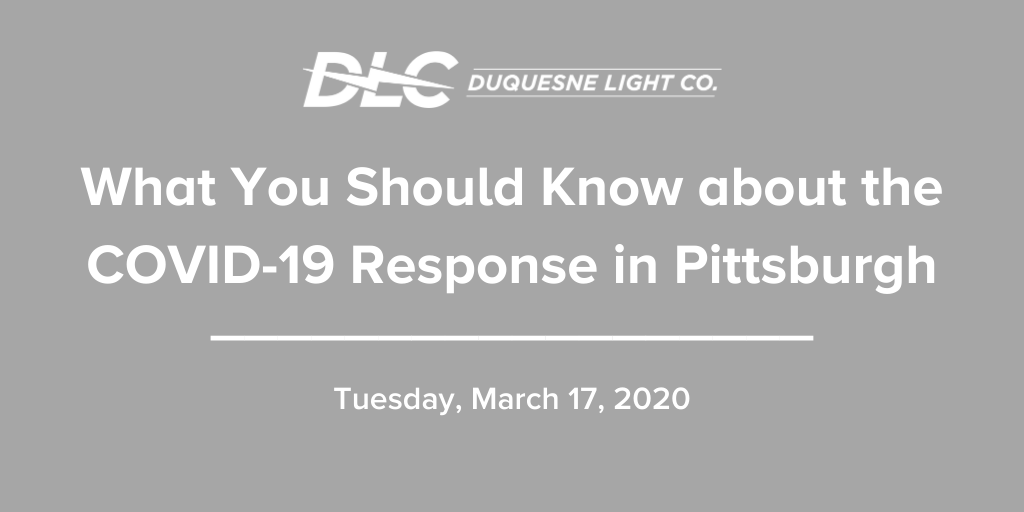 The following is best viewed from Google Chrome or Safari browsers.
1. First COVID-19 Case Announced in Beaver County
The first case of COVID-19 was announced in Beaver County on Monday, March 16 by the Beaver County commissioners. The Aliquippa School District Superintendent posted a letter stating there's indication the affected individual is part of the Aliquippa School District community.
---
2. Allegheny County Announces Four Additional COVID-19 Cases Bringing County Total to 10
The Allegheny County Health Department announced on Tuesday, March 17, there are now four additional COVID-19 cases in Allegheny County. Three of these cases are presumptive positive cases, while one is a confirmed positive case. This brings the total number of COVID-19 cases in Allegheny County to 10. The department will continue to announce positive cases as they are confirmed.
---
3. Universities and Nonessential Businesses Continue to Close Physical Locations
Following Governor Wolf's call on nonessential businesses across the state to close for at least two weeks many are closing their doors, including all of the Wine and Spirits stores across the state. Many colleges and universities also are closing their campuses and moving to online-only classes for the remainder of the spring semester.
---
4. Port Authority of Allegheny County Continues Critical Service; Offers Reimbursements
Though Port Authority of Allegheny County is continuing its operations, it's offering reimbursements to riders who already purchased bus passes, but are staying at home due to COVID-19. Port Authority will continue its operations with a plan to disinfect its buses and rail cars every 24 hours.
---
5. Allegheny County Health Department Asks for All Non-emergent Dental Services to be Placed on Hold
The Allegheny County Health Department Director is asking for all non-emergent dental services and procedures to be placed on hold to limit exposure to COVID-19. This request follows a recommendation from the American Dental Association.
---
To help prevent the spread of COVID-19, please remember to practice good hygiene, such as regularly washing your hands with soap and water for at least 20 seconds and coughing and sneezing into your elbow. Call your primary care provider if you're experiencing flu-like symptoms, such as a fever, cough or shortness of breath. Find additional helpful resources for preventing the spread of illness here.
Above all else, Duquesne Light values the health and safety of its employees and customers. As such, the company has a task force working around the clock in response to the COVID-19 outbreak. Alongside the CDC, Allegheny Health Department and other local officials, Duquesne Light is taking the necessary steps to keep its employees healthy so it can continue to provide the region with safe, reliable power. Learn more here.
Last Updated March 17, 2020 at 1:30 p.m.