5 Things You Should Know About the COVID-19 Response in Pittsburgh Today
Quick Updates to Help Keep You Informed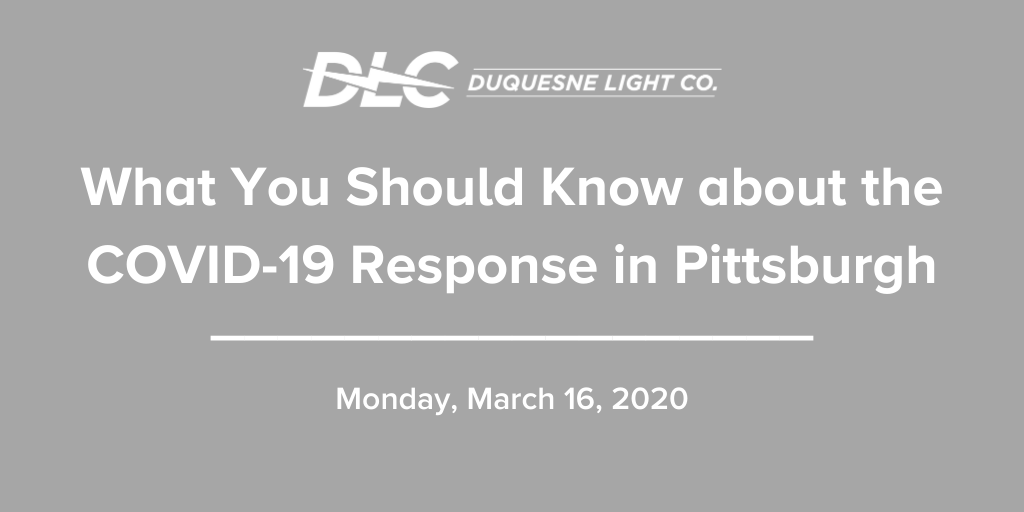 The following is best viewed from Google Chrome or Safari browsers.
1. Dine-In Restaurants and Bars Ordered to Close in Allegheny County
On Sunday, March 15, Pennsylvania Governor Tom Wolf ordered all dine-in restaurants and bars to close in several state counties, including Allegheny County, for two weeks. Restaurants are still permitted to offer carry-out, delivery and drive-through services; however, customers cannot eat or drink inside of a restaurant or bar for at least 14 days.
---
2. Allegheny County Executive Calls on Non-Essential Businesses to Close
Allegheny County Executive Rich Fitzgerald joined with the Allegheny County Health Department to call on non-essential businesses in the county to close or implement alternative work strategies for at least 14 days. This request is being made of non-essential businesses such as gyms, spas, casinos, theaters and shopping malls. The recommendation does not impact supermarkets, pharmacies or gas stations.
---
3. Mayor Bans Public Gatherings of More Than 50 People in the City
Pittsburgh Mayor Bill Peduto announced a ban on public gatherings of more than 50 people in the City of Pittsburgh to practice social distancing and limit the spread of COVID-19 in the region. This comes after an earlier ban on public gatherings of more than 250 people and follows protocols announced by the CDC.
---
4. Area Hospitals Tighten Visitation Policies
Allegheny Health Network (AHN) and UPMC hospitals both announced further restrictions to their visitation policies to reduce the spread of COVID-19. AHN will screen all visitors to their hospitals to control unnecessary exposure to care givers and patients. Both hospital systems are limiting the number of visitors per patient.
---
5. Allegheny County Now Reporting Six COVID-19 Cases
The Allegheny County Health Department is now reporting six confirmed cases of COVID-19, with many others pending. The newest cases are both adults, one in their 60s and one in their 50s.
---
To help prevent the spread of COVID-19, please remember to practice good hygiene, such as regularly washing your hands with soap and water for at least 20 seconds and coughing and sneezing into your elbow. Call your primary care provider if you're experiencing flu-like symptoms, such as a fever, cough or shortness of breath. Find additional helpful resources for preventing the spread of illness here.
Above all else, Duquesne Light values the health and safety of its employees and customers. As such, the company has a task force working around the clock in response to the COVID-19 outbreak. Alongside the CDC, Allegheny Health Department and other local officials, Duquesne Light is taking the necessary steps to keep its employees healthy so it can continue to provide the region with safe, reliable power. Learn more here.
Last Updated March 16, 2020 at 11:30 a.m.