Women's History Month: Employee Spotlight on Tishekia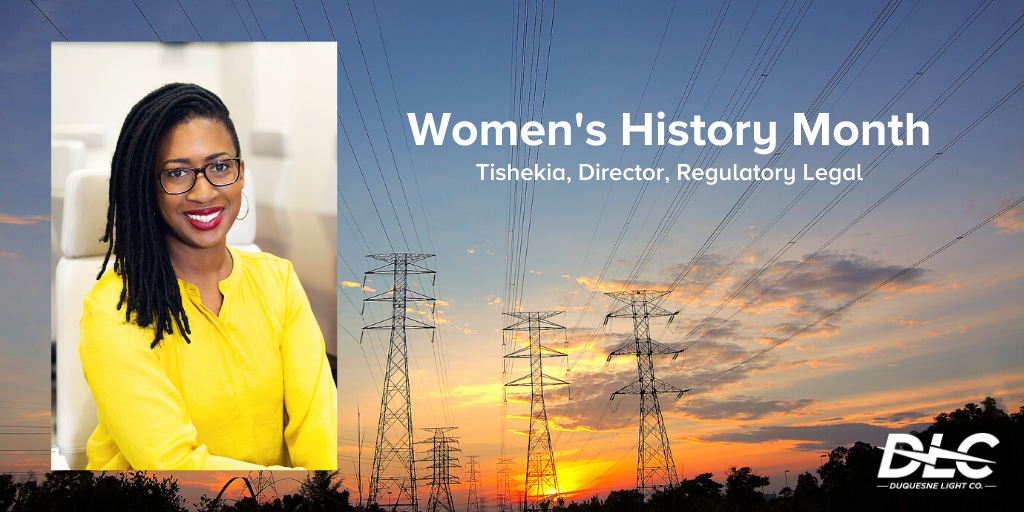 In recognition of Women's History Month, Duquesne Light is joining the country to celebrate the important role women have played in shaping our nation – and the world – by highlighting four remarkable women making an impact across the Company.
---
As Director, Regulatory Legal, Tishekia Williams is responsible for litigating and managing complex state and federal regulatory matters before the Pennsylvania Public Utility Commission (PUC) and Federal Energy Regulatory Commission. She also provides oversight to the regulatory consumer relations department.
As a Smart Grid Customer Innovation All-Star and a recently named member of the 2020 cohort of the Executive Leadership Academy, Williams is continuously recognized for her excellent work ethic and dedication to industry advancement.
Learn more about Tishekia:
What drew you to work at DLC? 
I was drawn to the tremendous opportunity for growth and professional development at Duquesne Light. I have a passion for learning new things and I love a challenge. When I joined the Company in 2012, DLC was on the cusp of several initiatives that were transformative and exciting. I was thrilled to support the development and implementation of several key initiatives that are the foundation of our "utility of the future" efforts.
What woman has most influenced you in your life and/or career? 
My maternal grandmother was the most influential woman in my life. ​ Born in the 1920s, she raised six children under trying circumstances and never smoked, drank alcohol or used profane language. She attended church every Sunday, for as long as she was able. She treated everyone with respect, worked hard and was the pillar of our community, always helping others. She was pretty amazing in the most impactful ways. 
Best advice you've ever been given? 
"Always do the right thing. People may not like it, but they will respect you for it." It seems so very obvious, but people often get entrenched in the politics of an issue or decision. At the end of the day, have integrity and do what's right. 
What advice would you give to a student wishing to start their career in your field? 
Be dogged about self-care. ​ Law school is stressful. ​ Practicing law is stressful. ​ Being successful as a law student or a lawyer is easier when you're eating a good diet, and getting appropriate rest and exercise. 
What challenges have you faced in your career, and how have you overcome them? 
I am always my own biggest challenge, because I am my own competition and motivation. ​ I wholeheartedly believe that whether or not I succeed is entirely dependent on my willingness to do what it takes when real life happens. Anyone that has visited my office will see a framed copy of William Ernest Henley's "Invictus." That poem captures my perspective on challenge. ​ Ultimately, "I am the master of my fate. I am the captain of my soul."