Women's History Month: Employee Spotlight on Elizabeth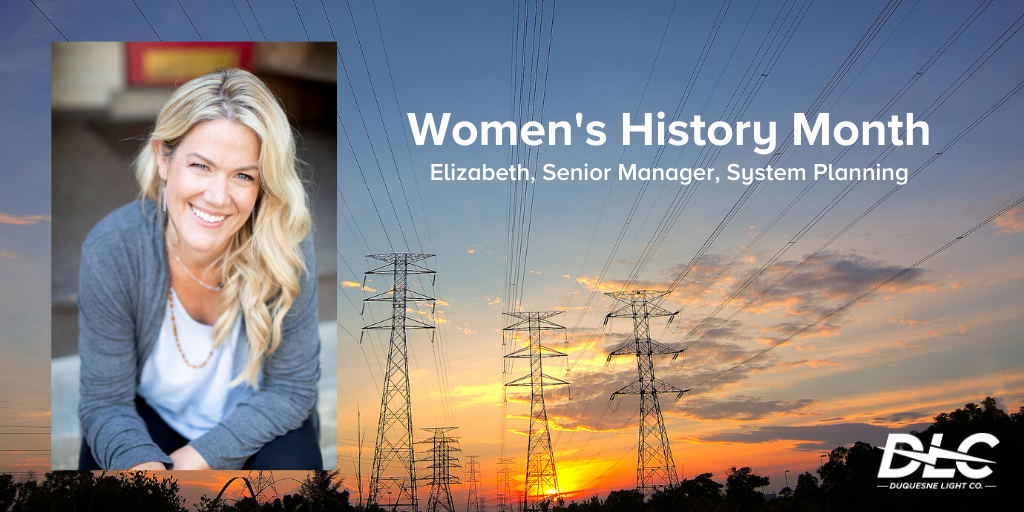 In recognition of Women's History Month, Duquesne Light is joining the country to celebrate the important role women have played in shaping our nation – and the world – by highlighting four remarkable women making an impact across the Company.
---
As Senior Manager, System Planning, Elizabeth manages and leads efforts within the transmission and distribution planning groups as well as the interconnection group. She also facilitates the monthly Utility 101 Educational Series, which educates employees on a variety of topics relevant to the utility industry.
In addition to her responsibilities at DLC, Cook is a mother of six, a business owner, a published author and a doctorate student in electrical engineering.
Learn more about Elizabeth:
What drew you to work at DLC? 
In my previous role as a Power System Engineering Consultant for Mitsubishi Electric Power Products, Inc., I was required to travel significantly. My children started to ask where I was going all too often therefore I realized I needed to make a change even though I loved my job. ​ 
I found Duquesne Light at the perfect time in my career as I am born and raised in Pittsburgh and what better way to continue my career than by providing safe, reliable and affordable power to my hometown. ​ DLC has provided me the opportunity to continue to work and make a difference in the Electric Utility space which I have found great fulfillment in throughout my years here. 
What woman has most influenced you in your life and/or career? 
My Mom. ​ She has always showed me the magic of life and carried herself with great confidence while working full-time and raising her children. ​ Her influence provided me the guidance and the levity that I take into each day.
Best advice you've ever been given? 
My Dad taught me at a very early age to be aware of my thoughts, because lack of awareness leads my thoughts to turn into feelings which turn into action. He taught me that my thoughts are just thoughts and if I react mindlessly to my thoughts it creates a feeling of powerlessness to change. ​ Therefore, I have always created space between my thoughts and my actions. It's proven to be a powerful tool throughout the years.
What advice would you give to a student wishing to start their career in your field? 
Check-in with yourself and understand what motivates you. You can't lose sight of your inner guide, and you must follow the path that's clear to you. Your own path to a fulfilling career should be driven by joy, but know that it requires patience, hard work and persistence.
What challenges have you faced in your career, and how have you overcome them?
 Throughout my career I have been told to be aware that I am different than the average person in my field. I have always taken that comment as a compliment and have confronted those misconceptions as necessary.
My thirst for knowledge and my desire to continuously learn has always provided me with a positive outlook during any event. I know I can't control what happens in life, but I can control my response. This perspective has helped me greatly as I work through any challenge, big or small.
What do you like to do outside of work?
 As a mother of six, I love spending time being present for my children, husband and family by slowing down time and creating a safe space for us at home. In my spare time, I love to read, write and teach about time management, holistic health and the power of essential oils.