We're Here to Help You Weather the Storms Life May Bring Your Way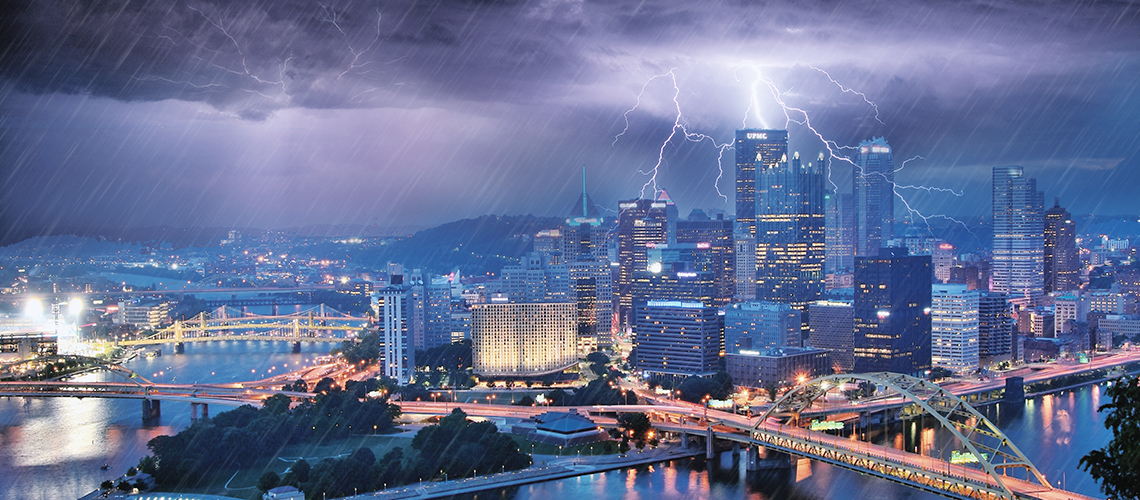 Our top priority is providing safe and reliable power to you and the rest of our community. As we enter storm season, we're here to help you prepare before a storm hits so you can keep your loved ones and belongings safe. In case your home is impacted by a storm, we're here to help make your life easier with the tools and resources you may need.
---
HOW YOU CAN PREPARE
Take these steps to stay safe and minimize damage before, during and after the storm.
Before the Storm:
Regularly check local news, radio or your mobile device for information about storm watches or warnings in your area.
Keep supplies in an emergency preparedness kit. Include water bottles, non-perishable food, blankets, first-aid supplies, flashlights and a battery-powered radio.
Make sure your yard is free of heavy debris that could be tossed around in the wind. Trim trees to prevent limbs from falling on your house.
Shutter all windows and close exterior doors securely.
During the Storm:
Report an outage on our website or with our free mobile app available for download from the App Store or Google Play.
Do not touch downed or hanging power lines or anything touching them.
Avoid opening the refrigerator or freezer. Food will stay frozen in a full loaded freezer for 36-48 hours if the door remains closed.
After the Storm:
Restock the supplies in your emergency preparedness kit and make sure there are flashlights, a battery-powered radio and fresh batteries in an easily accessible area.
Periodically check supplies of non-perishable foods, bottled water and medication. Try to keep a three-day supply on hand. Stock up if needed.
---
Duquesne Light's Restoration Priorities
When the extent of storm damage to the electrical system is severe and widespread throughout the area, DLC cannot respond to every outage at once. Restoration activities are thus prioritized. In all situations, the safety of the public as well as those working to restore service is always the top priority.
1. Public Safety Hazards
Our first priority is to quickly address public safety hazards, such as wires that are down across major highways, burning wires or equipment or building fires. While downed power lines are being handled, company personnel continue to assess the total damage to the electrical system's infrastructure and begin restoring service.
2. Public health and safety facilities (critical customers)
Repair work that restores power to essential facilities that provide emergency services is a high priority. This includes hospitals, police, fire and emergency facilities, water and sanitary authorities, nursing homes and assisted living facilities, etc.
3. Major Circuits
We continue rebuilding our system by next focusing on major circuits as we strive to restore power to the greatest number of customers as quickly as possible.
4. Small Neighborhoods & Individual Homes
Once major circuits have been repaired, restoration efforts focus on smaller neighborhoods and groups of customers served by a single transformer. Finally, service to individual homes and businesses is restored as crews repair "service drops," which are the wires that bring electricity from the nearest pole to an individual building.
During outages, some customers may have power restored while their neighbors remain without service. This may occur because not all circuits are repaired at the same time and different circuits may serve different parts of the same neighborhood. Even houses on the same street might be served by different circuits or different transformers.
In major storms, some customers may remain without power longer because the electrical lines are temporarily inaccessible to work crews due to fallen trees, flooding, ice or other conditions that must be addressed before the electrical facilities can be safely repaired.
Just remember we're constantly working. We will get to your outage no matter what.
---
Please visit Duquesne Light's Storm Plan webpage to learn more about our response to severe weather and find additional storm preparation tips. Stay safe and be ready for storms.
As a reminder, outages can be reported online here, using our free mobile app available in the App Store and Google Play or by calling 412-393-7000.