Through Professional Development Programs, Duquesne Light Company Advocates for Women in Leadership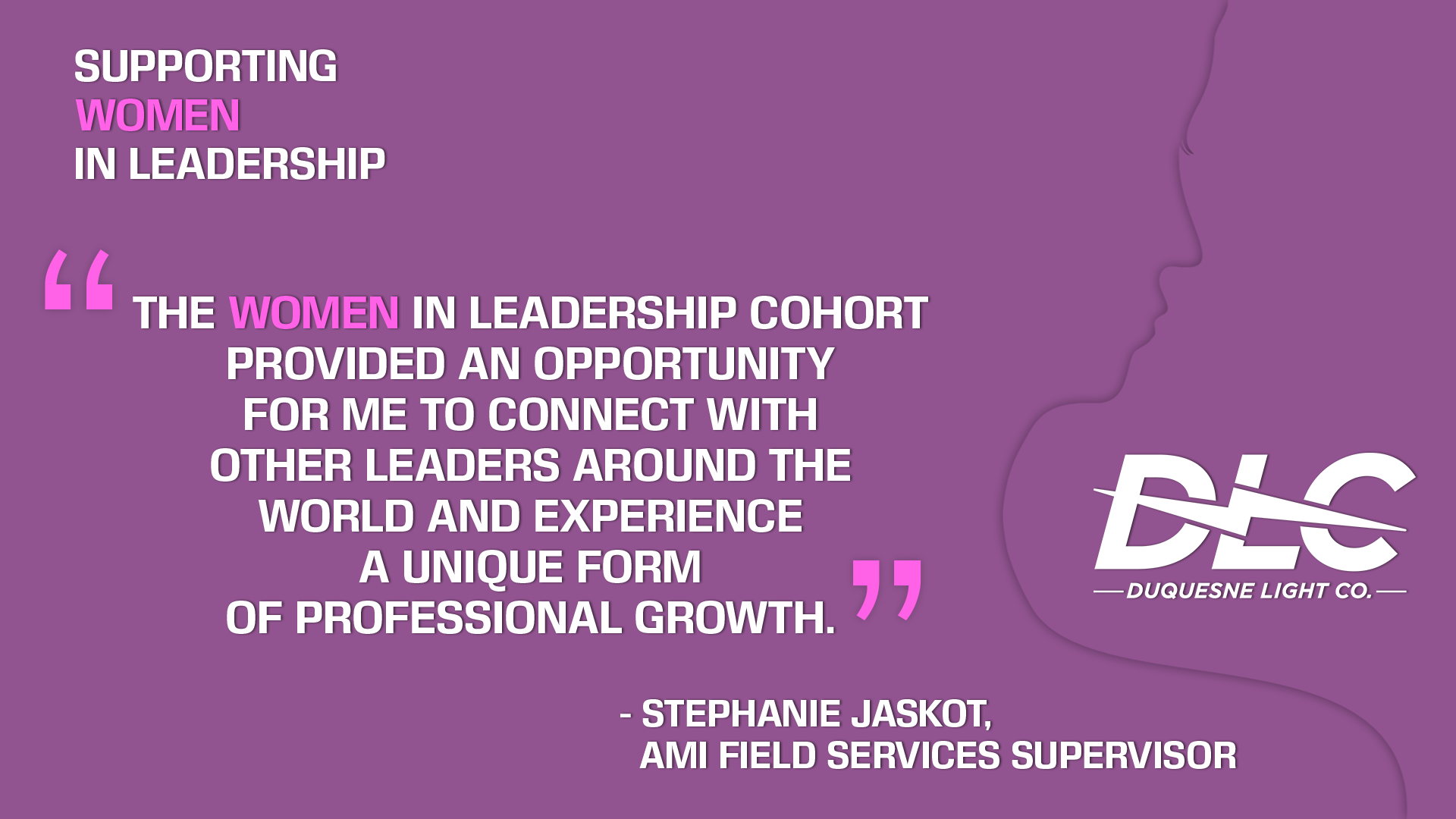 As we continue to celebrate Women's History Month, we're reminded how important it is for women to assume more leadership roles in the workforce. Through Duquesne Light Company's (DLC) Women in Leadership Cohort, women across the company can be nominated by our leadership team to participate in programs that will further develop their skills and help grow their careers.
As part of the cohort, three female employees — Kalen Began, business process maturity leader; Samantha Fay, residential contact center manager; and Stephanie Jaskot, AMI field services supervisor — recently completed ExecOnline's "Leading Through Personal Excellence" certificate program and the Dale Carnegie "Advancing Women in Leadership" workshop.
"The Women in Leadership Cohort provided an opportunity for me to connect with other leaders around the world and experience a unique form of professional growth," said Jaskot. "It enabled me to critically think about who I [am] as a leader and further develop skills to better serve myself, my team and Duquesne Light. I was given an enhanced sense of pride [by] being able to share my personal experiences and represent women in the workplace alongside the other cohort members."
Leading Through Personal Excellence
Through ExecOnline's six-week "Leading Through Personal Excellence" program, the team explored the Stanford Leadership Model to enhance their motivational skills in the workplace. The group was also introduced to key insight competencies and accompanying tools and strategies.
"The ExecOnline support team was extremely responsive, which I much appreciated," said Fay. "I enjoyed the video lectures, which included TED Talks and journeys of past participants throughout the modules. I also specifically enjoyed the 'Taking Perspectives' module, which explored the viewpoint that, in a conflict, we should look not only at the perspective of each person involved, but also how they may view each other."
Advancing Women in Leadership
In the Dale Carnegie "Advancing Women in Leadership" workshop, the group started with a one-on-one coaching session with a Dale Carnegie Master Trainer to prepare a growth plan. They then participated in a workshop where they studied behaviors and techniques to help female leaders reach their full potential. The workshop aimed to, among other things, empower women to define opportunities to drive impact and increase their professional networks. A highlight of this session was the "Visibility and Influence" activity where participants examined work group dynamics and how that drives perception and personal brand.
As a result of the successful trainings, DLC's Women's Business Employee Resource Group — EmpowerHer — sponsored a second "Advancing Women in Leadership" workshop to occur later this year. Twelve women from across the company were selected to participate.