Sustainable Upgrades to Allegheny Traditional Academy Provide Cleaner, Cooler Air for Students This School Year
Retrofitted HVAC systems, solar panels and LED lighting among modernization efforts led by The Efficiency Network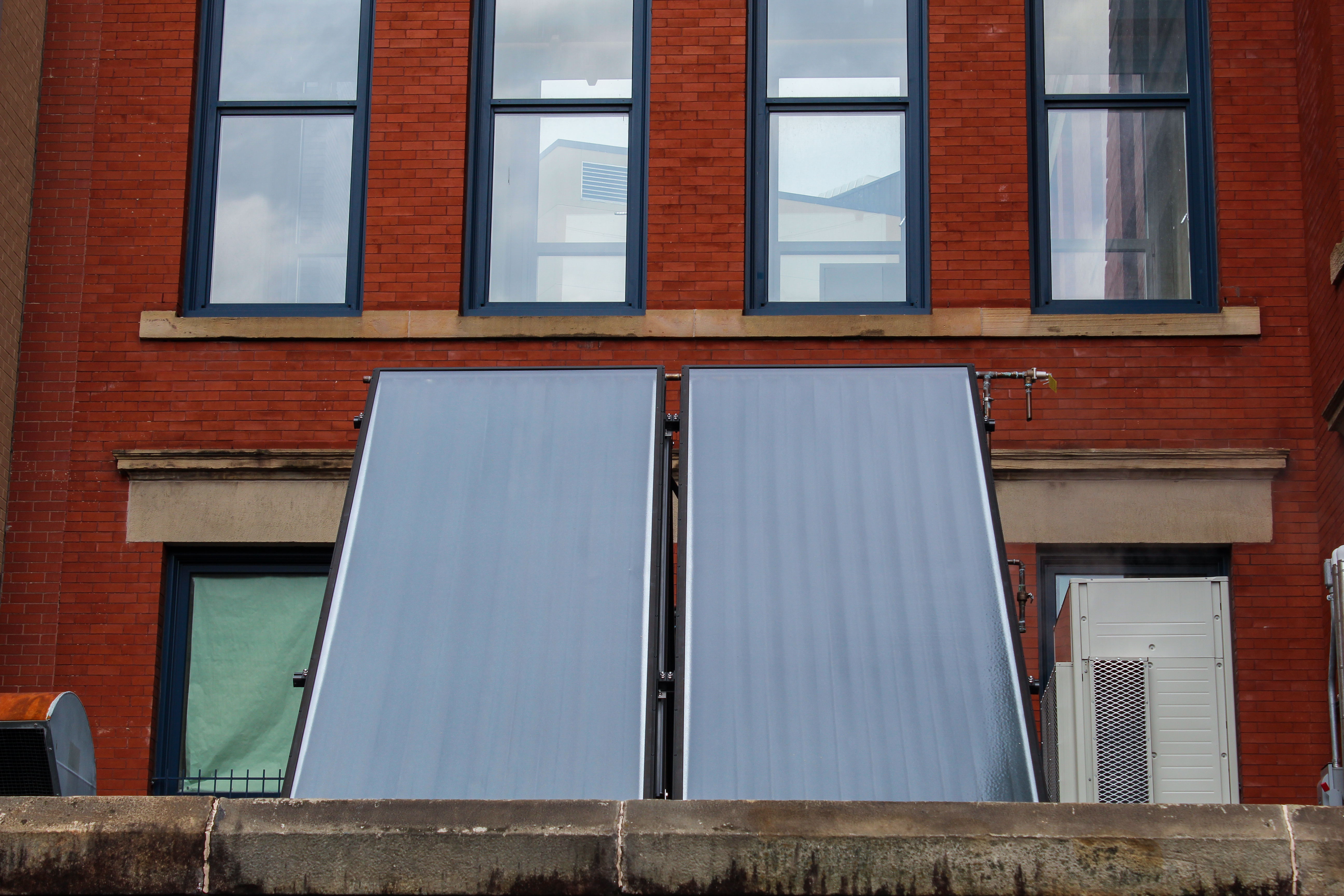 September 19, 2022
PITTSBURGH — Students from Pittsburgh Public Schools' (PPS) Allegheny Traditional Academy (ATA) in Pittsburgh's Northside are enjoying cleaner, cooler air this school year following a year-long project by The Efficiency Network (TEN) — a subsidiary of Duquesne Light Holdings (DLH) Inc., which also encompasses Duquesne Light Company (DLC) and DQE Communications. The facility, which serves nearly 700 students in grades pre-K through 8, underwent several energy-efficiency enhancements, including the addition of solar panels; retrofitted HVAC systems; and LED lighting upgrades. Ahead of Pittsburgh's hosting of the Global Clean Energy Action Forum this week, DLH's sustainability efforts were highlighted for a number of students at the school on Monday, Sept. 19, where they received hands-on demonstrations on the benefits of electric vehicles and electric cooking.
The ATA project aligns with DLH's vision to progress toward a clean energy future for all through a focus on innovation, sustainability and equity.
"Our partnership with Pittsburgh Public Schools represents a wonderful opportunity to make a positive difference for our region and students via vital and innovative upgrades to create a more comfortable learning environment," said Troy Geanopulos, CEO of TEN. "Not only do these modernizations enable a 31% reduction in the school's annual kilowatt-hour usage — for a total annual energy cost savings of nearly $74,000 — but they also reduce the school's carbon footprint by 134 metric tons, equivalent to planting more than 2,000 trees."
TEN also installed solar panels on the roof of the school's boiler room to assist with heating domestic hot water. The panels also serve as a working demonstration for students given their proximity to classrooms.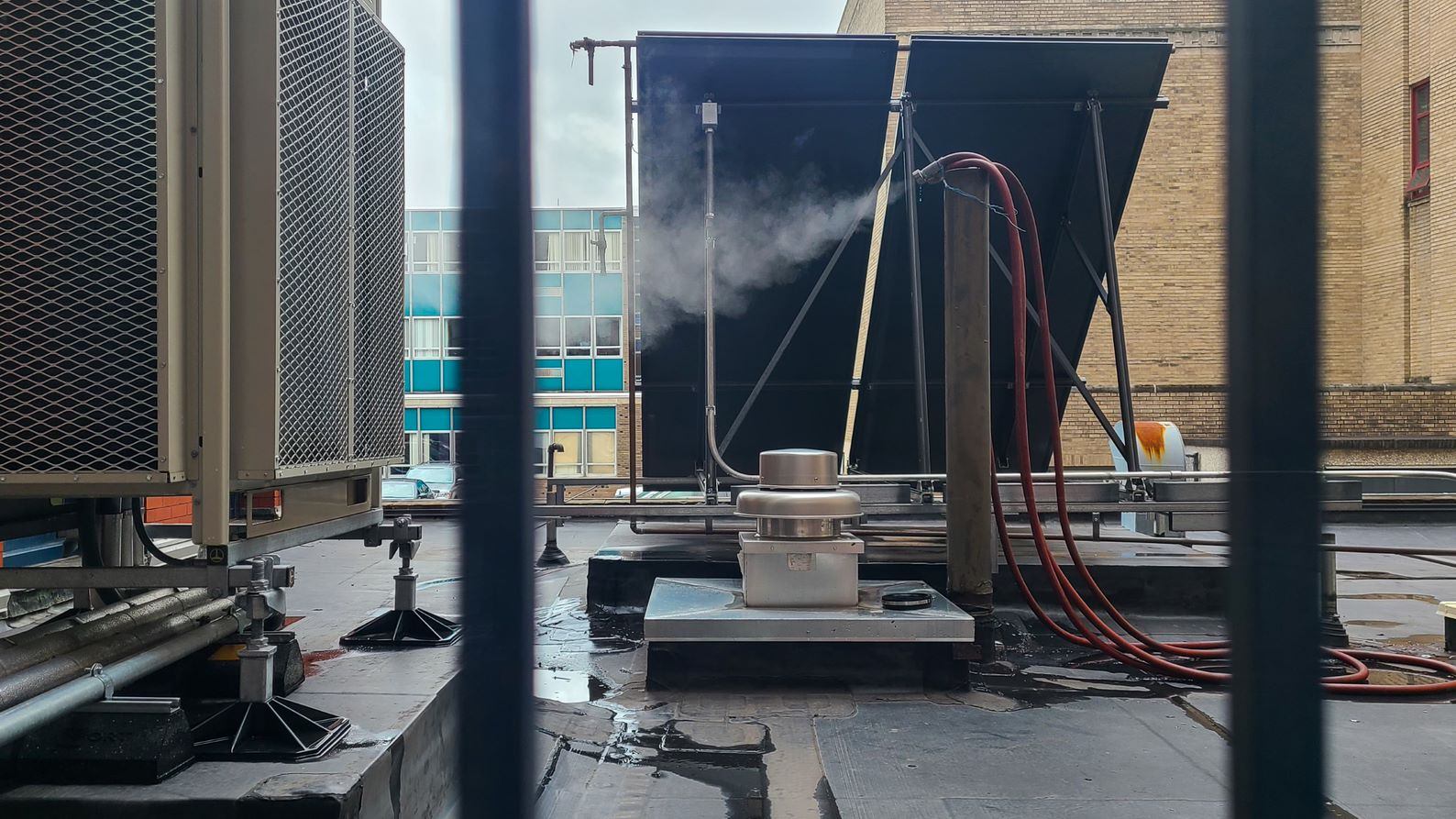 "TEN's upgrades have more than doubled the amount of fresh air delivered to our students through their classrooms," said Mike McNamara, chief operations officer at PPS. "The addition of air conditioning throughout the entire school, along with upgraded HVAC systems, will enable us to offer additional summer programming, classes and vital educational opportunities for students."
TEN recently retrofitted the HVAC system at Allegheny Traditional Academy on Pittsburgh's Northside. These upgrades will make the school more energy efficient while providing air conditioning at the school, allowing for the district to schedule additional summer programming.
At Monday's event, renowned Chef Chris Galarza gave students a hands-on electric cooking demonstration in honor of Hispanic Heritage Month.
Renown, Pittsburgh-based Chef Chris Galarza demonstrates induction cooking for students at Allegheny Traditional Academy in Pittsburgh on September 19, 2022.
Experts from DLC also displayed one of the company's new electric F-150s and highlighted the benefits of electric driving. Over the past several years, DLC has installed more than 100 electric vehicle charging stations in the region and is working with local municipalities, school districts and nonprofits to help them install charging infrastructure to power their fleets. Between 2022 and 2026, DLC plans to invest $2 billion in infrastructure and technology upgrades to, in part, help southwestern Pennsylvania transition to a clean energy future.
Duquesne Light Company Senior Manager of Transportation, Lisa Hurm (orange), and Transportation Electrification Specialist Emily Phan-Gruber give students from Allegheny Traditional Academy an up-close view of one of DLC's all-electric Ford F-150 Lighting pickup trucks outside of the school on September 19, 2022. DLC added these vehicles to its fleet this summer.
As the region continues to shift toward cost-effective, energy-efficient solutions, TEN is looking forward to similar partnerships in several other school districts, including Aliquippa, New Kensington Arnold, Greater Johnstown and Philadelphia. TEN has a proven history of success with similar initiatives for various academic organizations, including the University of Pittsburgh, Penn State University and the Community College of Allegheny County.
The full scope of the ATA project, which was completed this past August, includes:
A deep retrofit of HVAC systems, including the addition of air conditioning
LED lighting upgrades
Ceiling replacements
Steam-hot water conversion
Interior door code upgrades
Water conservation
For more information about TEN's projects, visit TENsaves.com/markets.
About The Efficiency Network
The Efficiency Network (TEN) is an independent energy services company that provides energy projects to government, K-12, higher education, health care and commercial customers. TEN is part of the Duquesne Light Holdings Inc. family of companies.
About Duquesne Light Holdings Inc.
Duquesne Light Holdings Inc. (DLH) is an energy services holding company that serves as the parent organization for Duquesne Light Company, DQE Communications and The Efficiency Network. DLH is a wholly owned subsidiary of DQE Holdings LLC, with principal executive offices located in Pittsburgh.
About Pittsburgh Public Schools
The Pittsburgh Public School District is the largest of 43 school districts in Allegheny County and second largest in Pennsylvania. The district serves approximately 21,000 students in pre-kindergarten through grade 12. The Pittsburgh Public Schools offer students a variety of options and opportunities that will help them succeed in school and prepare them for whatever comes next in college, career and life. Visit PGHschools.org.