Recognizing National Disability Employment Awareness Month
A message from President and CEO Kevin Walker and Chief Diversity Officer Sara Oliver-Carter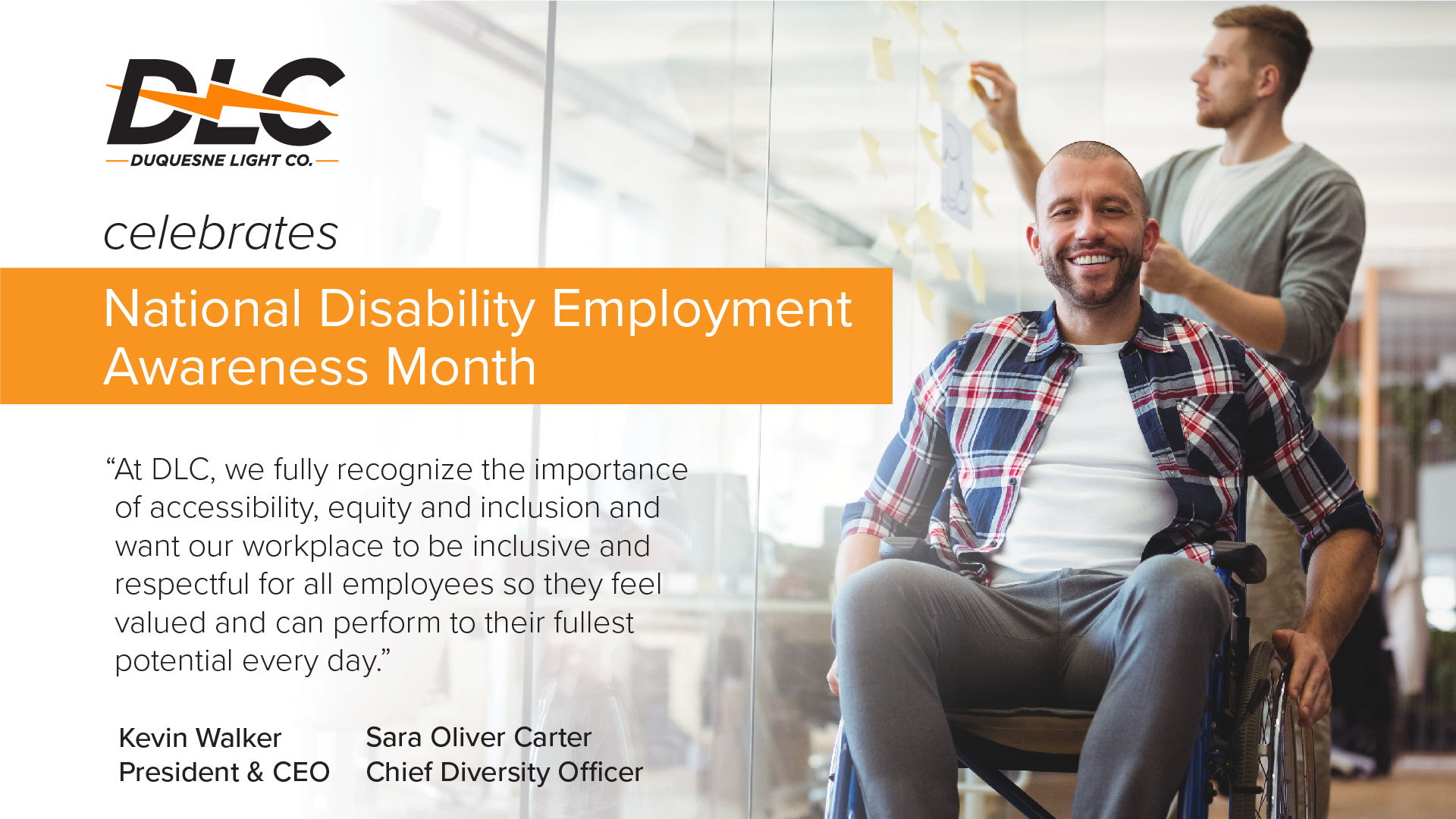 October 1, 2021
One in four adults or 61 million people in the U.S. lives with a disability. The disability community is incredibly diverse and includes people with visible and invisible or hidden disabilities. October is National Disability Employment Awareness Month (NDEAM), and we're asking you to join us as we recognize the variety of contributions people with disabilities have contributed to America's workplaces, communities and economy. ​
Recently announced by the U.S. Department of Labor, the theme for this year's NDEAM is "America's Recovery: Powered by Inclusion." According to the department, this theme "reflects the importance of ensuring people with disabilities have full access to employment and community involvement during the national recovery from the COVID-19 pandemic."
At Duquesne Light Company, we fully recognize the importance of accessibility, equity and inclusion and want our workplace to be inclusive and respectful for all employees so they feel valued and can perform to their fullest potential every day. Our Diversity, Equity and Inclusion (DEI) Council will lead internal recognition efforts for NDEAM throughout the month including highlighting learning resources, articles written by our own colleagues and hosting an event with Rory Cooper, Ph.D., who will speak to employees about several topics including:
Living an authentic life as a person with a disability
His innovative research that has led to patented, life-changing designs
Working with Veterans
Dr. Cooper has authored or co-authored more than 350 peer-reviewed journal publications and two books; "Rehabilitation Engineering Applied to Mobility and Manipulation" and "Wheelchair Selection and Configuration."
We'd like to thank our employees, community partners and customers for their ongoing engagement as we continue our journey of building a new table together — to grow as an inclusive, respectful, accessible workplace and community where everyone feels a sense of belonging.