Recognizing Black History Month: Progressing Forward
A message from Duquesne Light Holdings President and CEO Kevin Walker and Chief Diversity Officer Sara Oliver-Carter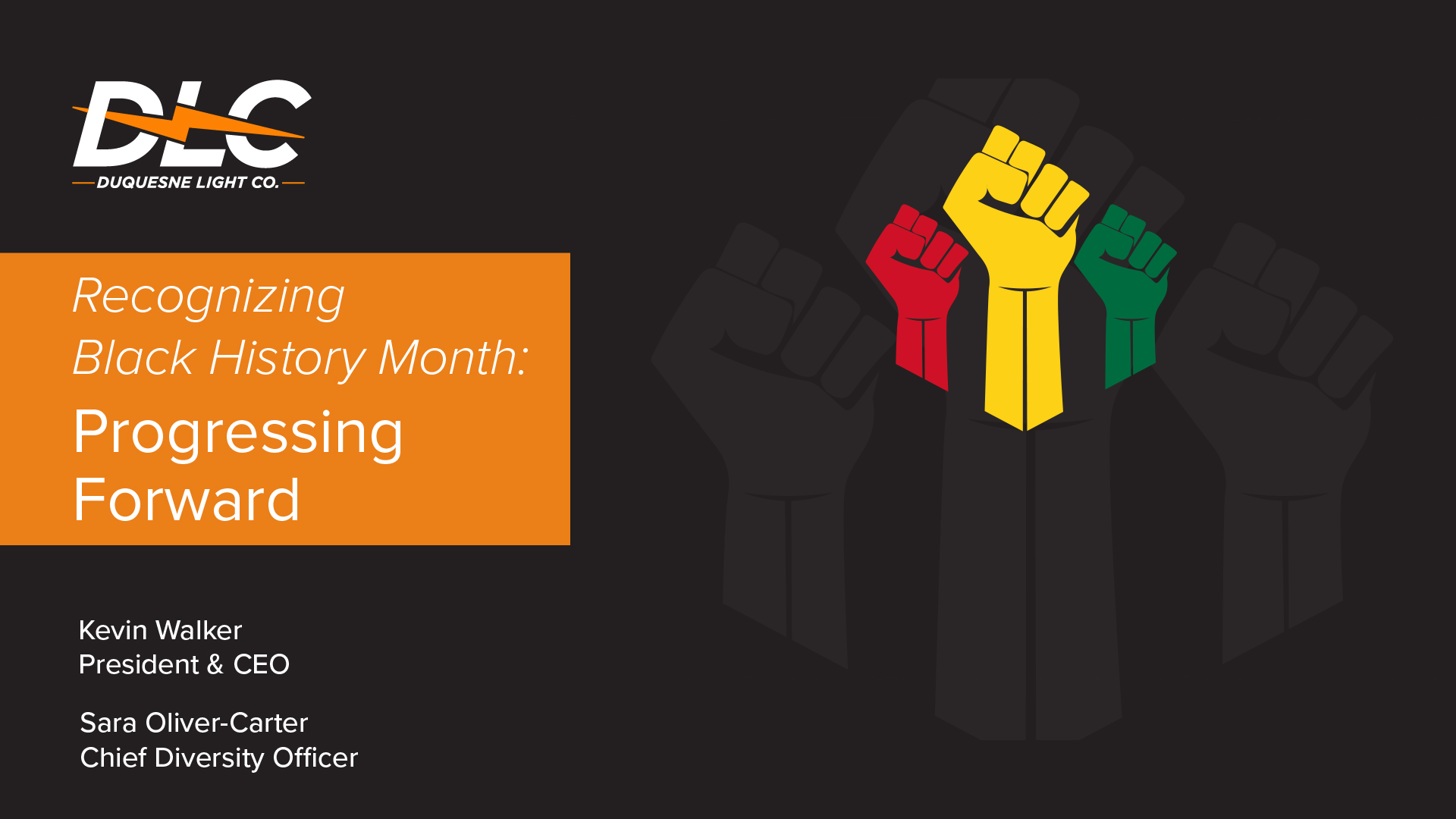 February 1, 2022
Every February, Black History Month provides the opportunity for us to reflect on and expand our knowledge of our nation's history while recognizing the achievements and successes of Black and African Americans. Their hard work, dedication and sacrifices forged the country we live in today and brought new, diverse voices to the table.
As we reflect on the American civil rights movement, we look to the leaders who lived through this pivotal time in history and continued to work towards equity into the 21st century.
The March on Washington led to the Civil Rights Act of 1964 followed by the Voting Rights Act of 1965. After these two pieces of legislation were passed, Black and African American representation in our government grew. In 1967, Thurgood Marshall was confirmed as the first African American to serve as a Supreme Court Justice. In 1977, Patricia Roberts Harris became the first African American woman to hold a Cabinet position. Colin Powell was the nation's first African American secretary of state, serving from 2001 to 2004. When Barack Obama was elected in 2008, he became our first Black president. Only a few weeks ago, history was made right here in Pittsburgh when Ed Gainey was sworn in as the city's 61st and first African American mayor.
Although progress has been made in the decades since the Civil Rights Era, Black and African Americans continue to face significant challenges, barriers, and inequities. Congressman and civil rights activist John Lewis dedicated his life to the civil rights movement and passed away in 2020. He shared the following sentiments encouraging people to advocate for themselves and others:
"Get in good trouble, necessary trouble. Nothing can stop the power of a committed and determined people to make a difference in our society. Why? Because human beings are the most dynamic link to the divine on this planet."
Duquesne Light remains committed to supporting the Black and African American community. ​
BRIDGE, our Black and African American Business Employee Resource Group, has fostered a space for innovative ideas, comradery and understanding. In 2021, they hosted our first-ever Juneteenth celebration and held several donation drives and workshops.
As a company, we have built a partnership with Real Times Media and award-winning Black newspaper, the New Pittsburgh Courier. As partners, we continue to power the Small Business Spotlight series, sponsored the 2021 Women of Excellence Awards and look for ways we can provide opportunities to our collective community.
We look forward to continuing our work with them and our community partners, like the African American Chamber of Commerce of Western Pennsylvania, a group that promotes access and business opportunities for minority-owned businesses throughout the region. This collaboration and others supports our of our overall efforts to increase the diversity of our supplier network.
As we pursue external opportunities, we are also examining internal processes which encourage diverse perspectives that are reflective of the communities we serve. In order to attract and retain diverse talent, it's essential that we create an environment that supports an inclusive and equitable workplace.
Throughout February, we will celebrate our employees and learn more about what it means to be Black in America through several initiatives hosted by BRIDGE.
Together, we will continue to build not only a diverse and inclusive workplace, but also a community where acceptance is our foundation.