Point State Park to Shine This Holiday Season
Duquesne Light Company announces 2022 and 2023 holiday season plans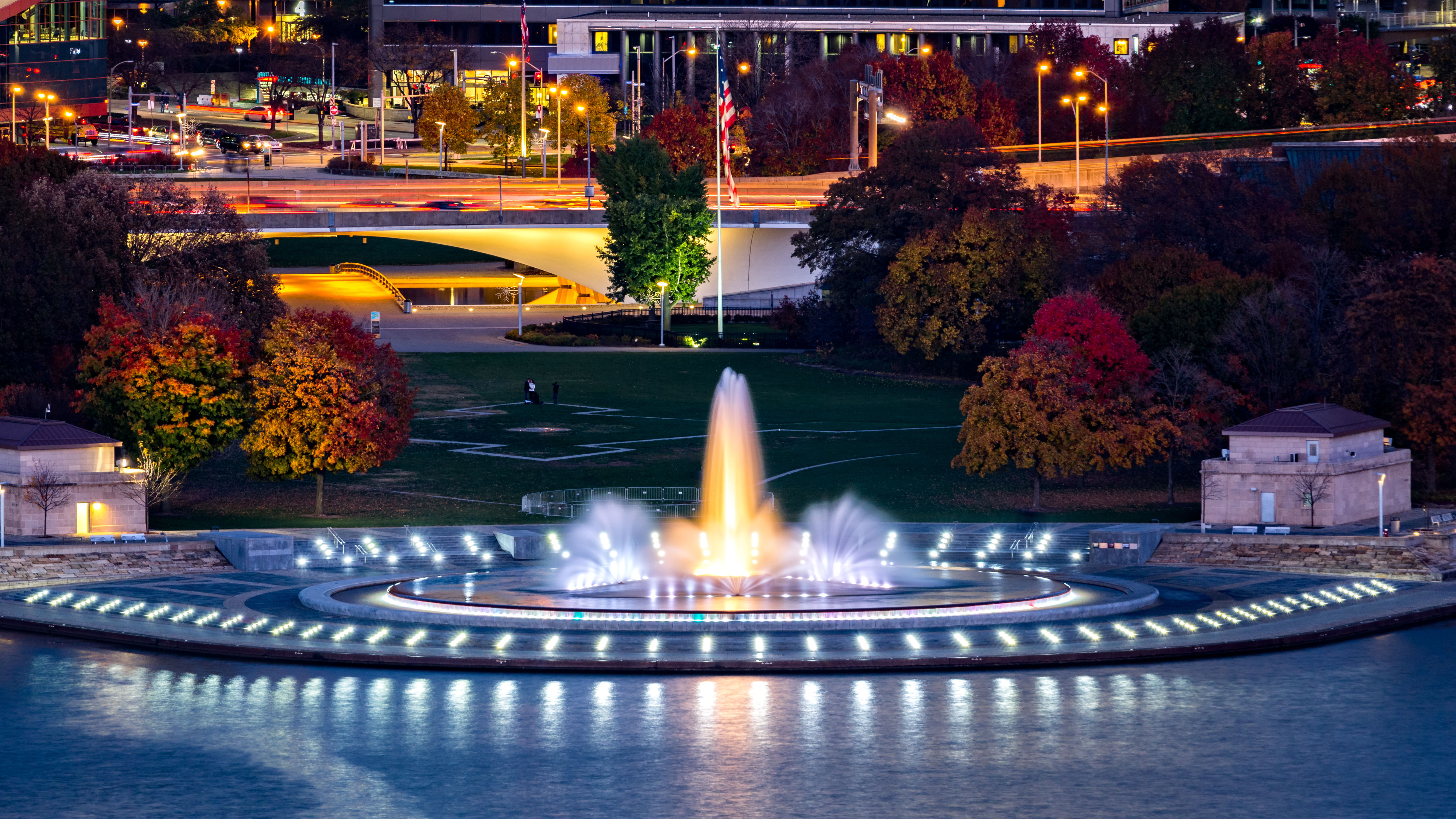 November 2, 2022
PITTSBURGH — Duquesne Light Company (DLC) today announced plans to bring additional holiday lighting to Point State Park that will include several large snowflakes and illuminated buildings. The new decorations will be installed in time for Pittsburgh's Light Up Night on Saturday, Nov. 19, and will remain throughout the holiday season.
Earlier this year, the company launched a public innovation challenge with HeroX to crowd source ideas that would inspire a new holiday installation to replace Pittsburgh's iconic Tree of Lights at the Point. The tree was retired in January after more than 30 years to make way for a more sustainable installation that would better protect the integrity of the park grounds.
The company recently selected the winning design, which was submitted by Ben Towne — a local electrical and computer engineer and technology researcher who graduated from Carnegie Mellon University's School of Computer Science — and his partners at Pittsburgh-based Dagostino Electronic Services (DES). The design concept was selected for its focus on sustainability, energy efficiency and resemblance to the original and iconic tree. Due to ongoing supply chain constraints in procuring materials, DLC will implement the new display in 2023.
"The original Tree of Lights captured the hearts of Pittsburghers for more than 30 years, and we look forward to giving our customers and the community a new tree that they can be proud of and admire for years to come," said Kevin Walker, DLC president and CEO. "We appreciated the opportunity to engage the community with bringing to life a new holiday tradition for the city of Pittsburgh. Even better is that the winning design was submitted by a local team. While we had hoped to have the tree ready this year, we now look forward to installing it for next year's holiday season. In the meantime, the snowflakes and additional lighting will add a beautiful ambiance to Point State Park and offer memorable holiday photo opportunities for residents and visitors alike. We hope everyone enjoys them while we prepare to launch our new display next year."
To bring more joy and prosperity to the region, DLC is also sponsoring this year's edition of The Black Market pop-up in downtown Pittsburgh, a collaboration with the Pittsburgh Downtown Partnership and Shayla Hawkins Events. Now in its fourth year, the event supports and showcases Black-owned businesses from around the region. The company is also sponsoring GLOWLAND, a month-long winter festival featuring art installations, live music events and illuminations throughout the Oakland community.
A New Tradition Begins in 2023
Earlier this year, DLC announced it was officially retiring the Tree of Lights to ensure the continued preservation of Point State Park. The company launched an innovation challenge to give the public an opportunity to design a new solution that would uphold the integrity of the park grounds while giving spectators a new display to cherish during the holidays.
The winning team submitted a modern, bright, festive and "smart" tree design that will be environmentally friendly with the use of new technologies. It includes proposed features such as efficient and more brilliant LED strings that will be backed up with battery packs to ensure resiliency during potential power disruptions, especially in wintry conditions.
The new lights will also:
Move in an animated fashion to enhance the visual of the tree and give revelers a new, unique experience.
Have a longer service life compared to the former tree's lights.
Be more physically durable and require fewer replacements.
The new display is expected to have similar dimensions and be installed within close proximity to the original location of the Tree of Lights.
"The submitted design was informed by years spent absorbing Pittsburgh history, including days in the Heinz History Center with special focus in their exhibits about the history of innovation in Pittsburgh," said Towne. "Time and again, this city has come up against constraints and found innovative ways to reinvent itself, while keeping up fun traditions that bring people together."
"Sustainability is at the core of what we do, and Ben's design expresses these connections between tradition and emerging technologies," added Bob Dagostino, president of DES. "We look forward to this new tradition for Pittsburgh."
About Dagostino Electronic Services (DES)
A Pittsburgh-based integrator entering its 50th year of operation, DES has provided technology solutions to Pittsburgh landmarks since 1973, including the city's world-class medical facilities, educational institutions and sporting venues. From IP integrations to AI analytics, DES technology solutions span the continuum of smart building design and includes cabling, networking, security, voice and audiovisual systems. DES is the preferred technology provider of the Pittsburgh Steelers.