Pirates, DLC Plant More Than 100 Trees in Pittsburgh
'Power Hitters' program planted 1 tree for each Pirates homerun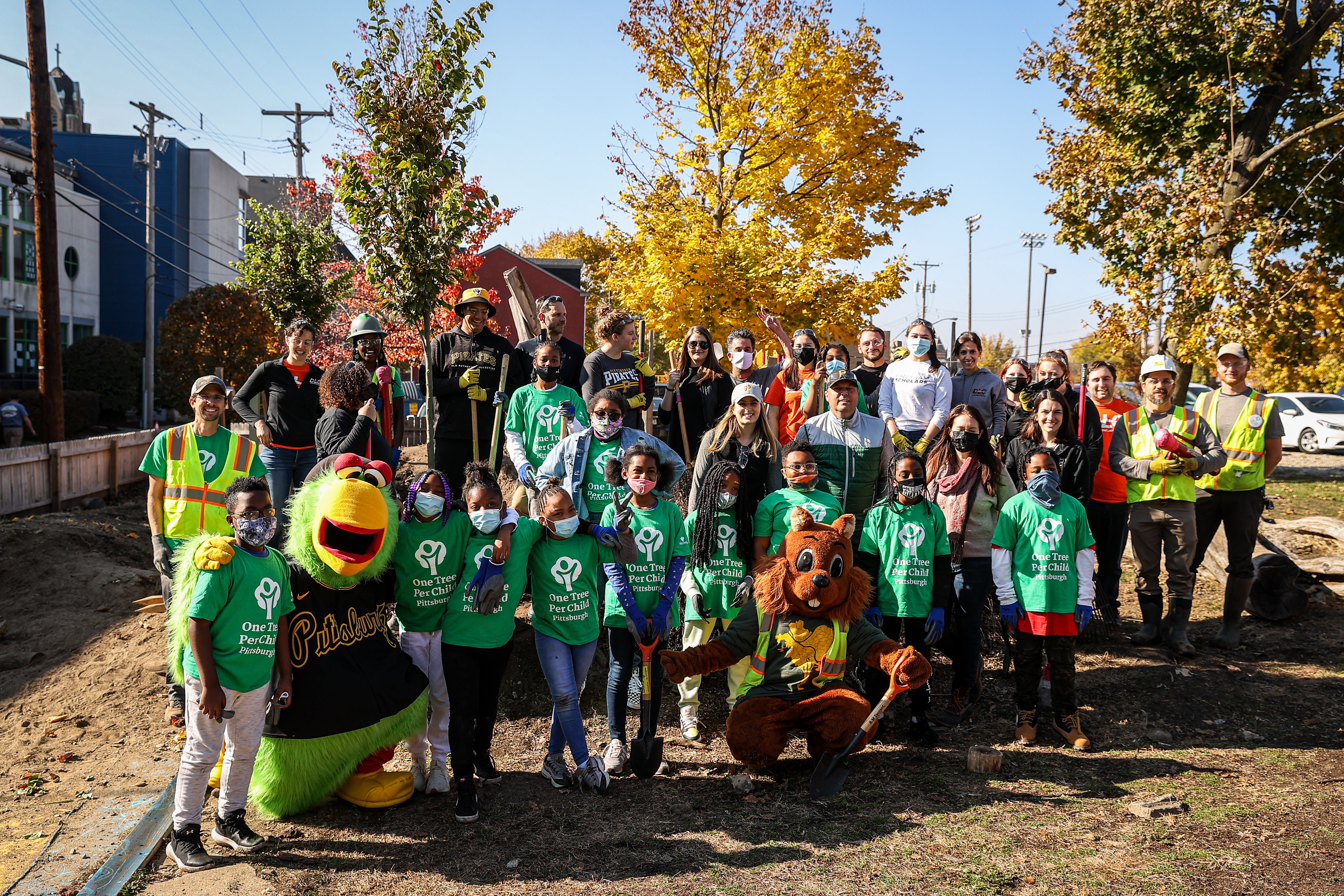 November 19, 2021
On Earth Day 2021, Duquesne Light Company (DLC) and the Pittsburgh Pirates announced a joint initiative, the Duquesne Light Power Hitters program, to plant one tree for every homerun hit by the Pirates. This season, a total of 124 trees were planted, representing 124 homeruns. DLC and the Pirates further partnered with Tree Pittsburgh to identify and plant trees in locations across the city in October and November.
"We are incredibly proud to join with Duquesne Light Company on several initiatives that enhance our sustainable efforts and makes a true impact throughout the Pittsburgh community, such as the Duquesne Light Power Hitters program," said Travis Williams, president of the Pirates. "Developing meaningful partnerships and programs with companies working to make a difference in our area is very important to us and our relationship with DLC is another great example."
Employee Volunteers Help Plant Trees
As part of the program's pledge, and through various volunteer events, 40 DLC employees and their family members, including DLC's vegetation management team, participated in the tree plantings.
The plantings occurred across the city, including:
Catalano Parklet in Spring Garden
West Liberty Elementary
Northview Heights, Classical Academy
Lawrenceville Cemetery
Manchester Academic Charter School
Baxter Parklet in Homewood
Tree Pittsburgh staff also planted trees at Langley Elementary, Lawrenceville Riverfront Trail and West Liberty Elementary.
With many tree plantings happening at schools, some students participated in the events through Tree Pittsburgh's One Tree Per Child program. Students learned how to take care of the trees. They also discussed many benefits that trees provide to their communities, including improved air quality, providing habitats for birds and animals, and promoting physical and mental wellbeing.
On Nov. 10, employees from the DLC's communications and community relations team and staff from the Pirates volunteered at Manchester Academic Charter School, working together with students to plant 10 new trees on their playground. Pirate Parrot and Oaklee, Tree Pittsburgh's mascot, assisted with the effort.
"Teaching our kids at a young age the value and the importance of trees and how to take care of them is really important. So hopefully this was a meaningful experience for them and they'll continue to be good stewards and protectors of these trees," said Sarah Evans, who is the students' psychologist at Manchester Academic Charter School.
The Power Hitters program is emblematic of a true community partnership that brought a variety of community groups and stakeholders together, including:
PA State Representative Emily Kinkead
Pittsburgh City Councilman Bobby Wilson
City of Pittsburgh Department of Public Works
The Housing Authority of the City of Pittsburgh
"The cool thing about this is that we were able to leverage the Pirates talent during the season by hitting homeruns that then equated to trees. We were able to engage the community throughout the process and Duquesne Light was right there alongside helping to plan," said Sam Hartzman, manager of community relations at DLC.
Jake Milofsky, director of tree care and reforestation at Tree Pittsburgh, shared his appreciation for the DLC Power Hitters program. "It's partnerships like this with funding from Duquesne Light and the Pirates and work from Tree Pittsburgh that help make that next generation of trees exist."