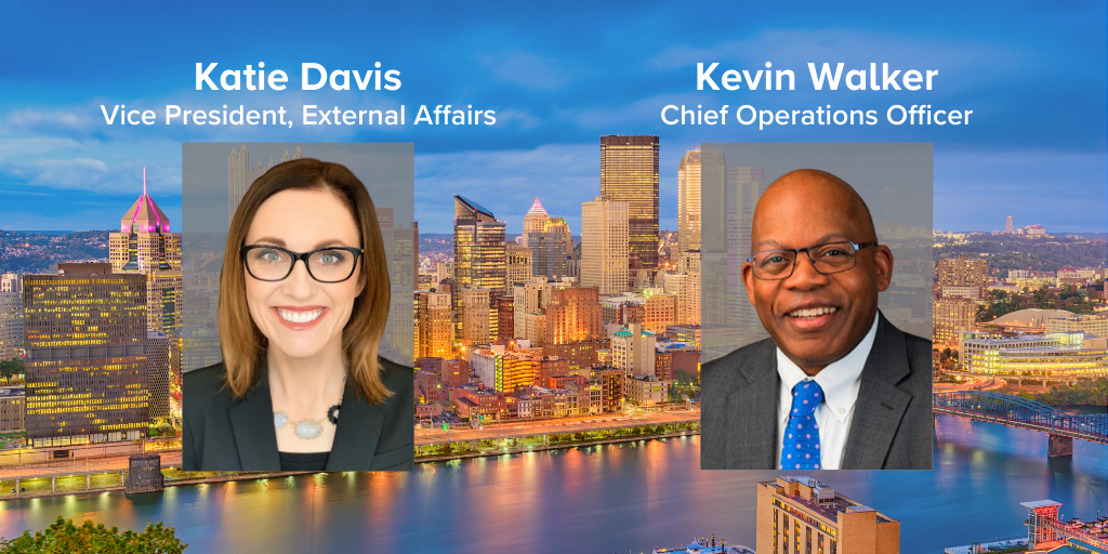 New Leadership Joins Duquesne Light Company
Katie Davis Named Vice President of External Affairs; Kevin Walker, Chief Operations Officer
With the addition of two new leaders on its officer team, Duquesne Light Company (DLC) will continue its efforts to provide the region with safe, reliable and affordable electricity. On April 1, 2020, Katie Davis will join DLC as the company's Vice President of External Affairs and Kevin Walker will join as the Chief Operations Officer.
---
Katie Davis Joins Duquesne Light as Vice President of External Affairs
Katie Davis will join DLC as Vice President of External Affairs on April 1, 2020.
Throughout her career, Davis has built relationships with key stakeholders of diverse perspectives, uniting them on complex issues and developing comprehensive strategies together.
As the Vice President of External Affairs, Davis will be responsible for the alignment of communications, community relations and sustainability efforts with DLC's governmental and regulatory affairs teams. Through these strategic partnerships, DLC will significantly enhance its leadership both in the community and on critical energy policy issues in the state.
Davis most recently served as Director and Chief of Staff to the CEO for PG&E Corporation. In this position, she played a key role in providing counsel to the CEO and senior leaders during major company events such as the most catastrophic wildfires in California's history, the largest proactive power shutoff in the energy industry and one of the most complex bankruptcies in the country.
Prior to being named Chief of Staff, Davis served as Manager of Public Affairs where she oversaw a team of Local Public Affairs Representatives serving as PG&E's liaisons to local government staff, elected officials and community stakeholders covering an area representing a population of roughly 4.6 million people.
Before joining PG&E, Davis worked in political and land use consulting in the North Bay area, where she created grassroots campaigns and built diverse coalitions.
Davis holds a bachelor's degree in Spanish and Communications from University of California, Davis.
In her spare time, she enjoys spending time with her daughters, husband and two dogs.
---
Kevin Walker Joins Duquesne Light as Chief Operations Officer
Kevin Walker will also join Duquesne Light on April 1, 2020, as Chief Operations Officer.
Walker brings more than twenty years of operations leadership experience, having most recently served as the Senior Vice President of Customer and Operations Services and Nuclear Decommissioning at Southern California Edison. In this role, he oversaw the operational services group which included supply chain, corporate real estate, transportation services and corporate environmental services.
Prior to joining Southern California Edison, Walker previously held Chief Operations Officer level positions at both Iberdrola and American Electric Power.
Walker is a proud former member of the U.S. Army and served six years as a Field Artillery Officer during Operation Desert Storm. Walker holds a bachelor's degree in Civil Engineering from West Point Academy and a Master's of Business Administration from Wharton School of Business at the University of Pennsylvania.
In his spare time Walker enjoys biking, hiking and spending time with his six-year-old twins, as well as his two dogs.
---
Under the direction of Davis, Walker and the entire officer team, DLC will be well poised to continue providing this region with safe, reliable and affordable service. Together, they will deepen DLC's community involvement and leadership and identify opportunities for increased sustainability and company growth.