National Lineworker Appreciation Day: What's It Like To Be a DLC Lineworker?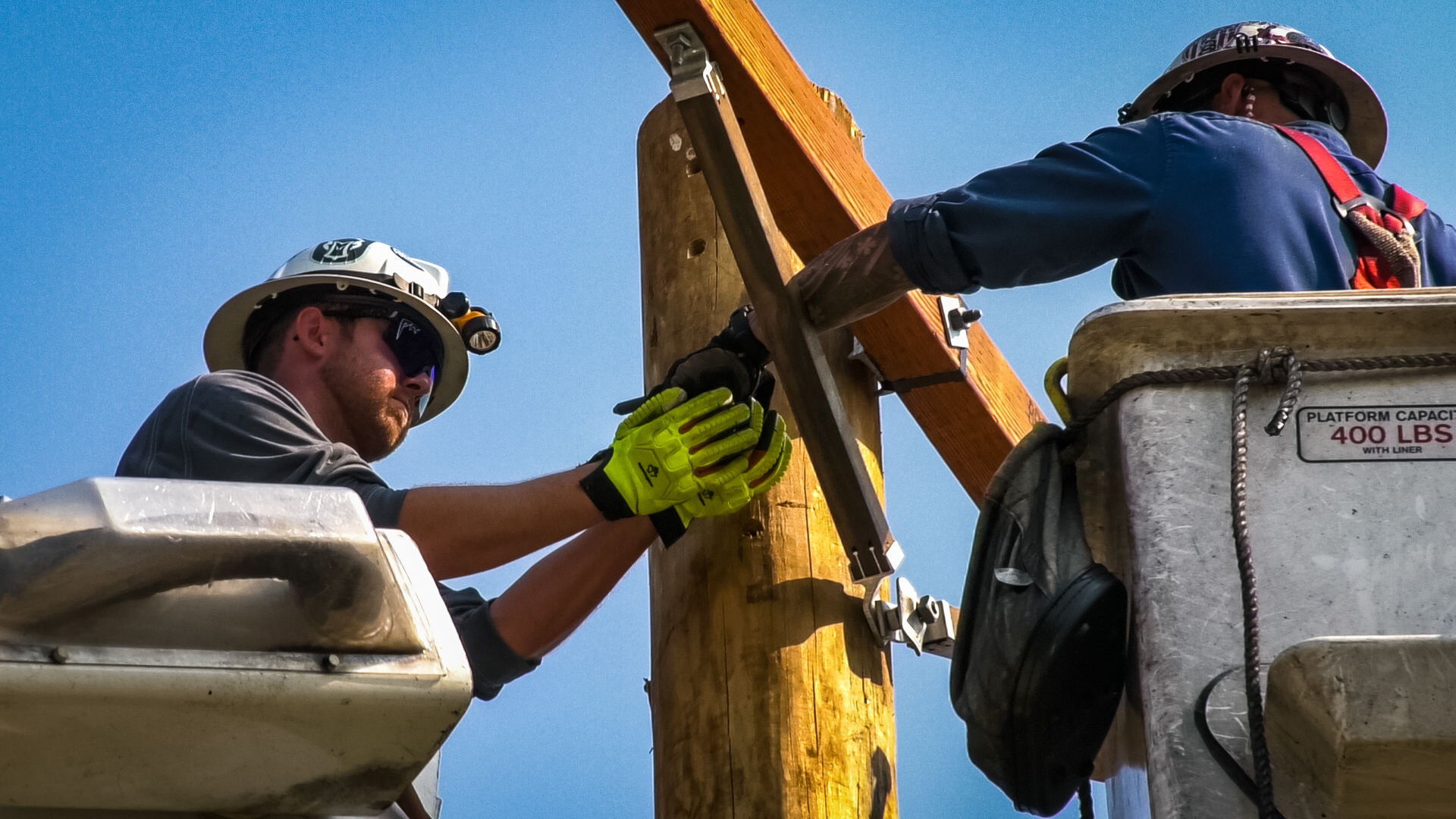 July 9, 2021
Duquesne Light Company's (DLC) lineworkers are a critical part of the organization's operations. Their dedication is greatly appreciated. From scheduled maintenance and projects to storm restorations, these fearless employees are essential to powering the lights and lives to more than 600,000 customers in the Pittsburgh region.
July 10 marks National Lineworker Appreciation Day, which is recognized by the Edison Electric Institute (EEI), the International Brotherhood of Electrical Workers (IBEW), the Utility Workers Union of America (UWUA) and the National Electrical Contractors Association (NECA). This date was chosen to honor Henry Miller, IBEW's first president, who died on July 10, 1896. ​
A Day in the Life of a Lineworker
Tasks for lineworkers vary daily.
"It's just something different every day. It makes it fun and interesting," said Chris Bruder, who is a senior lineworker and crew leader. He values the variability and said that it's one of his favorite parts of the job.
Crews typically begin their day by receiving assignments and loading any materials they might need throughout their day — often times this includes 50-foot, 3,000 lbs. poles — onto their trucks. They then drive to their assigned job site, set up a work zone and conduct a job briefing, which starts with reviewing safety measures, before work begins. Job assignments can include pole setting, transformer repairs or service upgrades.
Lineworkers have access to warehouses full of tools and garage bays with heavy duty lift trucks for quick responses to outages. (Photos by Nikki Cronin and Nick Ruffolo)
Repairing Damage Following a Storm
Crews are sometimes called away from scheduled maintenance to resolve issues, such as addressing damage due to downed trees or power lines, car accidents or storms. Each week, DLC rotates a designated "trouble crew" to help address these issues.
Shawn Doyle says restoration is the most rewarding part of his job.
"You can have some pride and a sense of accomplishment getting the power back on for thousands of people. When the customers are happy, it gives you a good feeling," the apprentice lineworker said.
Following a storm, Damage Assessors or Troubleshooters are the first to arrive on the scene to survey the situation and provide helpful information.
Repair crews then use a company app, to find out which jobs need to be completed first. If they're unable to resolve the issue immediately, the team will cut down wires to isolate damage and thus restore power for as many people as possible before another crew continues work later.
(Photos by Nick Ruffolo)
Training Next Generation Lineworkers
As our region continues to grow, preparing the future workforce will be essential in transforming DLC into a utility of the future that prioritizes diverse perspectives and backgrounds.
In 2003, DLC broadened its recruiting efforts by launching the Electrical Distribution Technology, or EDT program, in partnership with the Community College of Allegheny County (CCAC).
Through this nine-month, accelerated, 44-credit certificate program, students learn the skills required for entry-level roles such as apprentice lineworker, senior operator, underground splicer and distribution operations center supervisor.
Lexie Nowakowski, who is an apprentice in the program, finds value in her experience ​ where she has assisted with setting poles, worked as a flagger for traffic, and was tasked with learning the proper tools to gather for the day's assignments.
"This is a way to get experience, to understand what (I'm) doing and learning (what to do in the field)," she said.
Upon completing the EDT program, some students will be offered full-time employment opportunities with DLC.
We encourage you to take a moment on July 10 to thank our lineworkers for powering – and empowering – our communities. You can also show your support by visiting DLC's Facebook page to use our National Lineworker Appreciation Day profile picture frame!