Duquesne Light Company Offering Full Scholarships for All Accepted Apprenticeship Applicants
Launch Your Career in the Electric Utility Industry with DLC's free EDT program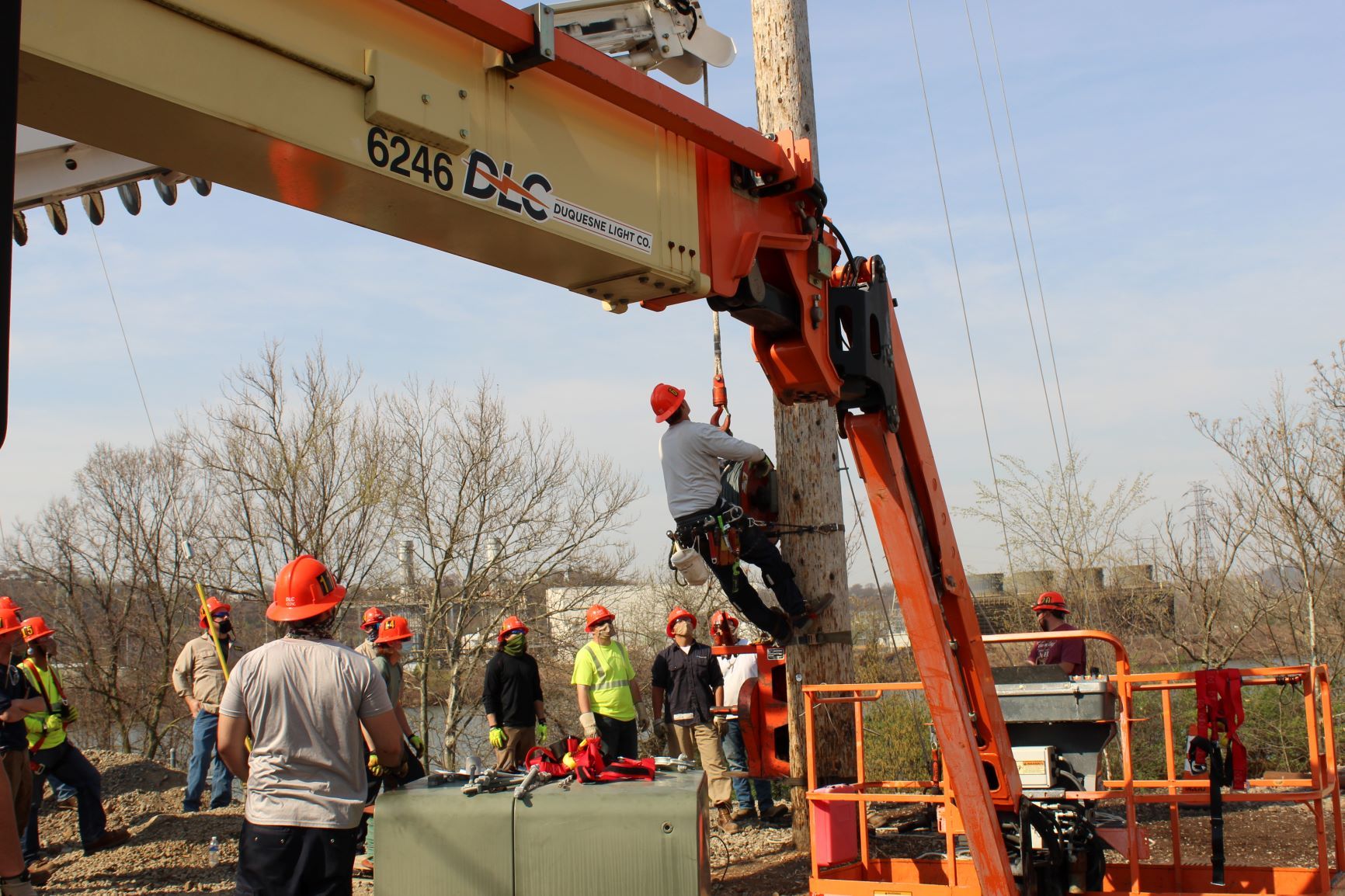 April 7, 2022
Open for applications, Duquesne Light Company's (DLC) upcoming Electrical Distribution Technology (EDT) program and EDT Prep program are looking for candidates interested in a career in the electric utility industry. At DLC, we're committed to developing talent throughout our communities and encourage potential candidates to learn more about these career opportunities.
About DLC's EDT Program
In partnership with the Community College of Allegheny County (CCAC), DLC is accepting applications for its 2022-23 EDT program. The one-year course, which will begin in August 2022, is free for all who are accepted and is designed to prepare students for entry-level skilled craft positions associated with electric utilities. The deadline to apply is Friday, May 13, 2022.
The EDT program consists of courses designed to train incoming candidates to become lineworkers. Program participants will be exposed to the theoretical and practical aspects of working in an electric utility. This includes general education courses like math, introduction to information technology and AC (Alternating Current) Theory, as well as the practical elements of working in overhead, underground and substation maintenance.
This is a full-time program where students will attend classes Monday through Friday, both in the day and evening. In one year, they will complete the 33-credit course and receive a certificate in Electrical Distribution Technology.
"We're looking forward to looking through applications of the next class of EDT students. Those who are interested in a career in the electric utility industry and successfully complete the EDT program will be considered for future employment with Duquesne Light Company," said Jeffery Peters, Manager, Talent Acquisition.
DLC will offer a five-week paid rotational internship at the end of the first semester. There is also a three-month paid internship at the end of the second semester, where students will be placed in a department within DLC. Upon completing the EDT program, students will receive a certificate in Electrical Distribution Technology from CCAC.
Perks
100% free tuition
Each student will participates in two (2) paid internships during the school year
Free Class A CDL license upon passing driver's test
Complete the certificate program in one (1) year
Successful graduates are considered for full-time positions at DLC; 98% of graduates receive offers. *Graduation does not guarantee employment.*
To review the process and apply, you can visit the job posting here. 
EDT Prep Program
The EDT Prep program is part of DLC's School to Work partnership initiative designed to prepare rising seniors and recent graduates for the EDT program and its selection criteria. This full day, virtual program held from 9 a.m. – 3 p.m. has two sessions, one for rising seniors and another for recent high school graduates.
The readiness program will expose participants to skills applicable to the CAST test, including trades math and reading comprehension; career readiness skills such as resume writing and interview prep; and OSHA and CPR courses. At the completion of the program, participants will take the CAST required for all EDT program applicants. The deadline to apply for Session 1 is Monday, June 13, 2022. Session 2 applications are due by Monday, July 4, 2022.
This year, DLC is offering two sessions:
Session 1 (June):

Occurs June 20 – July 15, 2022
The four-week long June session is for seniors who are graduating this spring or who have recently graduated. This session includes a three-day Wood Pole School at the very beginning of the program so that participants can still be considered for the 2022-2023 EDT Program that begins in August.

Session 2 (July): ​

Occurs July 11 – July 29, 2022
The three-week long July session is for rising seniors or recent graduates who would like to apply for the 2023-2024 EDT program. They will follow the application process that will open this fall and attend Wood Pole School in the spring of 2023.
To learn more about job opportunities with Duquesne Light Company, visit our Careers page.