Juneteenth: A Time for Celebration and Reflection
A message from Kevin Walker, Duquesne Light Company's president and CEO; and Sara Oliver-Carter, chief diversity officer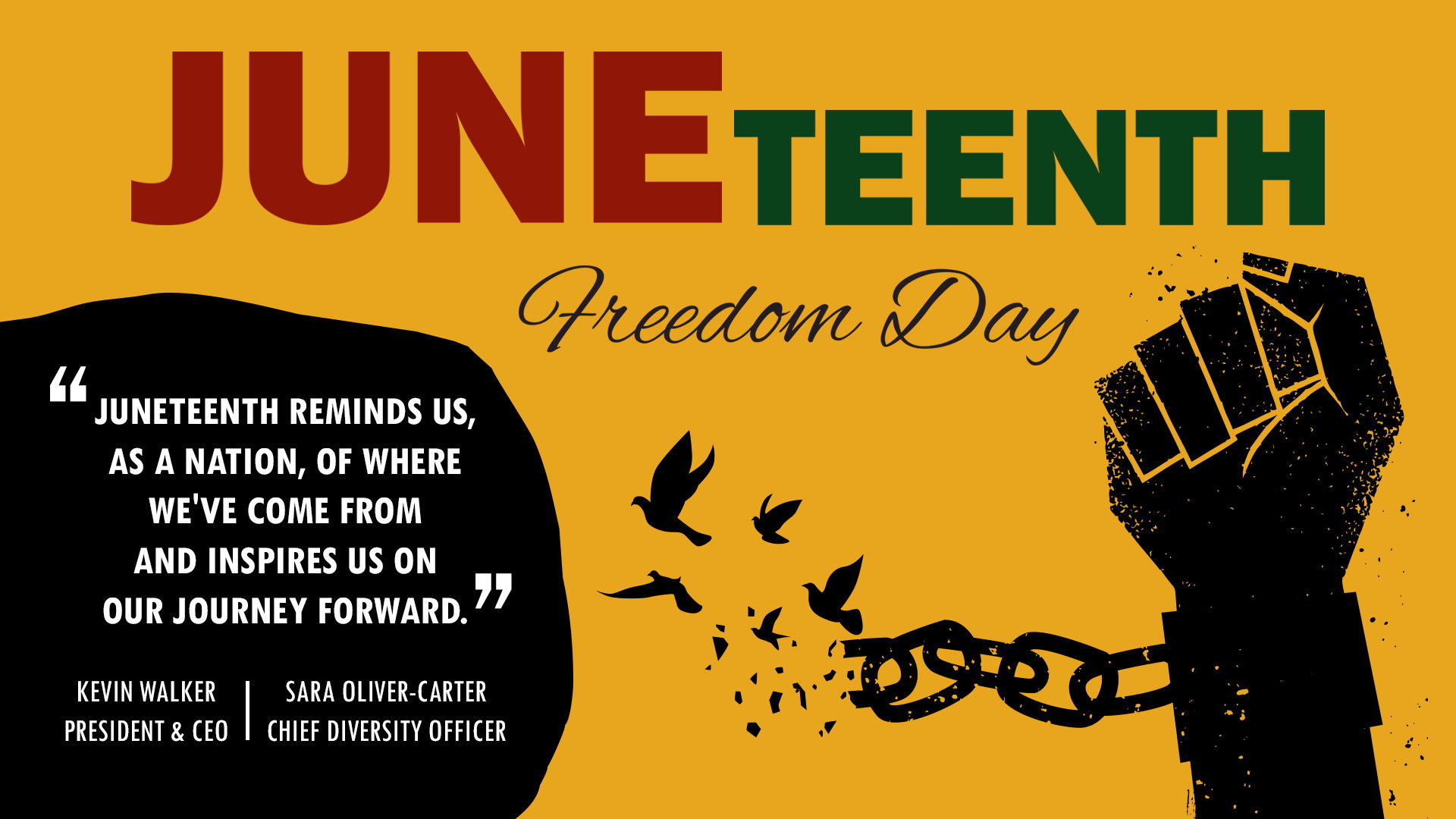 June 18, 2021
On Saturday, June 19, we recognize Juneteenth, a holiday celebrating the emancipation of those who were enslaved in the United States. Also known as Freedom Day, Jubilee Day, Liberation Day and Emancipation Day, one of the most notable parts of the holiday includes reading the proclamation made by General Gordon Granger on June 19, 1865 in Galveston, Texas, two years after the Emancipation Proclamation was signed, that all enslaved people were free. A tradition that's lasted for 155 years, his proclamation is still read in cities across America and throughout the world as we celebrate Juneteenth.
Juneteenth commemorates freedom and progress that's been made toward equity and inclusion for Black Americans. People of all races, nationalities and religions come together to acknowledge a period in our history that shaped, and continues to influence, our society today. Juneteenth reminds us, as a nation, of where we've come from and inspires us on our journey forward. Understanding our past and recognizing people's experiences helps us empower one another to build a better tomorrow through significant and lasting improvements.
As a company, we'll continue to support the Black Community. Whether through our Small Business Spotlights presented in partnership with the New Pittsburgh Courier that highlight local, Black-owned businesses or our internal efforts including forming BRIDGE, our Black and African American Business Employee Resource Group, we're working on being allies to our employees, customers, suppliers and community.
Juneteenth can be a day, a week or, in some places, a month marked with celebrations speakers, picnics and gatherings. On Saturday, BRIDGE will host DLC's first annual Juneteenth celebration for employees. An afternoon filled with talented performances from Nia Dance Ensemble, an African dance group, and spoken word performers Ronisha Williams, retail customer choice analyst and Shayla Foster, we're looking forward to spending time together.
As a time to reflect on the successes of Black Americans, Juneteenth also is viewed as time to look to the future. Holidays and events, like Juneteenth, are one of the many ways we celebrate resiliency, strength and the progress we're making in creating a society where all people are respected and valued for their differences.
As we work to build our new table together, it's important we support one another in our challenges while taking the time to celebrate the progress we've made toward forming an inclusive and equitable community and workplace.