Join Duquesne Light Company in Celebrating Native American Heritage Month
A message from President and CEO Kevin Walker and Chief Diversity Officer Sara Oliver-Carter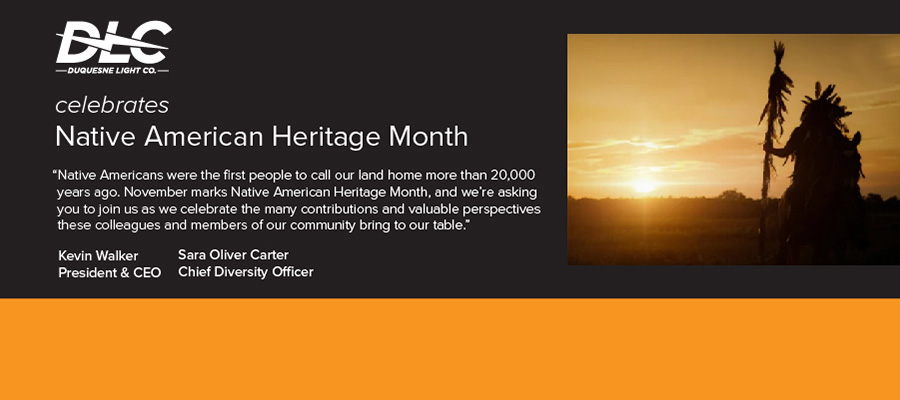 November 1, 2021
Native Americans were the first people to call our land home more than 20,000 years ago. November marks Native American Heritage Month, and we're asking you to join us as we celebrate the many contributions and valuable perspectives these colleagues and members of our community bring to our table.
Historically, Native Americans have made significant progress in the fields of medicine and farming. For example, they created syringes using animal bladders and bird bones to inject medication. Incredible strides were made as Native Americans found medicinal uses for more than 2,500 plant species. We also can thank them for raised-bed farming, a modern practice that's still used today to grow vegetables. Using their own practices, they could support roughly three times as many people per acre than European farmers. Their knowledge of nature and collectivistic mindset led to many accomplishments that we still see in our society today.
We also have Native Americans to thank for their contribution to both World Wars. In World War One, communications were intercepted by opposing militaries and it was extremely difficult to operate without our plans quickly being discovered. Members of the Choctaw Nation who were able to speak both in their own language and English could send and decipher messages that Germans could not translate. In World War Two, the army began recruiting Native Americans specifically for what would be known as "code talkers." Because of the unique structure of their language and how little was known of it by outside cultures, recruits from the Navajo Nation became the primary code talkers. Thanks to their abilities, we were able to operate with less of our plans being intercepted.
Native Americans continue to make significant contributions in medicine, politics, business, sports, education and every other facet of contemporary life. From Xiye Bastida, climate activist, to Ben Nighthorse Campbell, former U.S. Senator — our region and our country are better off for them being part of our table.
Although we refer to Native Americans as one collective group, tribes have unique cultures and practices. From the Paleo-Indians who lived in Pittsburgh 16,000 years ago to Pittsburgh's current Council of Three Rivers American Indian Center (COTRAIC) led by Indigenous community members; Native Americans have transformed throughout the years but have always been resilient when faced with challenges. ​
At Duquesne Light Company, our Diversity, Equity and Inclusion (DEI) Council will provide learning opportunities for employees throughout the month including information about the tribes who call Pittsburgh home, Native Americans across the country and different aspects about their cultures.
Thank you for your continued commitment to learning and growing together.