Hidden Harvest Volunteers Collect Overlooked Produce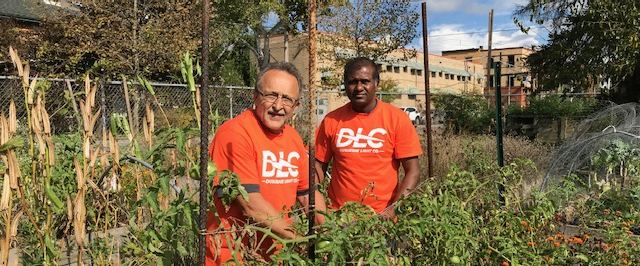 Since earlier this summer, Duquesne Light employees have partnered with 412 Food Rescue to help harvest more than 800 pounds of fruits and vegetables through the organization's "Hidden Harvest" program.
"Hidden Harvest" collects fruits and vegetables from public and privately-owned trees, orchards, farms and gardens with the help of volunteers. This produce is donated to organizations that serve those who are experiencing food insecurity, with any additional produce delivered to local partners that turn it into a value-added product.
During volunteer events this summer and early fall, DLC employees helped gather produce from pre-identified trees throughout the City of Pittsburgh that would have otherwise gone to waste, including crabapples and pears as well as vegetables from a local garden. Since our partnership with 412 Food Rescue began in 2018, our employees have helped harvest more than 2,000 pounds of produce.
Employees Harvest Produce throughout the City
On Oct. 4, 15 DLC volunteers harvested 150 pounds of pears, 65 pounds of crabapples, ten pounds of kale, ten pounds of tomatoes and five pounds of collard greens. The harvested fruits and vegetables were donated to A Few Bad Apples, the Homewood YMCA and Threadbare Cider.
Employees previously volunteered at other harvest events this year, including:
July 19 –Collected more than 190 pounds of crabapples, which were then donated to Threadbare Cider to be made into 412 City Cider. Proceeds directly benefited 412 Food Rescue's various programs.
Sept. 13 – Collected more than 190 pounds of crabapples and 190 pounds of pears. All of the harvested produce was then donated to Threadbare Cider and IW Abel Place, an affordable senior housing facility.
Duquesne Light looks forward to continuing our partnership with 412 Food Rescue through additional events in 2020.