Employees Celebrate Season of Giving through Donation Drives, Fundraisers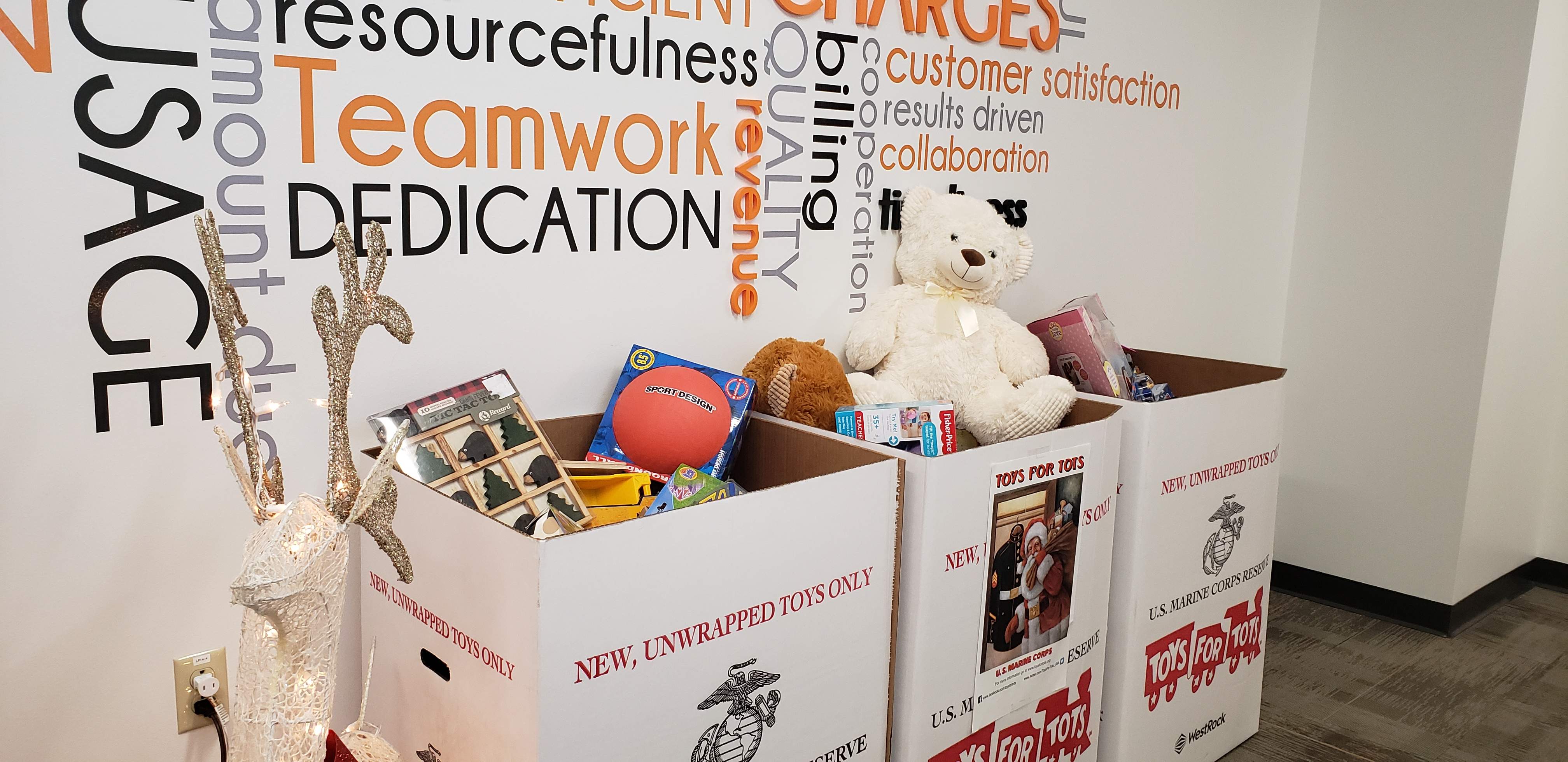 Duquesne Light strives to give back to the communities we serve in a variety of ways each year. This commitment shines through this time of year as employees go above and beyond to help ensure those who are less fortunate have a happy and joyous holiday season. ​ They recently demonstrated their ongoing support by hosting a number of donation drives and fundraisers.
Office of General Counsel Donates Items to Northside Food Pantry
On Nov. 19, Duquesne Light's Office of General Counsel (OGC) group, delivered more than 230 pounds of food items to the Northside Food Pantry ahead of Thanksgiving. 
Donation Drive Delivers Goods to Deployed Military Members
In partnership with Operation Troop Appreciation (OTA), DLC held its 2nd Annual Veteran Donation Drive in November, which collected $600 and 24 boxes full of items, including small personal grooming and food donations, to send to deployed U.S. military members. OTA is a volunteer-run non-profit that provides support to active duty and deployed troops across the Country as well as veterans in Western Pennsylvania.
IBEW Completes Another Successful "Stuff the Bus" Event
Each year, employees across the Company participate in the IBEW Local 29 "Stuff the Bus Toy Drive."The annual event brings together DLC employees and Local 29 members to help families in need during the holiday season by donating gifts for local children who may not otherwise receive them.
On Dec. 5, volunteers filled a Port Authority bus with the donated gifts to be distributed in time for the holidays. Overall, more than $500 in gift cards and 1,000 individual gifts were collected to help benefit those in need. ​ 
Employees Spread Holiday Cheer to Local Veterans
On Dec. 6, 19 DLC employees and their family members visited local veterans and residents of the Southwestern Veterans Center to deliver holiday gifts. This year, 54 veteran patients were adopted by employees across the Company who purchased "wish list" items ranging from holiday treats to grooming essentials.
Southwestern Veterans Center provides a broad spectrum of health care and related services to veterans who are disabled, chronically ill or in need of specialized care. Employee volunteers spent time connecting with veteran residents as they delivered the gifts.
DQE Communications "Adopts-a-Family" for the Holidays
DQE Communications again participated in the Salvation Army's Adopt-a-Family program. For the third consecutive year, employees across the organization teamed up to collect toys, household items, electronics and more in the spirit of helping a local family celebrate the holiday season.
On Dec. 6, several employees joined together for a "wrap party," where they wrapped all of the donated items. Doubling as a team-building activity, the party was a great way to come together in the spirit of giving.
Customer Contact Center, Billing Group Partner to Support Toys for Tots Gift Drive
The Customer Contact Center and Billing departments joined forces to provide support for the Marine Toys for Tots Program. Employees filled three large donation boxes full of toys for local children. Since its inception in 1947, Toys for Tots has delivered a message of hope to the less fortunate trough their collection and distribution of new, unwrapped toys for children.
Employees Raise Money for Dollar Energy Fund
On Dec. 12, the Customer Experience group organized the Company's annual "Bowls for Warmth" event at 411 Seventh Ave. Participants made a ​ $5 donation to sample up to four soups prepared by employees, and had the opportunity to vote for their favorite. With a Company match, the event raised more than $800 benefiting the Dollar Energy Fund.
"This year, DLC employees went the extra mile to give back to those in need and ensure local families have a happy holiday," said Sam Hartzman, Associate Manager, Corporate Citizenship. "All of these efforts continue to demonstrate how passionate our employees are about making a difference in the communities where we live and work."