Electrification Results in Cost Savings, Health and Safety Benefits
From all-electric PRT buses to induction cooktops, beneficial electrification can lead to healthier communities, cost savings and new jobs.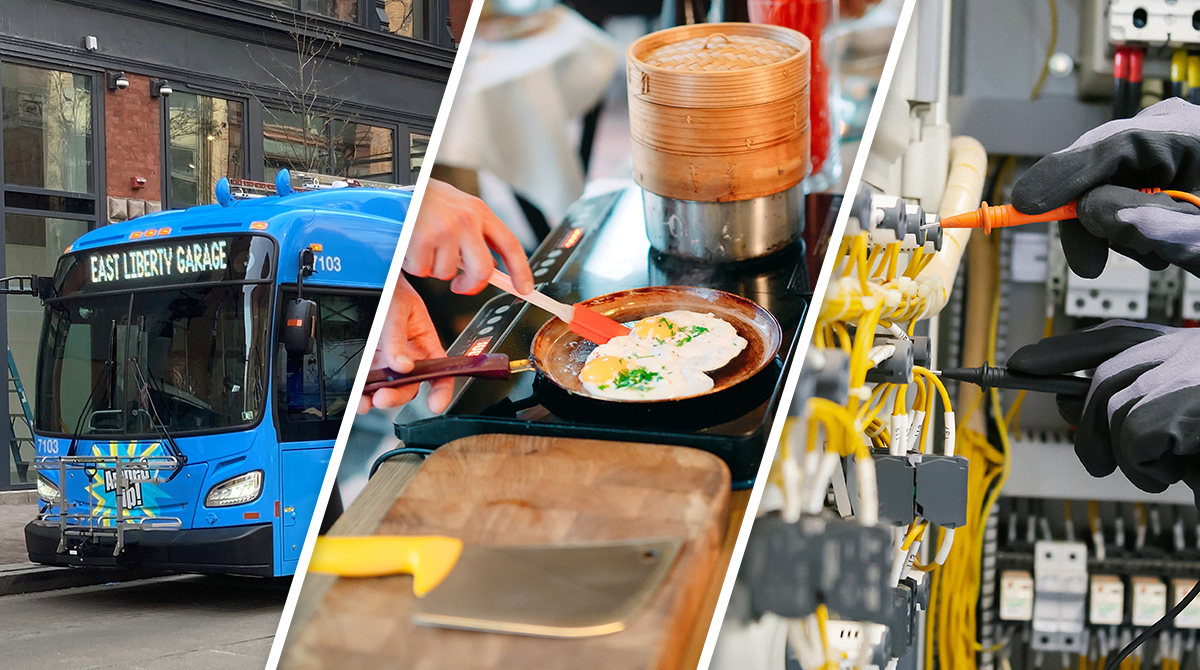 September 29, 2023
Electrification — the powering of machines and systems with electricity instead of direct fossil fuel combustion — has gained momentum as a strategy for reducing greenhouse gas emissions in recent years. Many decarbonization strategies, including those produced by the White House, U.S. Department of State, IPCC and International Energy Agency, have a significant role for electrification, all while driving down emissions in the generation sector through increased renewables and emerging low- and no-carbon sources, such as advanced nuclear and carbon capture, sequestration and use.
Electrification can have a significant role in the Pittsburgh region by improving the lives of residents and benefiting our communities. Deploying this strategy can help reduce costs for residents and create a healthier and safer environment.
What is beneficial electrification?
A more nuanced term is "beneficial electrification," which, generally, is defined as electrification of a machine or system that achieves three goals: 1.) energy efficiency improvements, 2.) cost-savings and 3.) reduced environmental impact.
Beneficial electrification does not mean electrifying everything, but rather identifying opportunities to electrify that which produces co-benefits for society and the environment. For example, replacing a gasoline vehicle with an electric vehicle (EV) results in energy savings because the EV is more efficient per unit of energy. This efficiency leads to cost savings for the driver. The EV is also quieter and cleaner, with zero tailpipe emissions, reducing impact not just for the driver but for the whole community.
Beneficial electrification looks beyond transportation to also include electrifying systems in the built environment, such as home heating with efficient electric heat pumps; quick and safe induction stoves; and heat pump hot water heaters. The potential for deriving benefits through electrification is particularly compelling for customers who lack access to natural gas and heat their homes using fuel oil or propane due to the potential cost savings.
Beneficial electrification opportunities are also present in the commercial and industrial sectors. One example is efficient electric cooking technologies, which are becoming popular in some of the world's top restaurants. Some of the best chefs are moving to electric induction cooking because it allows them to precisely control temperatures, is easier to clean and produces less heat. This all makes kitchens more comfortable for food service workers. By removing combustion of natural gas from the kitchen, beneficial electrification also reduces toxic pollutants in the air, producing an enhanced, safer and healthier experience for the occupants.
An opportunity to improve energy equity
Instead of thinking about electrification as only a decarbonization strategy, we must also recognize the significant social and health benefits that can result from transitioning to this technology. For example:
The average American home is estimated to save $1,800 per year on energy bills by electrifying, according to Rewiring America. For Pittsburghers with a particularly high energy burden — the percentage of income that goes to energy costs — savings on monthly energy bills can be significant.
Through federal incentives available for electrification, it is estimated that the average low- or moderate-income home in Pennsylvania could qualify for an average of more than $11,000 in rebates, and more than five million Pennsylvania homes could qualify for over $5,700 in tax credits, making electrification more affordable. We should be working together to bring as much of this funding to the Pittsburgh region as possible to benefit our communities and promote a clean energy future for all.
Electrification will result in an estimated 12,800 new Pennsylvania jobs in manufacturing, installation and skilled labor. These are local jobs in Pennsylvania communities with a low barrier to entry that will help grow local economies.
Allegheny County has higher childhood asthma rates than the national average. Removing indoor combustion from fossil fuel appliances can improve indoor air quality. Additionally, increasing the number of EVs on the road can decrease localized pollution. These actions will positively impact the health of communities and result in fewer asthma attacks and less missed days of school for children.
Electrification can also expand access to cooling because heat pumps provide both heating and cooling, even in homes without ductwork. This becomes more important as our region experiences a higher number of days over 90 degrees, particularly for at-risk populations, such as seniors and those with respiratory and other health challenges.
This major shift in energy use will require collaboration across sectors and industries to ensure decarbonization occurs equitably. Beneficial electrification has the potential to improve local indoor and outdoor air quality, save residents money and grow the local economy with new jobs. Deploying these innovative strategies can give our region a competitive advantage and make Pittsburgh a vibrant place to live and work.
Visit DuquesneLight.com/CleanEnergy to learn more about how you can save money and take advantage of energy efficiency and electrification programs today, as well as how Duquesne Light Company is advancing a clean energy future through public policy and operations.
This article first appeared in the Pittsburgh Business Times on May 30, 2023.