Duquesne Light Teams with Hosanna House for Backpack Giveaway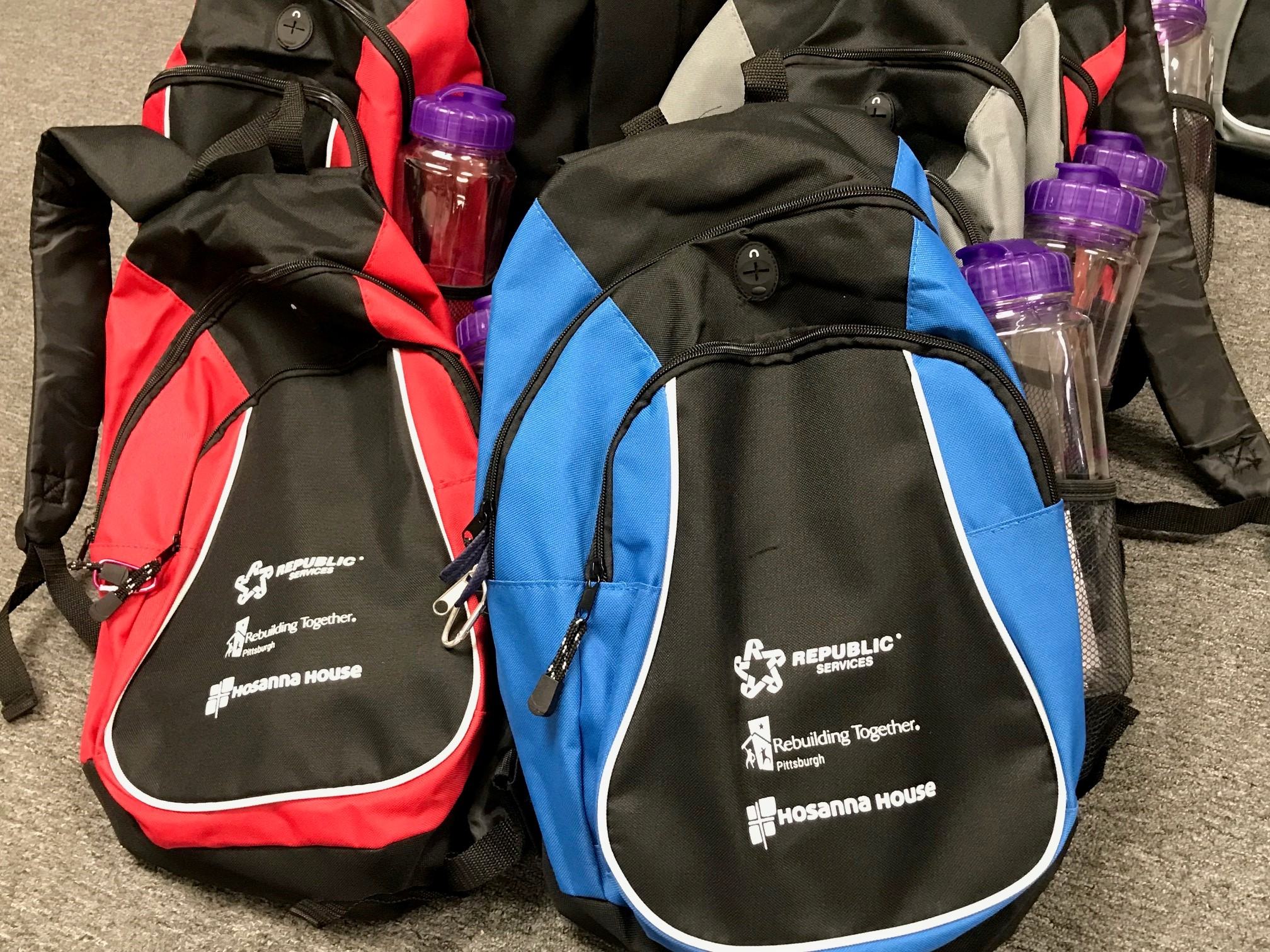 August 6, 2021
Western Pennsylvania schools are a few short weeks from starting class, and some Duquesne Light Company (DLC) employees spent Friday morning volunteering with a local nonprofit to give away educational supplies to children in the neighborhood as they prepare for the school year.
Located just outside of Pittsburgh, in the borough of Wilkinsburg, Hosanna House aims to "influence, impact and make a positive difference in every generation," according to Randy Goodnight, who serves as the organization's director of youth services.
Eight DLC volunteers worked alongside several Hosanna House staff members to fill 200 backpacks for elementary and middle school students. Items included: pens, pencils, scissors, erasers, rulers, crayons, calculators, folders, notebooks and water bottles.
James Craig, who has worked as a customer service representative for seven years at DLC, attends a church near Hosanna House. He said he's known about their impact in the community for years and jumped at the opportunity to assist.
"It's nice to be able to see and help with (the backpack giveaway) in person," Craig said.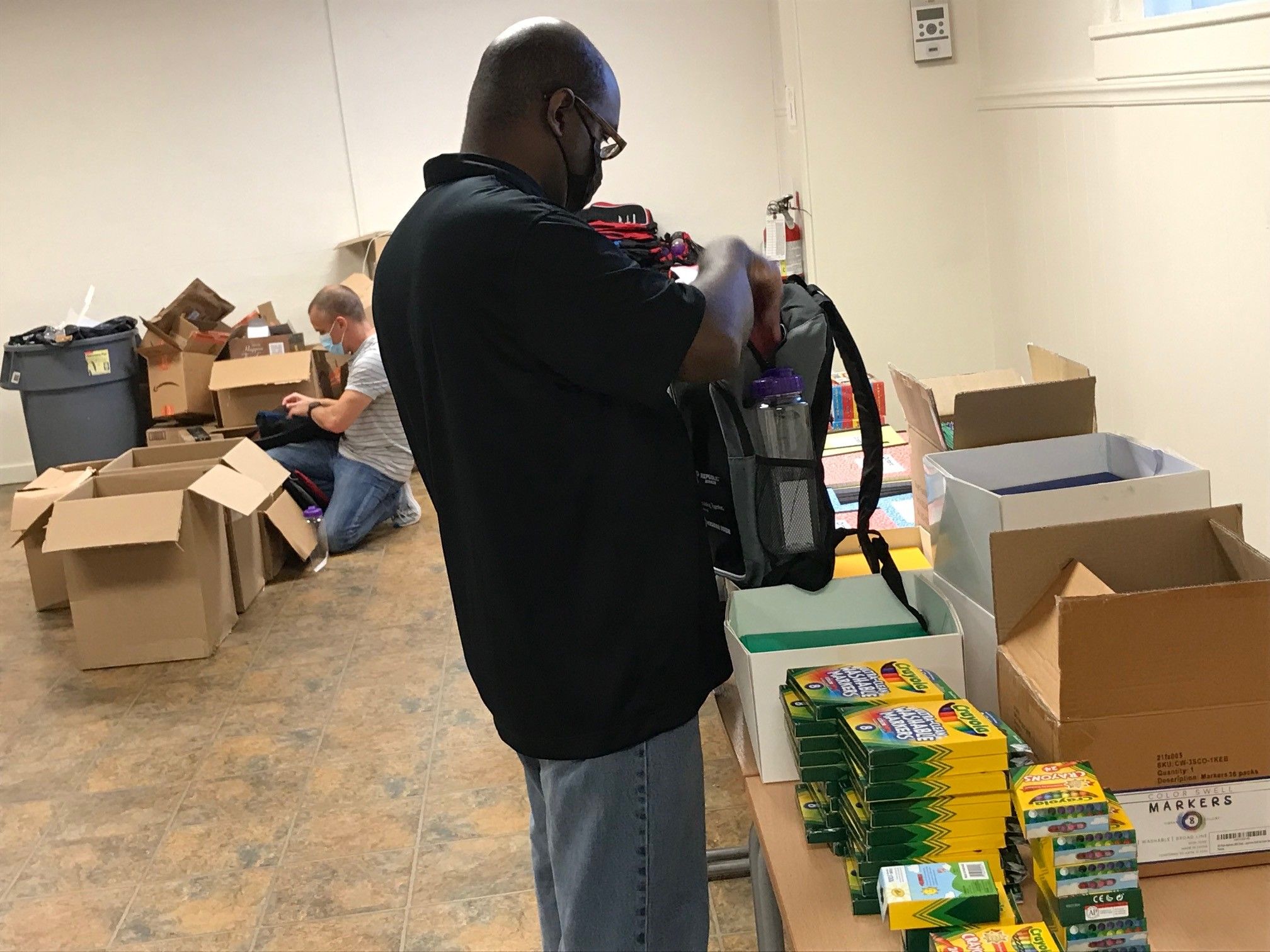 Goodnight said the giveaway is two-fold; to fill an immediate need for families who may be struggling financially and as an investment in the students' education.
"We've been blessed to be partners with DLC," he said.
Jenn Salmans, Director of Grants and Corporate Citizenship at Hosanna House, said events like the giveaway are the "bread and butter" of the organization's investment in local families. "We want to interrupt the cycle of poverty by investing in education for children."
Approximately 100 stuffed backpacks, valued at $50 each, were given to children ages 5- to 13-years-old who attended Hosanna's 7-week summer camp.
The remainder of the bags will be divvied up and donated to schools and churches in the area that have identified families in need.
DLC volunteers filled 200 backpacks with supplies Friday, Aug. 6, 2021 for Hosanna House's back-to-school giveaway.
Many of the supplies from the giveaway were purchased by DLC employees after Hosanna House shared its Amazon "Wish List" with the company.
Salmans estimates 90% of the families of attendees were receiving subsidies or attending camp on a scholarship.
"We wanted to give these families a boost as their kids report back to in-person class," Salmans said. "Now they have school supplies and can focus on learning."
Chuck Grguras (L), Brittney Worthy (yellow shirt) and Christopher Policicchio stuff backpacks full of back-to-school supplies as part of DLC's volunteer partnership with Hosanna House.
"This alone is a huge help," said a local mother of two, who drove to Hosanna House to receive the backpacks curbside. She has a daughter in eighth grade and one in third. "It's a leg up and now I don't have to worry about it," she said, adding that she needs to replace "bald" tires on her vehicle.
Jenna DeLozier, who works in distribution for DLC, said volunteering with Hosanna House is a "big deal." She described back-to-school shopping as her "favorite season" because it brings back memories from volunteering with her grandmother to help children in need for similar programs.
"I was pretty excited to help out (with today's event)," she said.
"Boxes of Joy" were also given to the children as a portion of Hosanna House's partnership with the Children's Museum of Pittsburgh.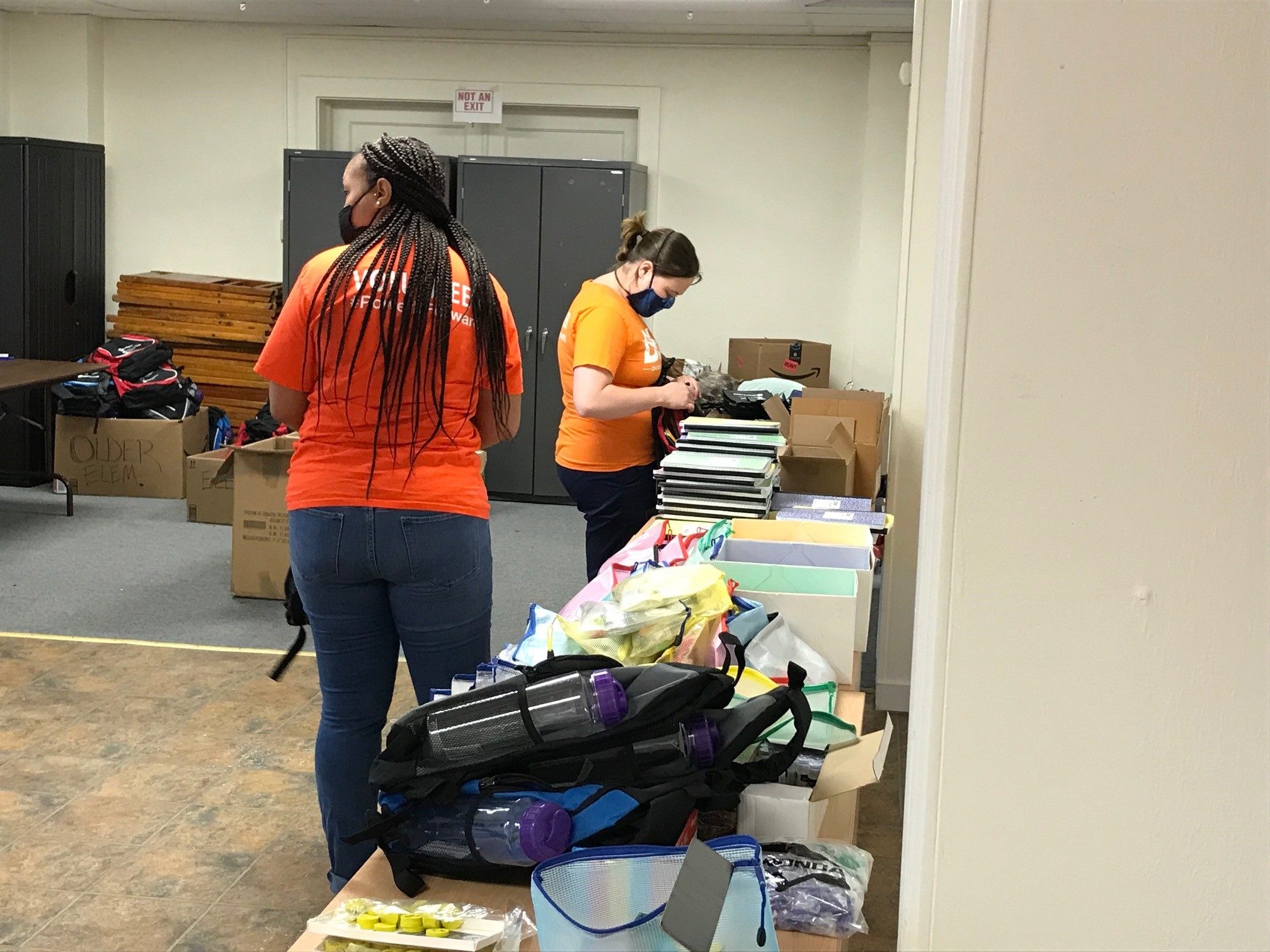 Other sponsors for the backpack giveaway include Republic Services, Rebuilding Together Pittsburgh, First National Bank and UPMC.
As of July 31, DLC employees have logged more than 1,330 hours of volunteer time on behalf of the company.