Duquesne Light Reaffirms Commitment to 'Building a New Table Together' in First Diversity, Equity and Inclusion Report
Company continues to make progress on improving diversity, equity and inclusion within and outside of the organization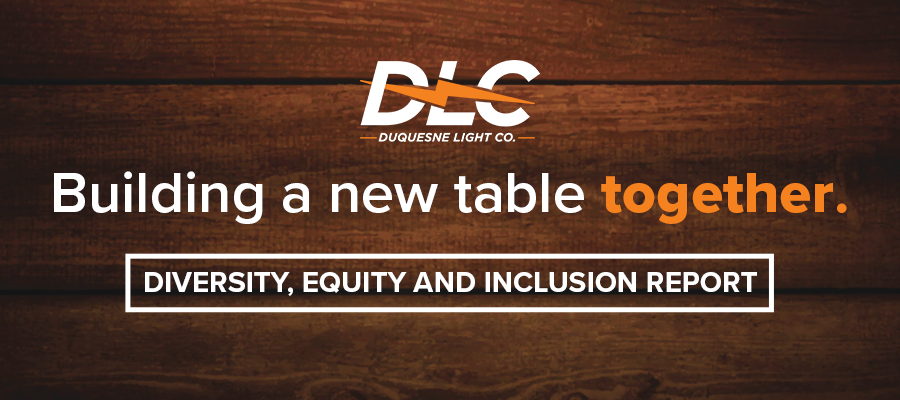 July 20, 2021
Duquesne Light Company (DLC) has announced its inaugural Diversity, Equity and Inclusion (DEI) report — "Building a New Table Together" — to reiterate the organization's long-term commitment to DEI. In recent years, DLC has made a concerted effort to enhance DEI efforts within the organization and in the communities it serves. These efforts have included launching a DEI Council, starting three Business Employee Resource Groups focused on women, veterans and Black and African Americans, and recently naming Kevin Walker as the company's first Black CEO.
"We're at the beginning of our journey of working toward being a utility of the future, and on that journey, we need to be thinking and innovating differently," said Sara Oliver-Carter, DLC's chief diversity officer. "To that end, we couldn't be more honored to share DLC's first DEI report with our customers and the community."
Notable achievements highlighted in the report include:
Increasing diverse talent, including in various leadership positions
Adding inclusive enhancements to employee benefits
Establishing the company's first supplier diversity program
Making community investments that benefit diverse communities and initiatives
Launching "Small Business Spotlight" partnership with the New Pittsburgh Courier
​
The full report can be viewed here.
"As an organization, we're committed to building a new table together, which is an initiative where all employees have a hand in creating an environment where diverse perspectives are not only included, but appreciated and valued," added Oliver-Carter. "As we created this report, I was happy to see a strong level of commitment not only from our senior leaders, but from all of our employees at every level. We have much more work to do, but this report shows the foundation of our journey. We discuss our successes, but also acknowledge the opportunities we have to keep building a new table together."
Walker, who serves as DLC's president in addition to his CEO duties, can also attest to the importance of DEI at DLC and in local communities.
"We know the positive impact diverse perspectives can have in creating an inclusive, welcoming environment where our employees will be empowered to better understand and serve our customers," he said. "We still have a long road ahead, but we're proud of our journey so far and are looking forward to the strides we'll make in the future."