Duquesne Light Employees Volunteer During Earth Month, Arbor Day
Throughout the U.S., April is recognized as Earth Month, and one of the ways Duquesne Light Holdings (DLH) celebrates is through volunteerism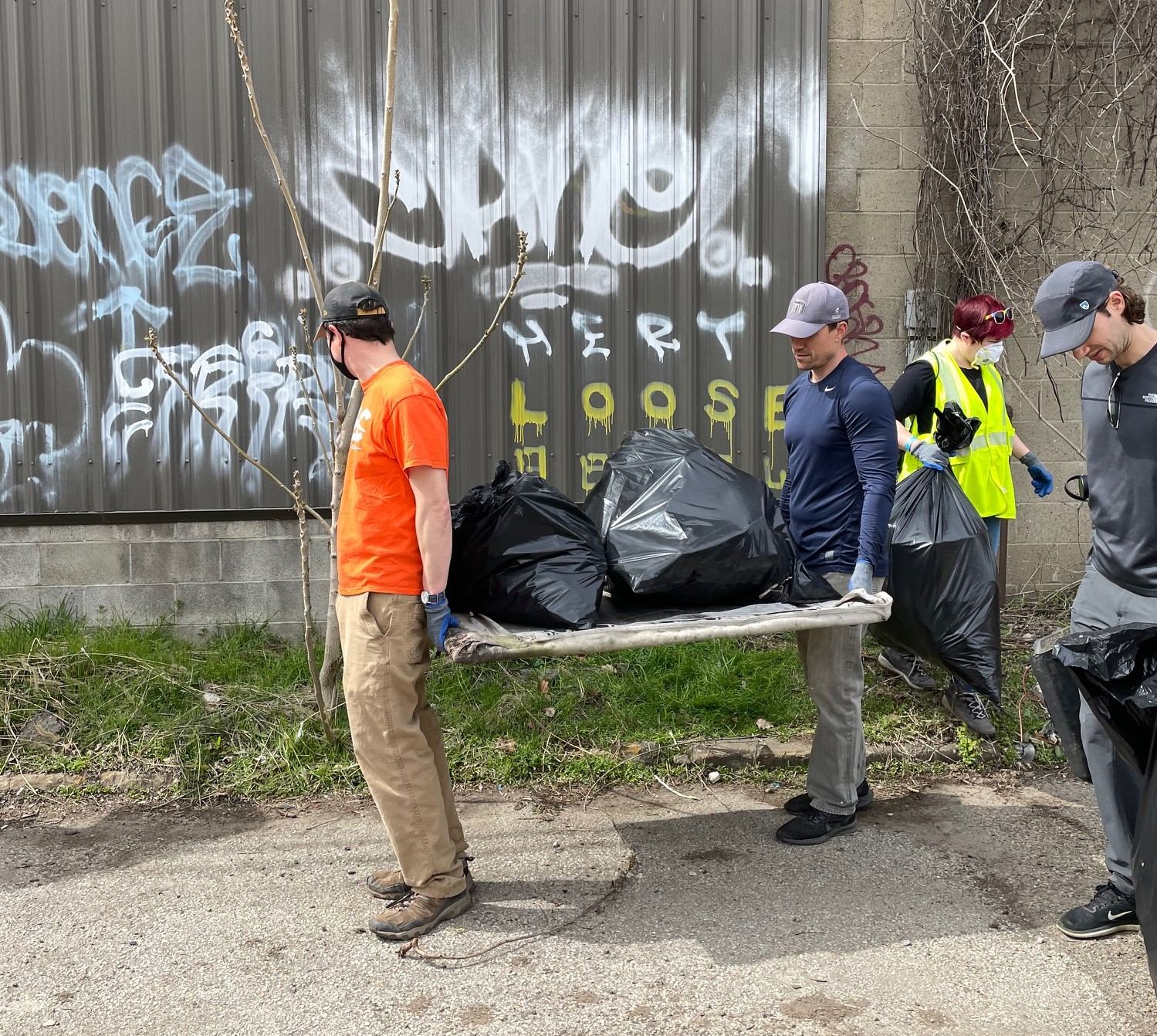 May 13, 2022
Nearly 90 Duquesne Light Co. (DLC) employees and their families participated in 13 volunteer events across the electric utility's service territory during Earth Month to promote environmental sustainability and further the company's vision of building a 'Clean Energy Future for All.'
Employees also participated in projects delivering necessities to residents around the region who are experiencing hardship from the ongoing pandemic. This included food deliveries with the nonprofit Lawrenceville United and baby supplies for Catholic Charities' Pregnancy and Parenting programs.
Employees Participate in Annual What the Muck?! Clean-up
​During the first week of April, employees participated in the Pittsburgh Park's Conservancy's annual "What the Muck?!" clean-up event at Allegheny Commons Park. From April 5 to 9, volunteers helped clean out Lake Elizabeth, a man-made lake on the west side of the park, before it was filled with water for the year. Volunteers also picked up trash around the park, planted pollinator-friendly flowers and placed mulch around trees that were planted by DLC's vegetation management team in 2020. 
DLC is a strong supporter of the restoration at Allegheny Commons Park. In 2020, DLC announced an initial investment of $500,000 to add lighting to the park at the request of community members. In 2021, the company expanded its support to include a $500,000 grant, split across three years, to complete lighting and accessibility improvements in the park.
BERG Events Support Local Environmental Projects
​On April 8, members of A-VETS, DLC's veterans and military business employee resource group (BERG), volunteered with Project LOVE Coalition in Pittsburgh's Hill District neighborhood at the nonprofit's Peace and Friendship Farm. The volunteer project, which aimed to finish building high tunnels, was started by DLC employee volunteers in fall of 2021 and funded by a DLC grant.
On April 29, members of BRIDGE, DLC's Black and African American BERG, volunteered with Grounded Strategies in Wilkinsburg to plant rain gardens and clean up vacant lots in the neighborhood. Like A-VETS and Project LOVE, BRIDGE members began their relationship with Grounded in 2021 and have continued to foster the partnership through volunteerism. In addition to beautifying the neighborhood, DLC's customer care team was on site to help customers in need register for utility assistance programs.
DLC employees also volunteered with Grounded on April 15 at the Hazelwood Victory Gardens. The gardens were previously owned by resident Sam Strati, who, after passing, donated the property to the Hazelwood Initiative. The garden is located next to our Hazelwood Substation, and employees prepared the inactive garden ahead of the growing season. ​ 
Earth Day Events Support Community Gardens & Litter Clean-up
​On Earth Day (April 22) employees began the second year of a new tradition by volunteering with three projects across Pittsburgh:
Litter League is an annual event where teams from local companies compete to see who can collect the most trash over a two-month period. DLC's Office of General Counsel team, the Lightning Bolt Litter Brigade, participated in the kickoff event, collecting more than 150 lbs. of trash in one hour.
The project at Sunny's also was a team event, led by DLC's engineering.
Officials at Sunny's said they were grateful that DLC employees spent time volunteering with the nonprofit.
"It is hard to adequately describe the remarkable job the volunteers did at Sunny's Community Garden. I had a list of tasks, in order of importance and by the end of the day, every single item was checked off… a stunning amount of work," said Sandi Welch, the garden's creator. "Duquesne Light should be proud of its employees' work ethic, determination and cheerful willingness."
Claire Matway, community garden coordinator at Grow Pittsburgh, shared similar appreciation for the employees who volunteered at Manchester Food for the Soul Garden, which is also one of DLC's Community Impact Grantees.
"Both times DLC has come to the garden, you have been one of the most creative, friendly, well supplied and ready-to-roll groups I've ever worked with," Matway said.
Arbor Day Events Support Trees & Growing Food
​Arbor Day is celebrated annually across the U.S. on the last day of Earth Month and is commemorated by planting and conserving trees and nature. Each year, DLC's vegetation management team participates in a tree planting event with partners at the City of Pittsburgh Department of Forestry. On April 29, the team planted 15 utility-line compatible trees at Larimer Playground in Pittsburgh's Larimer neighborhood, including honey locust, coffee tree, black gum and planetree varieties.
Employees from DLC's communications and corporate giving team also celebrated Arbor Day through a partnership with the Pittsburgh Pirates and Grow Pittsburgh. As the main sponsor for the PNC Park Urban Garden, DLC volunteers helped plant the season's first crops. The food grown at the garden will be used to feed the players before home games and for educational programming with Grow Pittsburgh's Urban Farmers in Training program.