Duquesne Light Employees Built Local School District's First Playground
KaBOOM! Playground Provides Safe Playspace for Nearly 700 Edgewood Students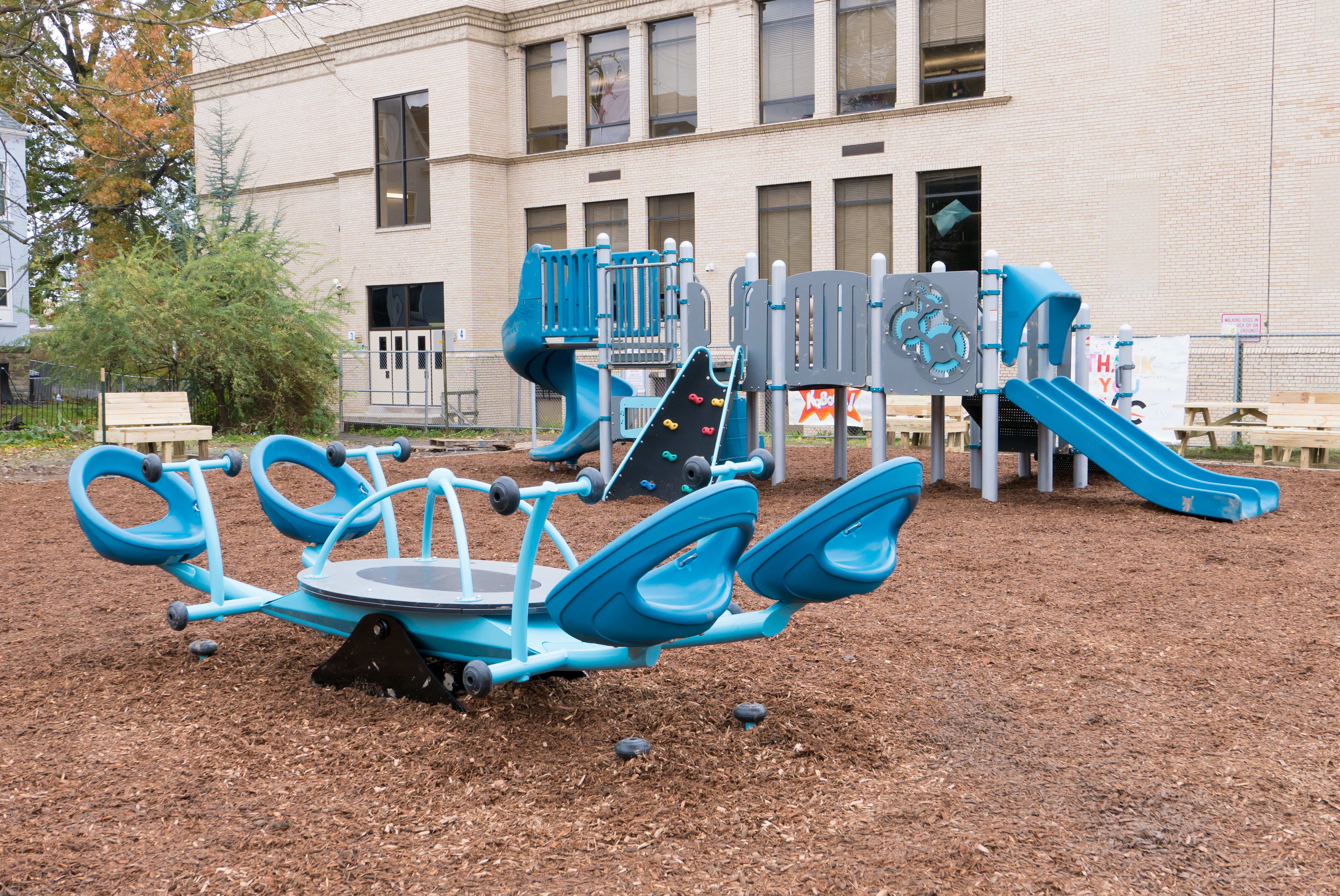 PITTSBURGH – Last week over 100 Duquesne Light Company (DLC) employee volunteers built the first and only playground in the Woodland Hills School District at Edgewood Elementary STEAM Academy in partnership with KaBOOM!.
Edgewood Elementary STEAM Academy is an urban school within the Woodland Hills School District, formed in the 1980s when several districts combined. The majority of the facilities inherited in its formation originally served middle or high school age students, meaning none of the school buildings in the district had any playground equipment until last Friday's build.
"KaBOOM! was excited to partner with Duquesne Light Company and Edgewood Elementary STEAM Academy to build a brand new playground for the students," said Imani Jackson, Senior Project Manager, KaBOOM!, "I had the opportunity to meet with the kids as they drew their dream playgrounds and I can't wait for them to see the custom playground they helped design!"
In May, students from the school were asked to draw their dream playground. Those drawings were used to design the newly built playground that will serve as a safe place for Edgewood children to play for years to come.
"The KaBOOM! playground build is always a favorite project for Duquesne Light employees who are eager to give back to the community through volunteerism," said Jessica Rock, Vice President, Communications and Corporate Citizenship, Duquesne Light Company, "All of us were thrilled to rally together and build a playground that will bring immeasurable joy to the children of Edgewood."
In addition to this one, DLC has partnered with KaBOOM! to fund and build eight other playgrounds throughout the company's service territory, including ones in Plum Borough, East Allegheny, Braddock Hills, Midland, Baden, McKeesport, Coraopolis and at the Pittsburgh Zoo & PPG Aquarium.
About KaBOOM!
KaBOOM! is the national non-profit dedicated to giving all kids – especially those living in poverty – the childhood they deserve through great, safe places to play. KaBOOM! inspires communities to make play the easy choice and works to drive the national discussion about the importance of PLAYces. KaBOOM! has collaborated with partners to build or improve more than 17,000 playspaces, engage over 1.5 million volunteers and serve nearly 10 million kids. To learn why play matters for all kids, visit kaboom.org and join the conversation at twitter.com/kaboom, facebook.com/kaboom and instagram.com/kaboom. #playmatters #PLAYceforKids
About Woodland Hills School District
The Woodland Hills School District was formed in July 1981, and is located in the eastern portion of Allegheny County, approximately eight miles east of the City of Pittsburgh. The district serves 3,500 students yearly, providing them with a wide array of education and extra-curricular opportunities to develop academically, athletically and socially. Woodland Hills is dedicated to excellence in the classroom, with the primary emphasis placed on quality instruction and student achievement. The District provides each student with an excellent educational experience that is driven by the highest expectations and prepares students for meaningful participation in all facets of society. Additionally, the district is committed to developing community support and citizen involvement within the district.