Duquesne Light Company's Associate Manager of Digital Media Receives 'Fab 40' Recognition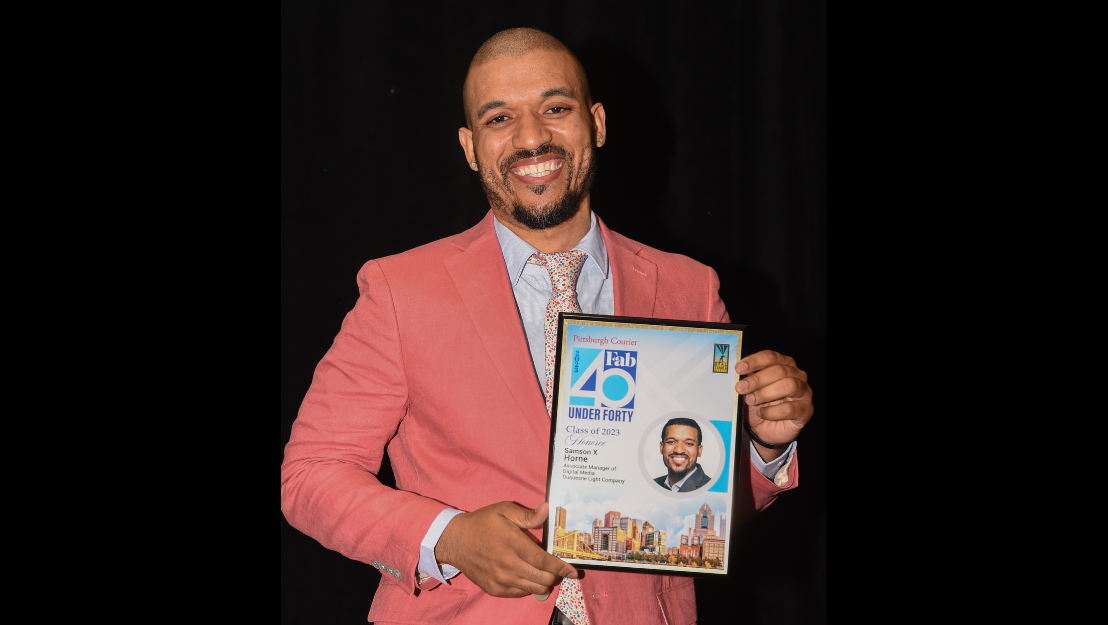 April 19, 2023
Samson Horne, Duquesne Light Company's (DLC) associate manager of digital media, was formally recognized as one of the New Pittsburgh Courier's 2023 "Fab 40" honorees on Friday, April 14.
The Courier, Pittsburgh's third-largest newspaper, publishes a weekly edition of news affecting Pittsburgh's African American community. According to the publication, the Fab 40 awards "recognize local, young African American professionals who exemplify extraordinary stature, poise and integrity and who continue to break the mold as well as affect change in their professions and community."
Before Horne joined DLC in 2021, he was a reporter and digital producer for the Tribune-Review. Prior to that, he freelanced for several media outlets, including the Courier and Pittsburgh Post-Gazette. As someone with firsthand knowledge of the news industry, Horne's experience has contributed to DLC's corporate communication strategy. ​
Horne is actively involved in the Pittsburgh community. He is a member of Iota Phi, the local graduate chapter of Omega Psi Phi Fraternity Inc., where he has served on the planning committee for their annual Thanksgiving dinner giveaway for the past five years. He also assists with the chapter's annual Christmas toy giveaway and is part of the curriculum planning committee for Iota Phi's Carter G. Woodson Academy, a six-week youth education program focused on science, technology, engineering, art and mathematics. He is also a member of several national and local professional organizations, including the Next Generation Council for Vibrant Pittsburgh; Public Relations Society of America; Pittsburgh Black Media Federation; and the National Association of Black Journalists.
An Atlanta-area native, Horne has a bachelor's degree in communications and rhetoric from the University of Pittsburgh and a master's in journalism and mass communication from Point Park University. He resides in Collier Township with his partner; son, 6; and daughter, 5.
*Photo: Courtesy of New Pittsburgh Courier (Gail Manker)