Duquesne Light Company Upgrading Century-Old Infrastructure to Continue Enhancing Service Reliability
Replacing more than 100 transmission towers between Brunot Island and Crescent Township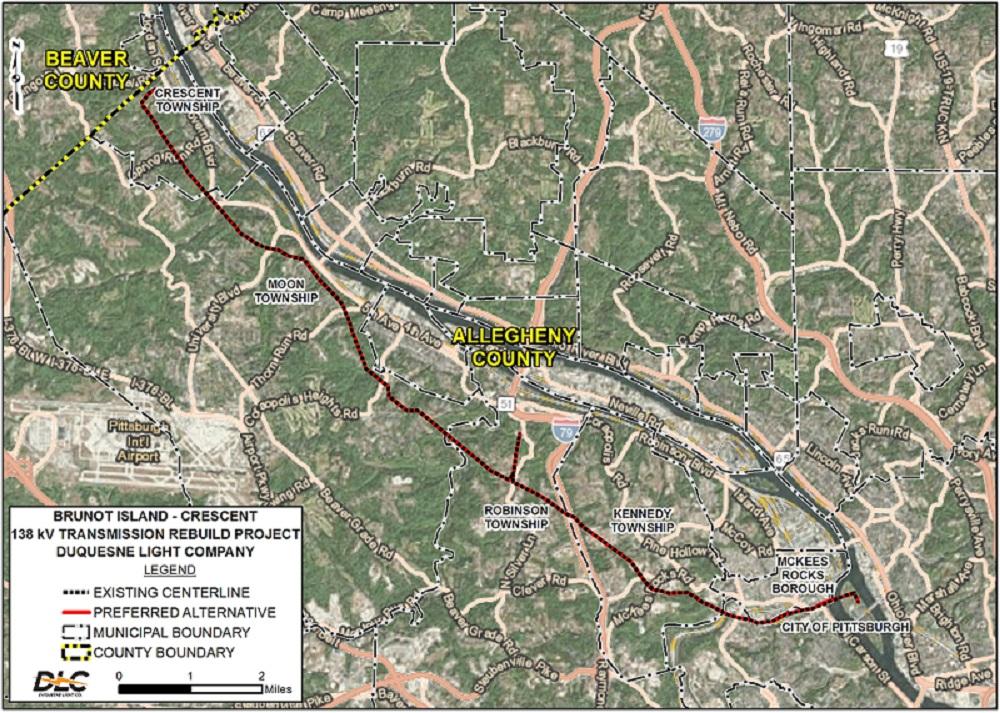 November 23, 2021
PITTSBURGH— Starting Monday, Dec. 13, Duquesne Light Company (DLC) will begin replacing more than 100 transmission towers as the utility works to upgrade aging infrastructure and increase capacity while maintaining safe and reliable service for its customers. The structures, which were originally built more than 100 years ago and are nearing end of life, are located along a 14.5-mile stretch between DLC's Brunot Island and Crescent Township substations. The work being done between those locations is referred to as the BI-Crescent Transmission Project.
"There's a greater demand for energy as our communities continue to grow. To meet that demand, we must find ways to enhance performance and service reliability," said Jason Hartle, a project manager for DLC who is overseeing BI-Crescent. "The transmission lines between Brunot Island and Crescent Township were installed more than a century ago, and it's time to upgrade that network. The design and technology improvements will help us deliver energy more efficiently to homes, businesses and communities in that area."
The current transmission towers serve customers in Crescent, Moon, Robinson and Kennedy townships, as well as McKees Rocks and the City of Pittsburgh. While they will range in height, the new towers will be approximately 155 feet high on average. The average height of the current towers is 93 feet.
The new structures will also be weathered steel monopoles compared to the existing galvanized lattice steel towers. The monopoles come with several benefits, including:
A much smaller ground footprint than the foundations required for a lattice steel tower
Reduced inspection and maintenance costs due to fewer bolted connections, fewer foundations to inspect and repair and fewer steel members to replace
Stacked circuits that are farther away from trees and other potentially harmful vegetation
Renderings of current lattice steel tower (left) and future steel monopole.
Once construction begins, customers can expect:
Occasional scheduled power outages

Impacted customers will be notified in advance and are not expected to be without service for more than two hours at a time.

Increased traffic around construction zones, including periodic single lane closures. DLC will work directly with property owners in designated work areas to help minimize disruptions.
Construction will generally occur during winter months and is expected to be complete by 2027. A timeline will be updated on DLC's website as the project progresses.
"Our customers have come to expect a high level of service from us," added John Hilderbrand II, DLC's vice president of operations. "Through projects like BI-Crescent, we're working to exceed their expectations now and going forward."
To learn more about the project, visit DuquesneLight.com/bi-crescent.