Duquesne Light Company Selected as Arbor Day Foundation Award Recipient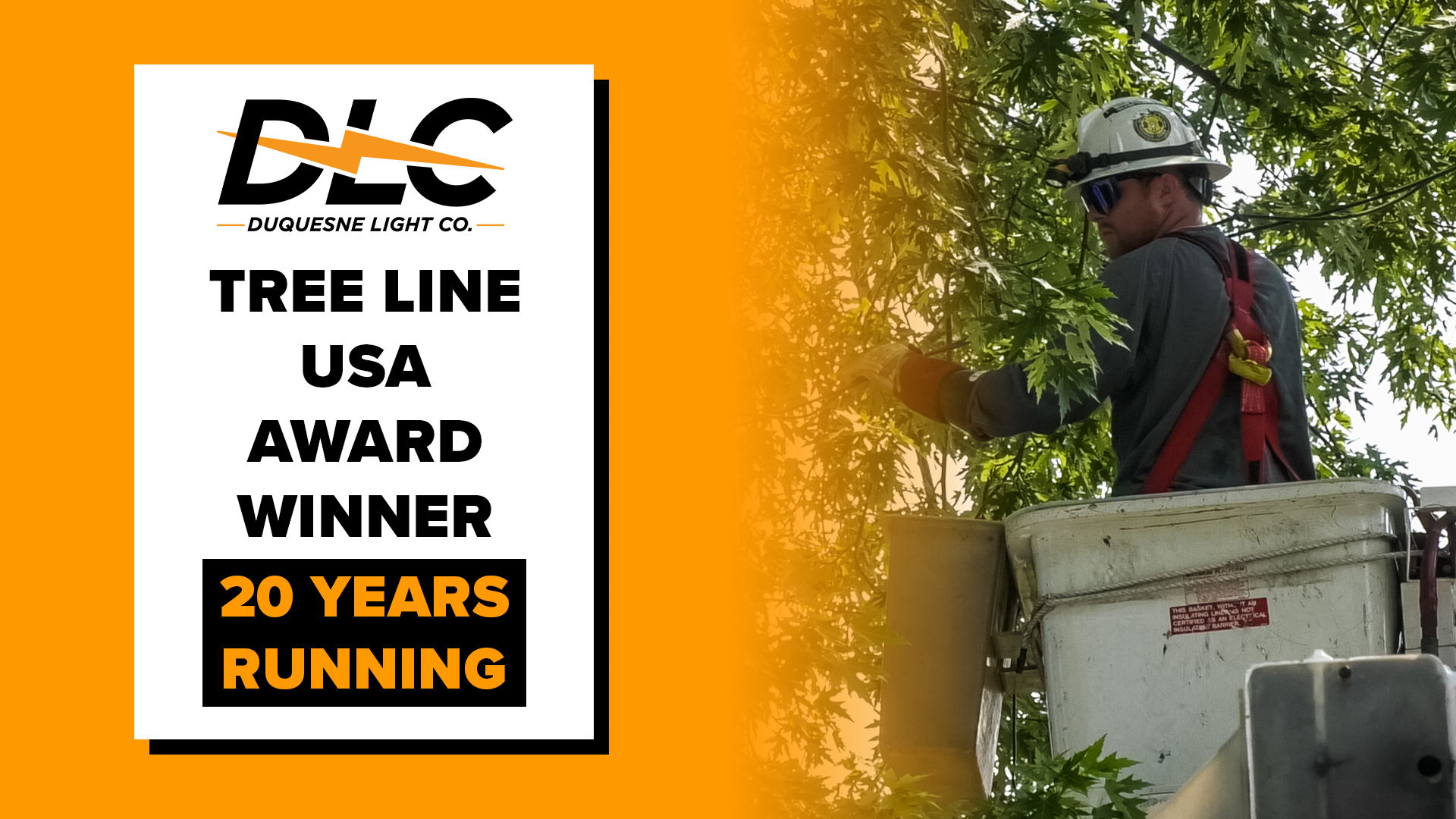 February 25, 2022
Duquesne Light Company (DLC) is recognized by the Arbor Day Foundation as a 2022 Tree Line USA member, the 20th consecutive year the electric utility has received the honor.
The award recognizes public and private utilities that employ best practices for protecting and preserving America's urban tree canopy.
"Trees are essential to creating more urban green spaces in communities across the United States," said Dan Lambe, chief executive of the Arbor Day Foundation. "In addition, they provide important benefits to residents, including clean air, clean water, and vital tree shade. Service providers like Duquesne Light Company demonstrate how easily trees and utilities can co-exist for the benefit of communities and residents."
DLC's participation in the Tree Line USA program means the utility lowers costs for line clearing as a direct result of proper pruning. Customers benefit from increased service reliability due to healthy root systems, which means trees will have less structural weakness and be less likely to fall on power lines during storms, according to the Arbor Day Foundation.
"Vegetation management is an invaluable part of our mission to provide the highest-quality service to our customers," said Brian Bieber, DLC's senior manager of vegetation management. "Our program is about more than pruning or removing potentially hazardous vegetation. Education is equally vital. We want our customers and the public to better understand the importance of planting the right tree in the right place, which is crucial to preventing future power outages."
DLC's commitment to forest management is just one way the organization continues to set the tone as the Utility of the Future. Teaching residents in their service territory about planting utility-compatible trees near utility lines will ultimately yield long-term savings for customers while assisting with the goal of providing a cleaner, greener environment for generations to come.
Duquesne Light Company achieved the Tree Line USA recognition by meeting five program standards: quality tree care, annual worker training, tree planting and public education, formal tree-based energy conservation, and a sponsorship of, or participation in, an Arbor Day celebration. ​ 
The program is possible through a partnership with the Arbor Day Foundation and the National Association of State Foresters.
About the Arbor Day Foundation
​Founded in 1972, the Arbor Day Foundation has grown to become the largest nonprofit membership organization dedicated to planting trees, with more than one million members, supporters and valued partners. Since 1972, almost 500 million Arbor Day Foundation trees have been planted in neighborhoods, communities, cities and forests throughout the world. Our vision is to lead toward a world where trees are used to solve issues critical to survival. ​
​​
​As one of the world's largest operating conservation foundations, the Arbor Day Foundation, through its members, partners and programs, educates and engages stakeholders and communities across the globe to involve themselves in its mission of planting, nurturing and celebrating trees. More information is available at arborday.org.