Duquesne Light Company Releases Whitepaper on Electrification's Potential to Benefit the Environment, Economy and Local Communities
Highlights "beneficial electrification" as a way to decarbonize and strengthen the Pittsburgh region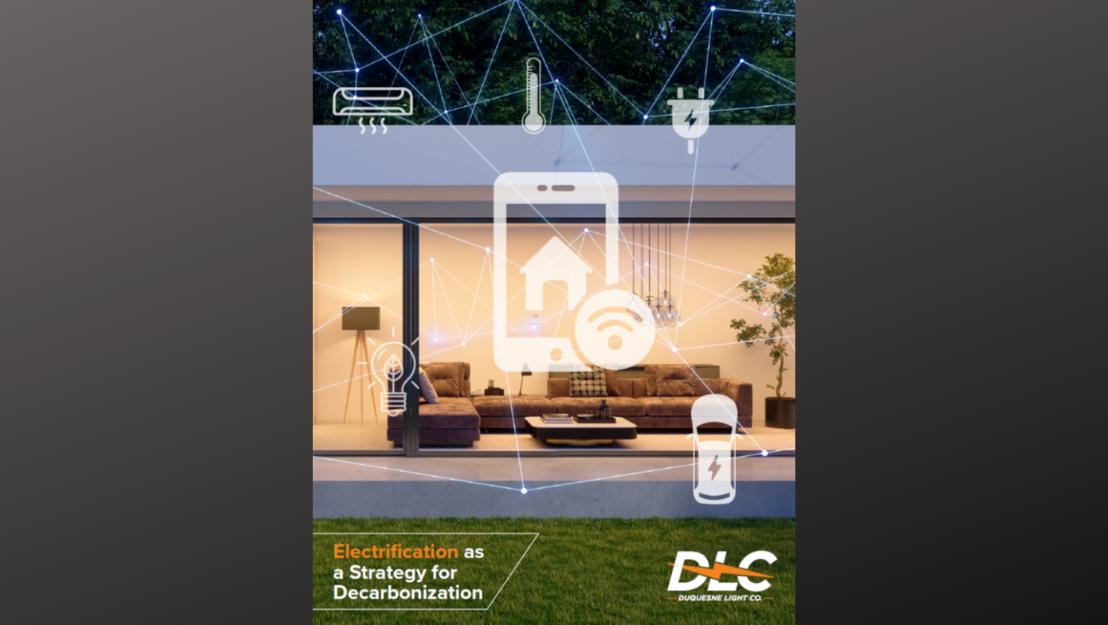 May 20, 2022
PITTSBURGH — Duquesne Light Company (DLC) today released a new whitepaper — "Electrification as a Strategy for Decarbonization" — focused on the benefits of electrification and its role in decarbonizing the Pittsburgh region. The project, which involved numerous experts at DLC and external contractors experienced in the energy sector, positions beneficial electrification as a critical strategy for reducing the impacts of a changing climate in our region while also benefiting the economy and public health.
"As a society, we're at an inflection point regarding the ways in which energy is produced and consumed, and the transition to lower carbon sources of energy is necessary in order to slow the increasingly harmful effects of climate change. As an electric utility, DLC plays a pivotal role in our region's energy transition and realizes the positive impact that beneficial electrification has on the environment, public health and the economy," said Kevin Walker, president and CEO of DLC and Duquesne Light Holdings Inc., the parent organization of DLC, DQE Communications and The Efficiency Network.
"We have an opportunity to use electrification as a way to limit energy consumption, lower consumer costs and decrease greenhouse gas emissions, while simultaneously promoting economic and workforce development. I hope this whitepaper will educate and inspire our customers, the public and key decision makers across all sectors as we strive for a decarbonized, clean energy future that benefits everyone." — Kevin Walker, President CEO of DLC/Duquesne Light Holdings Inc.
The main objectives of the whitepaper include:
Raising awareness of the low-carbon electricity generation in the Pittsburgh region that feeds DLC's service territory in Allegheny and Beaver counties.
Detailing how beneficial electrification on a low-carbon electrical grid can reduce harmful impacts to the climate, improve public health and ensure inclusive economic and workforce development.
Motivating the Pittsburgh region's transition to electrification, including transportation and buildings, by showing the immediate positive impacts of connecting to a low-carbon grid.
Demonstrating DLC's commitment to being a trusted partner in building a clean energy future that benefits all.
The full whitepaper can be viewed on DLC's website.
The whitepaper follows the Allegheny Conference on Community Development's (ACCD) recently released report, "Our Region's Energy Future," which outlines a path to ensure a low-carbon future in southwestern Pennsylvania through efforts that include electrification.
As the region strives for a decarbonized future, DLC will expand partnerships with external stakeholders to ensure an equitable and effective transition, as well as supporting customers on their own journey to electrification through increased electric vehicle infrastructure and energy efficiency programs.
"Taking action today can help protect our planet for current and future generations; however, being successful requires support and collaboration from everyone," added Walker, who is a member of a task force that contributed to the ACCD report and also a member of CEOs for Electrification through Rewiring America. "Electrification is one more way we can achieve our vision of a clean energy future for all. We have the tools and resources to boldly harness opportunities today and going forward. While it's clear we still have a lot of work to do, I am confident we're on the right path and look forward to seeing the progress."