Duquesne Light Company Powering Community Partnerships through Volunteerism
November 3, 2021
Employees from Duquesne Light Company (DLC) have a reputation for exceptional volunteerism. Their efforts continue to grow our community partnerships and create new ones with organizations across Allegheny and Beaver counties.
In September and October, employees volunteered for multiple events with one of DLC's longstanding partners, Western Pennsylvania Conservancy (WPC), and with a new community partner, Friends of South Side Park (FOSSP).
This is the second year volunteers supported the WPC's Community Flower Garden program for its end-of-the-season garden clean-ups. Thirteen employees helped clean five gardens in various neighborhoods including Moon Township. Additional neighborhoods included Point Breeze, Squirrel Hill, Oakland and Shadyside. Three of the gardens: Point Breeze, Shadyside and Moon Township, were planted by DLC volunteers in the spring. 
"We all love working with Duquesne Light volunteers, they are hard workers and are fun to work with," said Lynn McGuire-Olzak, volunteer coordinator for WPC's Community Gardens and Greenspace program.
Cleaning the gardens before the first frost helps maintain soil for next spring. All the flowers that are pulled up are composted.
Friends of the South Side Park
New this year, DLC employees volunteered at two events with FOSSP, one of DLC's Community Impact Grant recipients. Through Community Impact Grants, FOSSP was able to hire goats from Allegheny Goatscape to remove invasive plants, while the group planted new trees. To bring awareness and attract visitors to the park, FOSSP hosted Goat Fest on Sept. 17, where visitors met the goats and enjoyed family-friendly activities around the park. Seventeen DLC volunteers helped set up and run the event.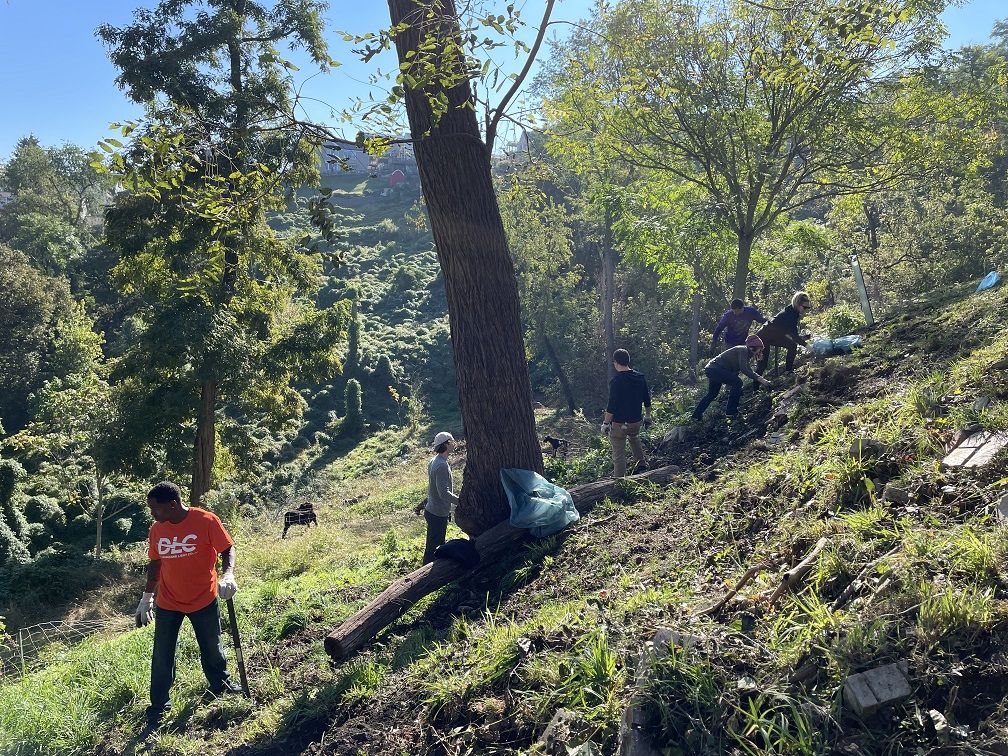 Kitty Vagley, a member of FOSSP, thanked employees for supporting the event.
"The Duquesne Light Company employee volunteers were sensational on Saturday! Each and every one of them worked long and hard and were so pleasant. It was unbelievably helpful to have such a crew on hand for set up and event administration," Vagley said.
On Oct. 1, 14 employees volunteered alongside the goats to remove invasive plants in the parks. Volunteers also removed trash and set up cages around newly planted trees.
As of Nov. 1, DLC employees have amassed 2,500 volunteer hours.