Duquesne Light Company Poised to Lead Pittsburgh Region's Clean Energy Transition
Inaugural ESG report outlines company's corporate responsibility initiatives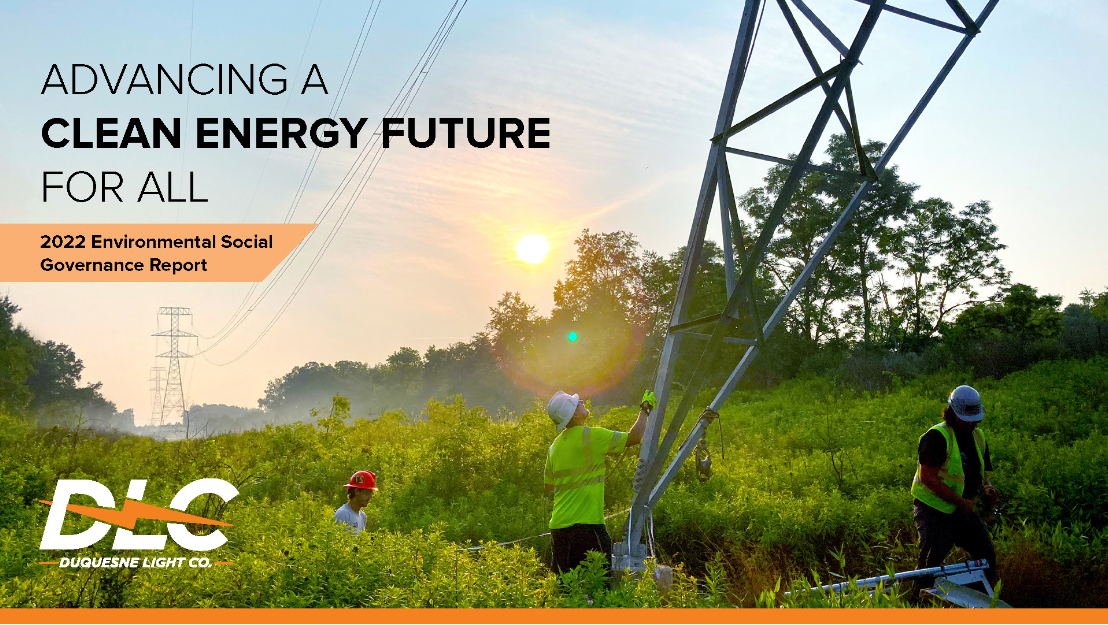 May 18, 2023
PITTSBURGH — Duquesne Light Company (DLC) today released its inaugural environmental, social and governance (ESG) report — titled "Advancing a Clean Energy Future for All" — which discloses the company's performance in three core areas of its ESG strategy: climate conscious, powering people and responsible performance. The report is DLC's most comprehensive ESG disclosure to date, building upon previous disclosures with new information on diversity, equity and inclusion as well as environmental performance. Creating transparency around initiatives that impact DLC's customers, workforce, communities and the environment is an important step in measuring the company's progress in positioning the Pittsburgh region for a transition to an equitable clean energy future. 
"For more than 100 years, DLC has been deeply involved in our local communities by serving and adapting to our customers' needs and conducting business safely and responsibly," said Kevin Walker, president and CEO of DLC. "We are proud to formally demonstrate our commitment to ESG in this inaugural report, which reflects the contributions of every DLC employee and our external partners in delivering a clean energy future while acknowledging the importance of safety, access, reliability and equity in the essential service we provide today." 
In 2022, DLC was able to advance its ESG efforts related to a number of important topics, including those identified by internal and external stakeholders through a recent materiality assessment. These include areas such as energy efficiency, electrification and access to renewables. Some highlights included: 
Reducing more than 40,000 idling hours compared to 2021, leading to a decrease in greenhouse gas emissions and air pollution, including 170 tonnes of carbon dioxide equivalent in Scope 1 emissions. 
Adding 12 new all-electric Ford-150 Lightnings to DLC's fleet, totaling 50 electric vehicles — or 8% of the company's fleet — to date. ​ 
Contributing more than $2 million in charitable funds to local organizations. 
Participating in 170 volunteer events, resulting in more than 4,000 hours of service. 
While these initiatives represent near-term progress, the company is dedicated to long-term success on its ESG journey. Some forward-looking targets presented in the report include: 
Reducing Scope 1 and Scope 2 greenhouse gas emissions by 10% by 2027. ​ 
Investing nearly $2 billion in critical transmission and distribution infrastructure through 2027. 
Contributing at least $5 million to local, diverse-led nonprofits through 2027, whose work supports social and economic equity, workforce development and sustainability initiatives. 
Electrifying 30% of the company's fleet by 2030, including 100% of light-duty vehicles such as sedans and standard pickup trucks. 
As an electric utility serving more than 600,000 customers in Allegheny and Beaver counties, DLC acknowledges the considerable role it plays in leading the region's clean energy transition. ​ 
"We are proud of the progress we have made and recognize the need to continue doing more to support a clean energy future," said Christine Waller, vice president of communications and corporate responsibility at DLC. "The key metrics we solidified in 2022 will ensure that we continue to look at ESG risks and opportunities as part of our business model and as a way of measuring our overall impact. This report, along with other tools, will help us demonstrate our commitment to corporate responsibility while holding ourselves accountable for driving performance in areas that are most relevant to our customers and industry." 
Read the full report here.