Duquesne Light Company Partners with Pittsburgh Bureau of Fire for Hazardous Materials Safety Training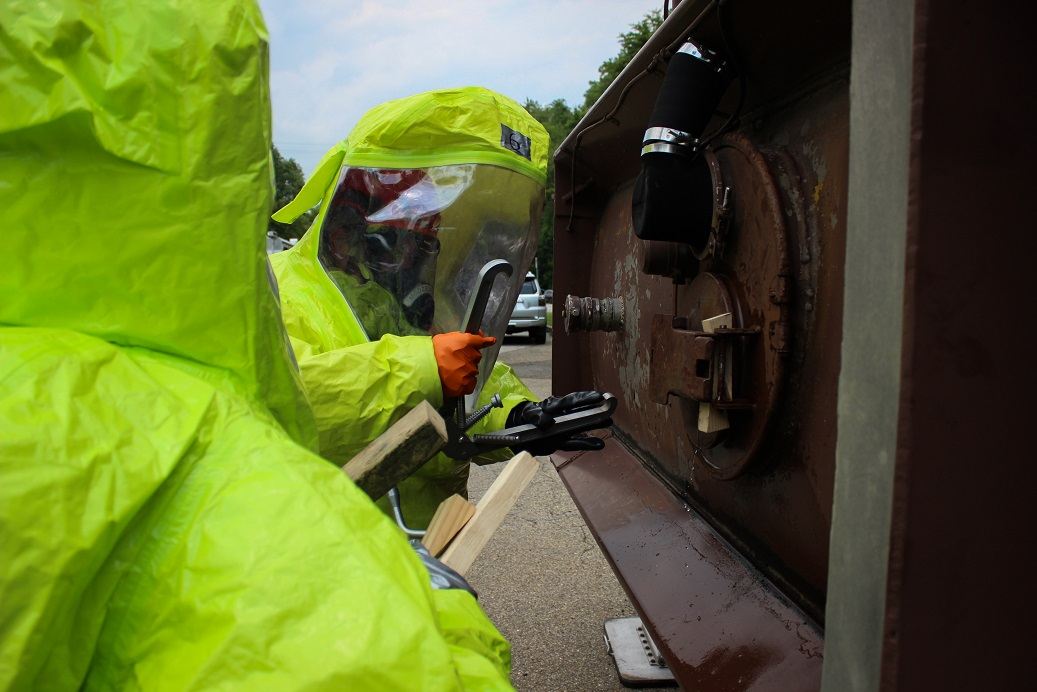 June 10, 2021
PITTSBURGH – June is National Safety Month, and last week, the Pittsburgh Bureau of Fire announced an exciting new partnership with Duquesne Light Company (DLC) to provide the bureau's Hazardous Materials Response Team (HazMat) with an innovative training tool to learn safe containment of chemical and fuel spills from highway tank trailers. ​ 
The Pittsburgh Bureau of Fire replicates hazardous materials spills for HazMat technicians with a highway trailer training prop at its facility on Washington Boulevard. DLC's assistance with its hydraulic service truck and mechanics helped provide a "real-life" experience for first responders who encounter a tanker rollover emergency.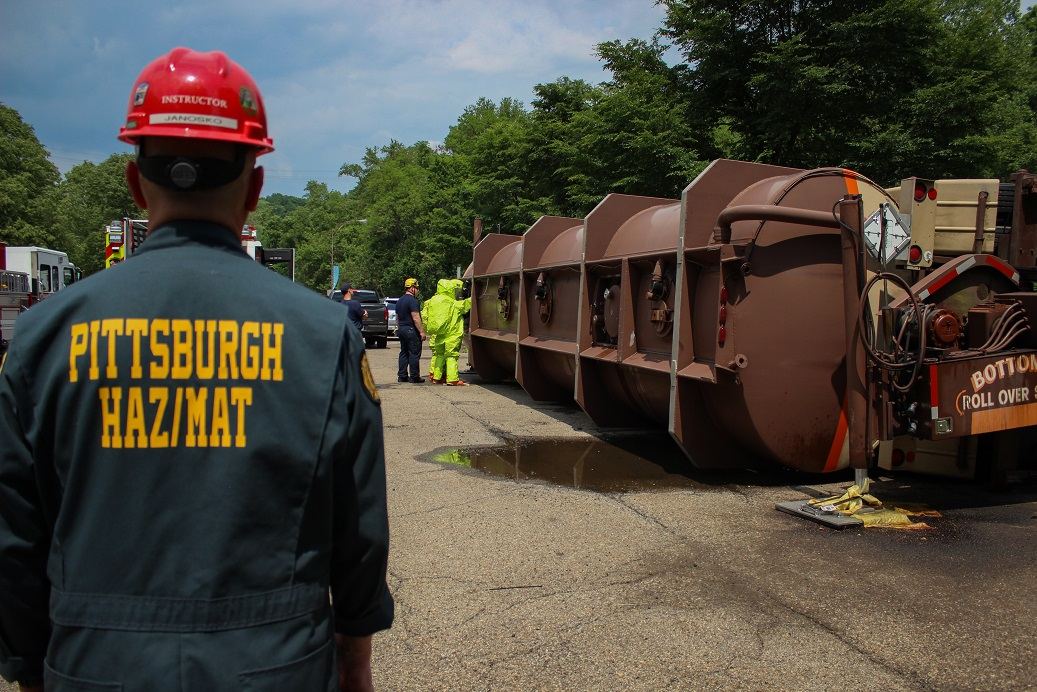 "We are now able to position this prop to simulate a rollover of a tank or fuel trailer in transit. If a transportation emergency occurs, we can arrive and it's in a variety of different configurations or positions. This one-of-a-kind training prop gives our team the opportunity to practice on a real-life, hands-on tool," said Pittsburgh Bureau of Fire Assistant Chief Brian Kokkila.
"Duquesne Light is uniquely positioned with the equipment and expertise in hydraulic systems. We were able to ask for their help to power the hydraulic system and they really stepped up and helped us solve some challenges."
The simulator is set up with multiple different leak spots, so the HazMat team is presented with the most authentic scenarios to better prepare them for emergencies in the field, according to the bureau.
"When the Pittsburgh Bureau of Fire approached us about this partnership, we jumped at the opportunity. We were honored that they came to us knowing we have the right skills and equipment to do the job safely and effectively. With the help of our mechanics and hydraulic service truck, we were able to successfully complete the rollover and enable the firefighters to begin their critical training. We're grateful for the chance to support this effort and the positive impact it will have on the community," said Chuck O'Neill, DLC's Transportation Manager.
"Safety is always the top priority at DLC. With June being National Safety Month, it's an ideal time to recognize our longstanding relationship with the City of Pittsburgh and our efforts to keep our customers and the public safe. We look forward to growing this partnership in the future and reinforcing our commitment to maintaining a safe community," added Kevin Walker, DLC's new President and CEO. 
The HazMat team responds to emergencies involving the release or potential release of hazardous material. It is a National Incident Management System (NIMS) Type 2 - Hazardous Materials Response Team certified by the Pennsylvania Emergency Management Agency.
The City of Pittsburgh Hazardous Materials Response Team was established in 1986 as a joint effort between the Bureau of Fire and the Bureau of EMS. The team is comprised of Firefighters, Paramedics and Police Officers.