Duquesne Light Company Partners with Carnegie Mellon University to Co-Host Beneficial Electrification Event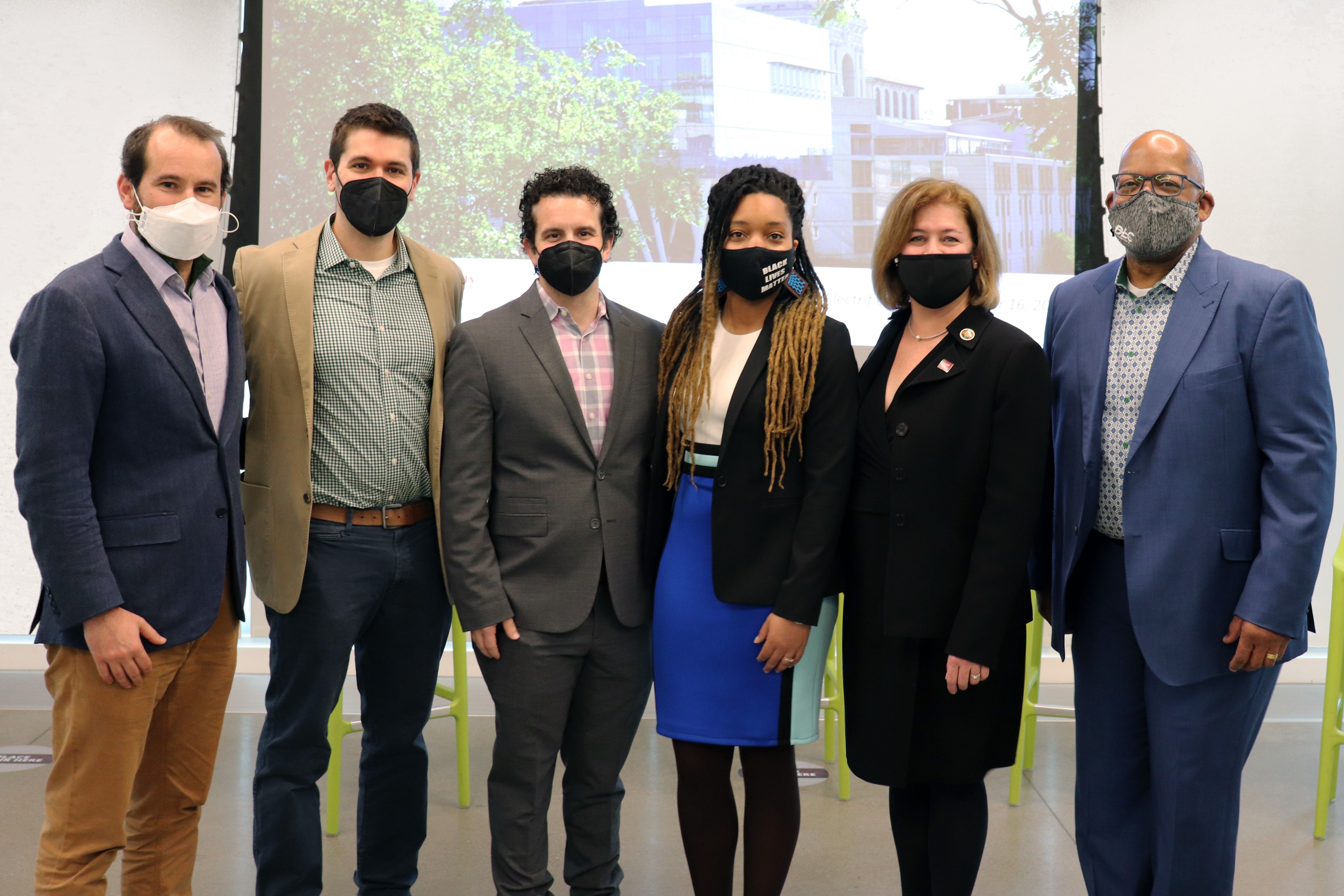 Photo Caption: From left, Alex Laskey, Founder and Executive Chair, Rewiring America; Steve Pantano, Chief Research Officer, CLASP; Jeremy Snyder, Partner, Buro Happold; Destenie Nock, Assistant Professor of Civil & Environmental Engineering and Engineering and Public Policy, Carnegie Mellon University; Anna J. Siefken, Executive Director, Scott Institute for Energy Innovation; and Kevin Walker, President and CEO, Duquesne Light Holdings
January 13, 2022
Duquesne Light Company (DLC) recently partnered with Carnegie Mellon University (CMU) Scott Institute for Energy Innovation to co-host a beneficial electrification discussion event. A panel of experts, including Duquesne Light Holdings, Inc. President and CEO Kevin Walker, discussed the implications of electrification in the built environment and specific ways it helps accelerate the energy transition in communities.
Walker provided opening remarks for the Dec. 16 event, speaking about DLC's partnerships with CMU and Rewiring America as well as the utility's desire to drive forward beneficial electrification in the greater Pittsburgh region, leading to a more equitable energy future for the communities we serve.
"When we think about how we move to beneficial electrification, the three components that we focus on should be: reduce energy usage, if possible, reduce carbon outputs and reduce cost," Walker said.
"If you think about those three elements, you can get them through electrification, so it just makes sense to partner with CMU and with Rewiring America and really move the ball forward in Pittsburgh and the surrounding areas."
The event was attended by local government staff, environmental nonprofit organizations, other institutions and other people who are interested in learning about the role beneficial electrification can play in mitigating climate change and creating local jobs. ​ ​
"This is happening – it's the right time and the right place. There's some real reason to be having this moment and taking advantage of this moment, and we want to be a part of it."
Following Walker's opening remarks and a keynote address from Alex Laskey, Founder and Executive Chair, Rewiring America, a panel participated in a highly engaged discussion around strategies to reduce greenhouse gas emissions and lower energy costs. In addition to Walker and Laskey, panelists included:
Destenie Nock, Assistant Professor of Civil and Environmental Engineering and Energy and Public Policy, CMU
Steve Pantano, Chief Research Officer, CLASP
Jeremy Snyder, Partner, Buro Happold
The event showcased DLC's role as a thought leader on the topic of beneficial electrification and helped build momentum with a local group of motivated stakeholders.