Duquesne Light Company Lights Up a New Holiday Tradition in Pittsburgh
Company unveiled a new tree at Point State Park for Pittsburghers and visitors to enjoy during the holiday season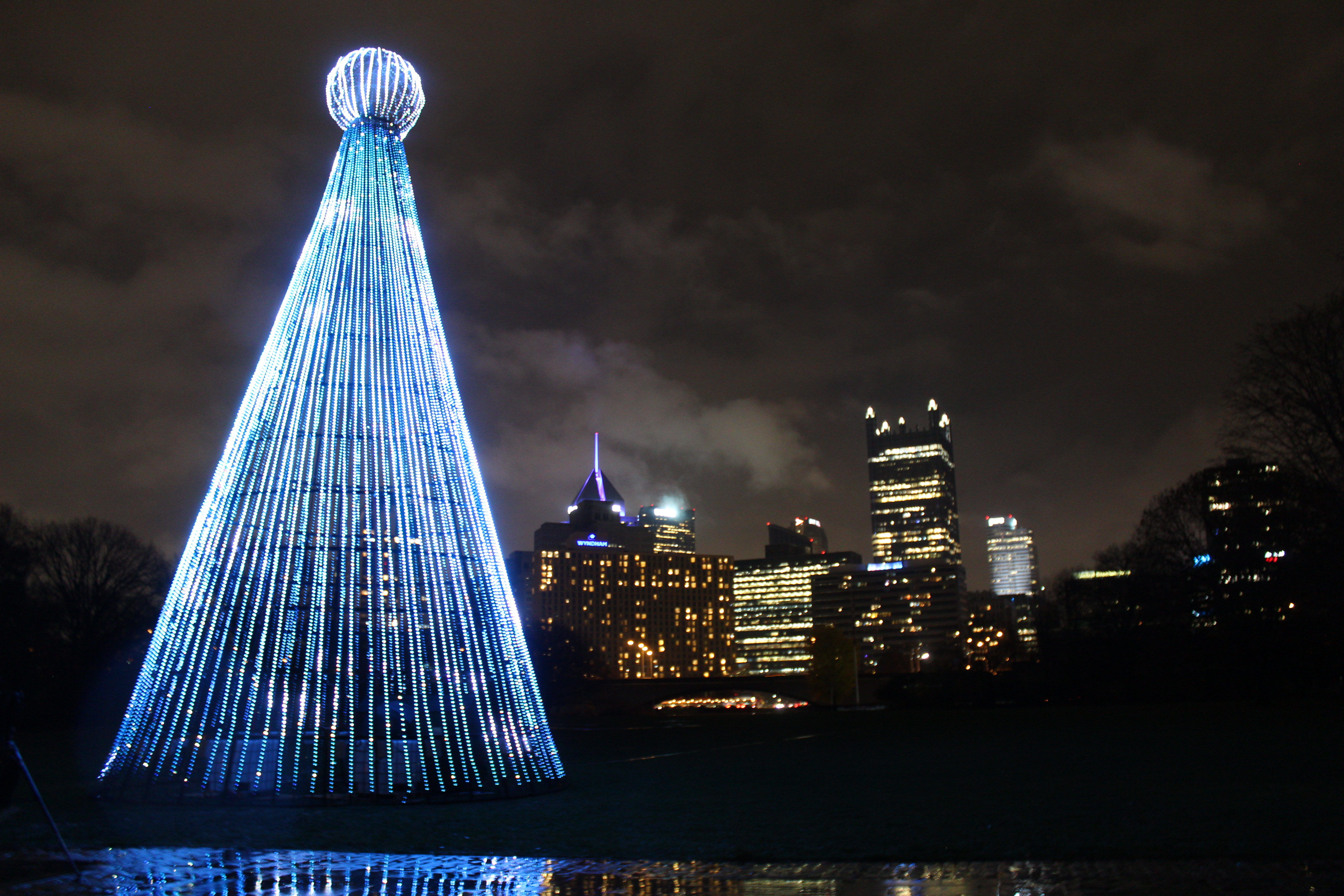 PITTSBURGH — Last week, Duquesne Light Company (DLC) kicked off a new holiday tradition in Pittsburgh when it introduced the "Three Rivers Tree" at Point State Park in time for the upcoming holiday season. The new 60-foot tree boasts several sustainability features, including 22,000 LED pixels, and uses water ballasts for its foundation to help protect and preserve the park's historic grounds. The holiday symbol replaces DLC's former "Tree of Lights," which was displayed at the park for more than 30 years until the end of the 2021 holiday season.
The journey to a new tree at Point State Park started early last year when DLC launched a public innovation challenge seeking input from the community. A local Carnegie Mellon University alum submitted the winning design concept that was used as inspiration for the final display. DLC initiated an open "request for proposal" process to source the engineering and construction of the tree, ultimately partnering with Artistic Holiday Designs. The new tree incorporates fun, vibrant colors and images in 15-minute cycles that symbolize the winter and holiday season.
"DLC is beyond delighted to bring a new holiday symbol to Pittsburgh while staying aligned with our vision of a clean energy future for all. We're extremely grateful to the many stakeholders and partners who helped bring the "Three Rivers Tree" to life so Pittsburghers can celebrate it for decades to come," said DLC President and CEO Kevin Walker, who led the ceremonial flipping of the giant light switch. "We especially thank the Pennsylvania Department of Conservation and Natural Resources (DCNR) for their continued partnership in having a tree present at beautiful and historic Point State Park throughout the holiday season."
"DCNR is pleased to continue this tradition with DLC, sharing holiday cheer with the city of Pittsburgh and its visitors," said DCNR Secretary Cindy Adams Dunn. "We are excited for the new iteration of this holiday symbol, which is a tremendous example of sustainable innovation and its connection to environmental stewardship. Thank you to DLC for their continued partnership at Point State Park and brightening the holiday season."
When the original "Tree of Lights" was introduced in 1988, it was dedicated to all employees who worked at DLC at the time. To continue that tradition, the company asked its employees to help name the new tree.
The "Three Rivers Tree" will be on display from Nov. 17 to Jan. 8.
About the Department of Conservation and Natural Resources
DCNR manages 124 state parks, 2.2 million acres of state forest land and works with local governments and municipalities to provide grants, planning and other resources to communities across Pennsylvania. Visit DCNR's website for more information about the agency and check out DCNR's calendar of events for events on public lands.
# # #