Duquesne Light Company Hosts Induction Cooking Workshop
Commercial customers joined Chef Chris Galarza to learn about electric cooking and induction equipment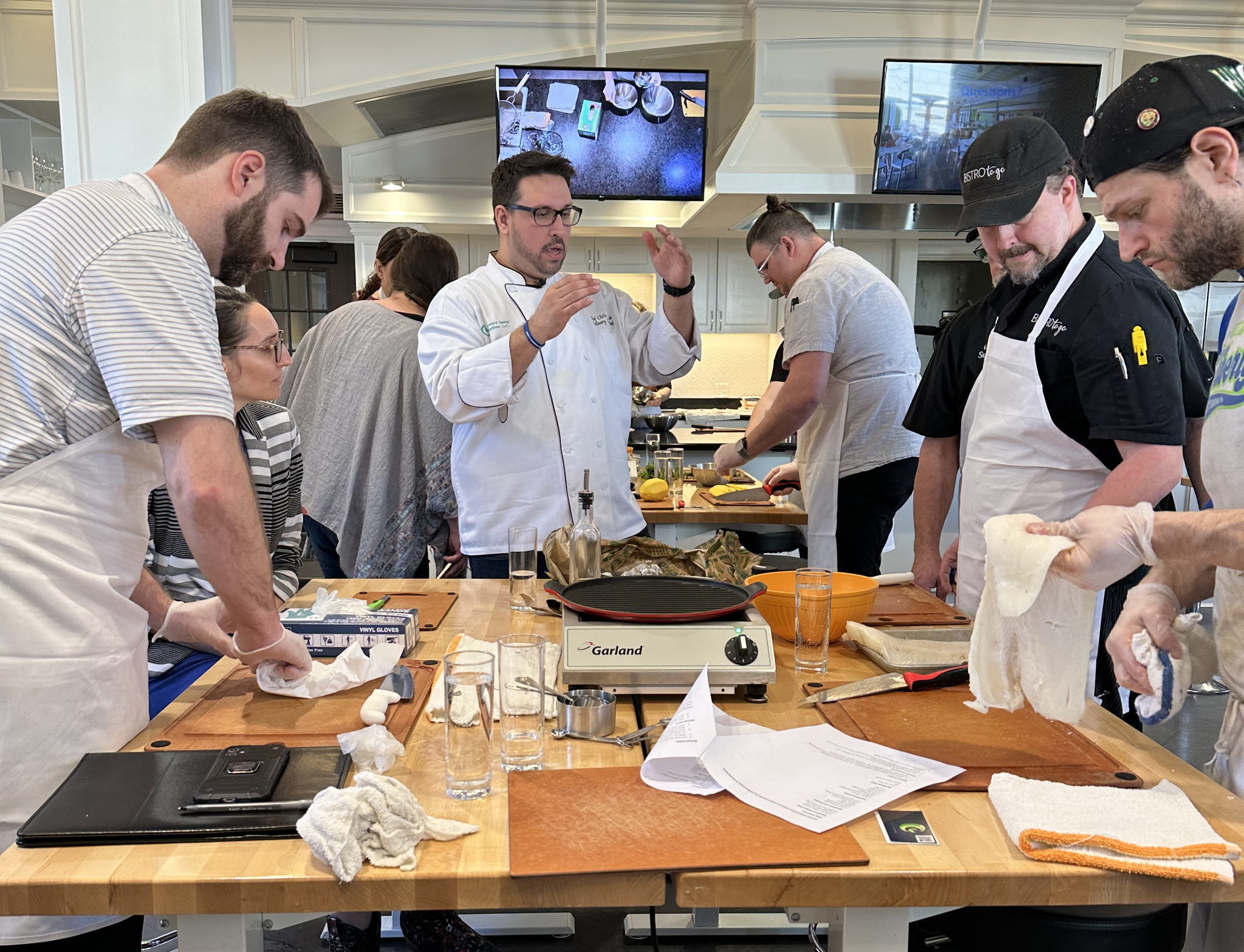 March 6, 2023
Duquesne Light Company (DLC) recently partnered with Forward Dining Solutions and the City of Pittsburgh to host a commercial induction cooking workshop at the Phipps Botany Hall kitchen.
Nationally recognized, all-electric Chef Christopher Galarza, founder of Forward Dining Solutions, led the class which featured insight on the benefits of induction cooktops versus traditional gas stoves, such as decreased cook times and improved indoor air quality. DLC's energy efficiency program partner, Franklin Energy, presented incentive options to reduce energy use and costs in commercial kitchens.
The event strengthens DLC's reputation as a trusted energy partner while the region navigates its decarbonization strategy. Some of DLC's largest corporate customers, including hospitals and academic institutions, participated in the workshop alongside local restaurants.
Chef Christopher Galarza leads discussion for DLC's commercial induction cooking workshop at the Botany Hall kitchen at Phipps Conservatory and Botanical Gardens on Feb. 23, 2023.
There have been long-standing misconceptions about induction cooking. The workshop challenged some of those beliefs. For instance, induction cooktops can boil a pot of water in two minutes or less, compared to the five to eight minutes for gas ranges. In addition to efficiency, the cooktops are safer. Electromagnetism heats the cookware, instead of an open flame, which keeps the surface of the cooktop cool. Induction cooktops also improve indoor air quality by removing the combustion of natural gas used for cooking within buildings, which is linked to symptoms like wheezing, coughing and colds.
"We don't have to continue to use our 20th century solutions to fix our 21st century problems," said Chef Galarza. "Cooking has everything to do with fundamentals and techniques. The foundation of cooking has nothing to do with the fuel source."
Beneficial electrification is just one of tactics DLC is exploring during its quest for a clean energy future for all people and communities in Western Pennsylvania. Workshops like this help create education and awareness as we move toward that goal.
For more information on induction cooking and other electrification strategies, check out DLC's Electrification Whitepaper.