Duquesne Light Company Helps Transform Local Landmark into Ice Rink
Hunt Armory will Provide Space for Inclusive Youth Hockey Programming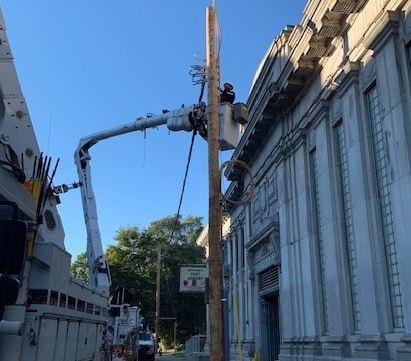 November 26, 2021
Duquesne Light Company (DLC) joined the efforts to repurpose a local historical landmark as an ice rink for youth hockey development. The Urban Redevelopment Authority and the Pittsburgh Penguins teamed up to convert the Hunt Armory in Shadyside into a seasonal, publicly accessible ice rink, supporting equitable and inclusive hockey programming for local youth. DLC is assisting in the project by providing temporary power during the winter, from November through early March.
The Hunt Armory was once a depot for weapons and ammunition.
Slated to open Friday, Nov. 26, it is the first indoor community ice rink opened within the city of Pittsburgh in 25 years.
NHL Grant Focused on Diversity and Inclusion Transforms Ice Rink
The National Hockey League (NHL) and the National Hockey League Players' Association (NHLPA) awarded a grant to the Penguins to temporarily transform the space into the new home of the Penguins' Hockey Diversity Program and new middle school hockey academy. The grant focuses on supporting grassroots youth hockey initiatives that emphasize diversity, equity and inclusion (DEI).
"DLC is invested in our DEI efforts, so we are thrilled to join the Urban Redevelopment Authority and the Penguins by playing a role in such a worthwhile community program," said Geena Petrone, Project Developer. "We look forward to seeing our neighbors and customers benefit from this space during the winter months."
DLC's Role in Project
DLC project managers and crews worked under a tight deadline to have the facility ready for it's Black Friday opening. They even had to get creative while working in the area due to limited real estate available for utility equipment and clearance restrictions.
Overhead crews worked for several weeks to complete the required line work and construction to energize the building.
More than a Place to Play
In addition to offering introductory hockey programs and public skating, the Armory will provide a space for training, social and mentorship opportunities for youth hockey players of color through the Willie O'Ree Academy.
For more information on the Hunt Armory Seasonal Ice Rink – including public skate hours and available diversity and community programming – follow this link.