Duquesne Light Company Celebrates Supplier Partnerships During Second Annual Supplier Summit
Presents awards to CPI Creative, Sargent Electric Company and WESCO Distribution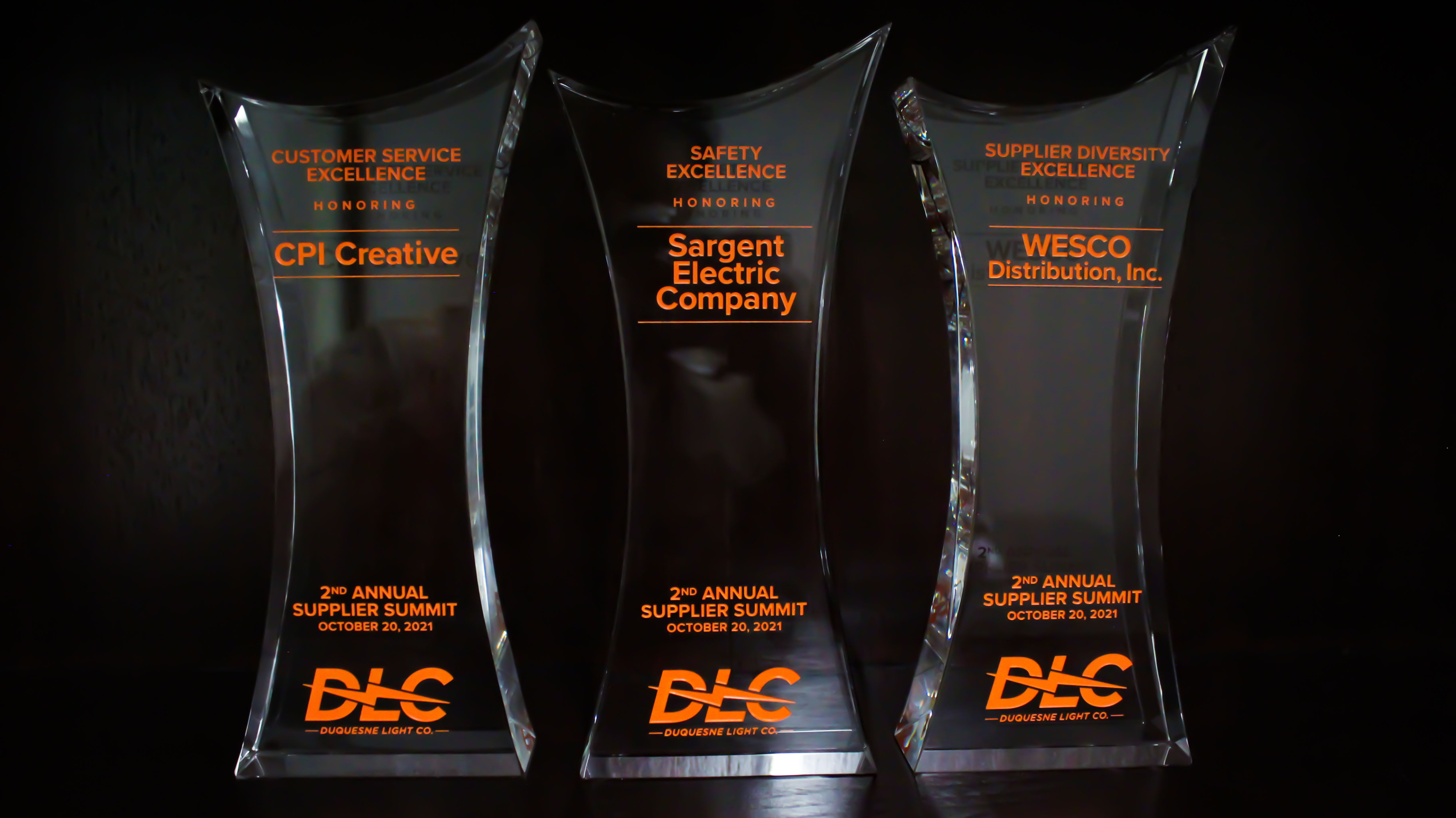 November 8, 2021
PITTSBURGH — On Oct. 20, Duquesne Light Company (DLC) held its second annual Supplier Summit to recognize and celebrate the company's valued partnerships. The event is part of DLC's continued commitment to collaborate with safe, reliable and ethical suppliers that add value to the organization and enable it to provide exceptional service to customers.
Under the guidance of its new Supplier Recognition Procedure, DLC presented three awards at this year's event to CPI Creative, Sargent Electric Company and WESCO Distribution, Inc. Each supplier was honored in a specific category, including Customer Service Excellence, Safety Excellence and Supplier Diversity Excellence. DLC's procurement and supply chain experts originally nominated 13 suppliers, with the winners being determined following a formal internal survey.
CPI Creative received the Customer Service Excellence award, which recognizes a supplier that consistently goes above and beyond, understands the needs of DLC and its customers and brings additional value to the company.
Sargent Electric Company received the Safety Excellence award, which honors a supplier that follows safety best practices and elevates the importance of working safely.
WESCO Distribution, Inc. received the Supplier Diversity Excellence award, which celebrates either a high-performing diverse supplier or a non-diverse supplier that shows a strong commitment to supplier diversity.
"It's an honor to recognize these partners for the immense value they bring to DLC and our customers," said Shon Yates, managing director and chief procurement officer at DLC. "Business integrity is central to our culture, and that extends to the suppliers we collaborate with every day. Without these critical partnerships, we couldn't give our customers the level of service they expect from us."
Following last year's inaugural Supplier Summit, DLC added the supplier recognition portion to further show appreciation for its supplier partners. It's also a way to complement DLC's main priorities and values, including safety, affordability, reliability, sustainability and excellent service.
"We see our supplier partners as an extension of our organization," said Micah Caporali, DLC's supplier diversity program manager. "It's important that we share similar standards and are aligned so that we continue to deliver on our commitments to the customers and communities we serve."
Visit DLC's website to learn more about the company's commitment to supplier diversity.