DLC's Volunteerism Blooms in May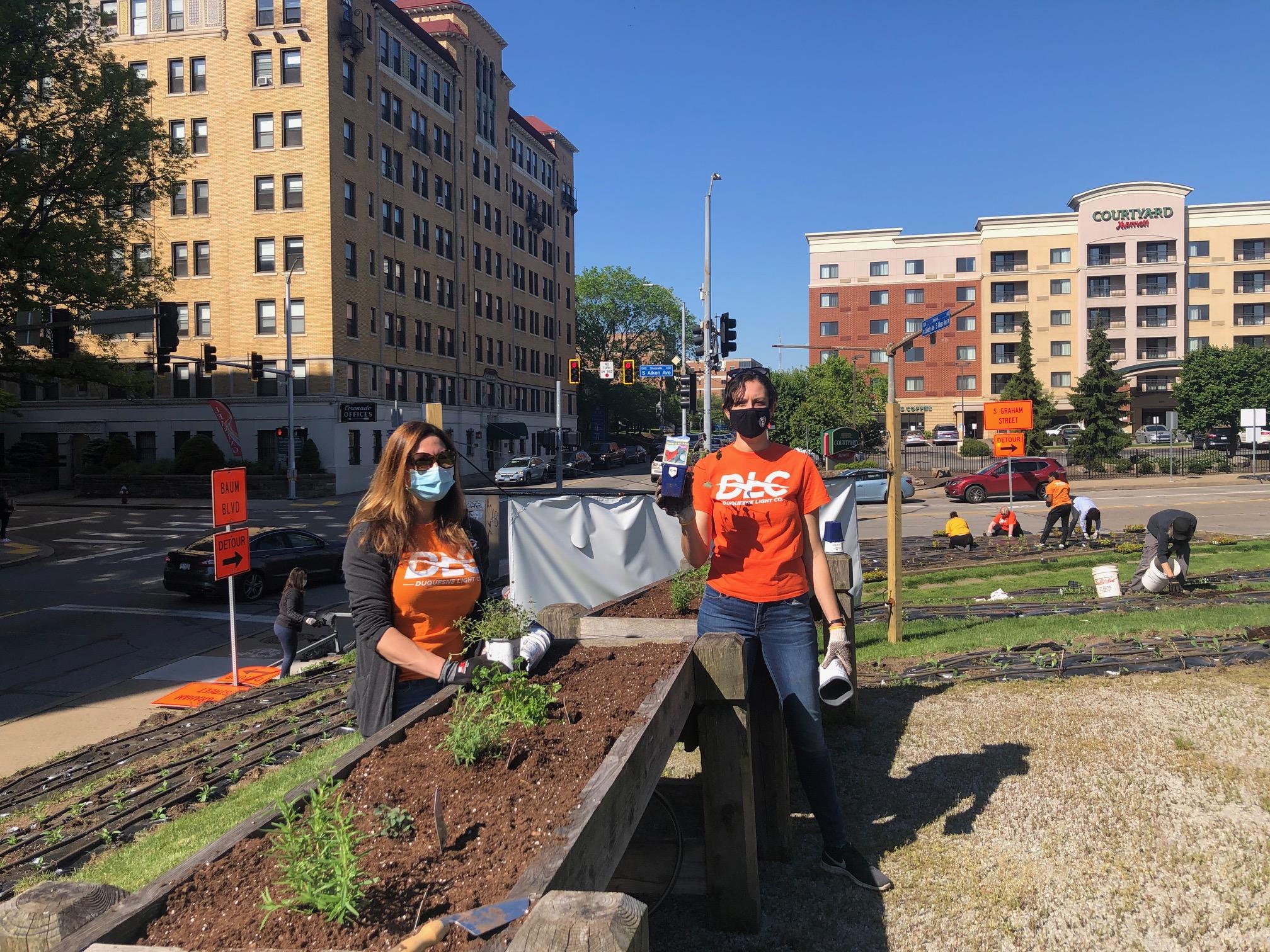 As warmer weather approaches, outdoor employee volunteerism continues to thrive at Duquesne Light Company (DLC). Throughout May, more than 60 employees volunteered across Allegheny County on projects focused on food access, garden plantings and community cleanups.
Volunteers Increase Food Access throughout Pittsburgh
On May 11, members of the the company's advanced distribution management system (ADMS) team volunteered with the Greater Pittsburgh Community Food Bank to deliver food as part of its Senior Food Boxes Program. During the event, volunteers delivered boxes of food to in need seniors south of Pittsburgh. The team of eight delivered 52 boxes of food to as many households, totaling nearly 1,600 pounds.
Larry Wallace, who is an ADMS project manager, was inspired to coordinate the event after participating in DLC's Senior Food Box delivery last year. The food bank's staff said last year's event was the first time they used a doorstep delivery approach, which continues to be helpful during the COVID-19 pandemic.
During a separate event, five DLC employees volunteered with Lawrenceville United (LU) to deliver food to residents experiencing food insecurity through its Friday Food Delivery Program. Since February, 20 employees have volunteered with the program as part of a monthly volunteer partnership. From June to November, DLC will continue to participate in a monthly volunteer opportunity at LU's Farmer's Market in Lawrenceville.
DLC Brightens Community Gardens
For the second year in a row, DLC employees volunteered with the Western PA Conservancy's Community Flower Garden Program.
Eleven employees volunteered at the Shadyside Community Flower Garden on May 14. They met at the entrance of the First United Methodist Church near the intersection of Centre Avenue and Aiken Avenue. Working alongside church volunteers, employees planted a variety of herbs and annual flowers in raised beds.
"The garden is important for the mental health of many community members and passersby often comment on how much the garden lifts their spirits," said Tracy Cox, pastor of the church. ​ ​
Ten employees volunteered May 21 at the Moon Township Community Flower Garden on Route 51 and Thorn Run Road. State Rep. Valerie Gaydos, who lives in Aleppo, joined employees in the sun to plant several garden beds.
Cleaning Up Community Spaces for Summer
On May 20, four employee volunteers joined Grounded Strategies to cleanup and beautify Kenny's Homewood, a former vacant lot turned community celebration space in Homewood. Working alongside Grounded's CommunityCare Stewards and volunteers from Chatman Properties, employees mowed grass, pulled weeds and picked up trash around the area to make Kenny's more welcoming for community members during their summer programs.
More than 20 employees volunteered on May 21 to prepare the outdoor camp grounds at The Woodlands Foundation, an accessible camp for children and adults with disabilities and chronic illness. Volunteers cleared winter debris, pulled weeds and mulched around the organization's 52-acre grounds in preparation for the upcoming summer camp.
Jill Cummiskey, development manager at The Woodlands Foundation, shared her gratitude for the volunteer team, "On behalf of The Woodlands Team, we can't thank the Duquesne Light volunteers enough for all their efforts last week!"
Cumminskey also delivered feedback from the maintenance team who said, "They knocked it out of the park and were the best volunteer group we've had at The Woodlands."
Here's a video of DLC volunteers in action on The Woodlands' Facebook page.
DLC employees have logged more than 600 volunteer hours this year.
Visit DLC's website to learn more about the company's commitment to the communities it serves.