DLC's David Fisfis Named to the Pittsburgh Downtown Partnership Board of Directors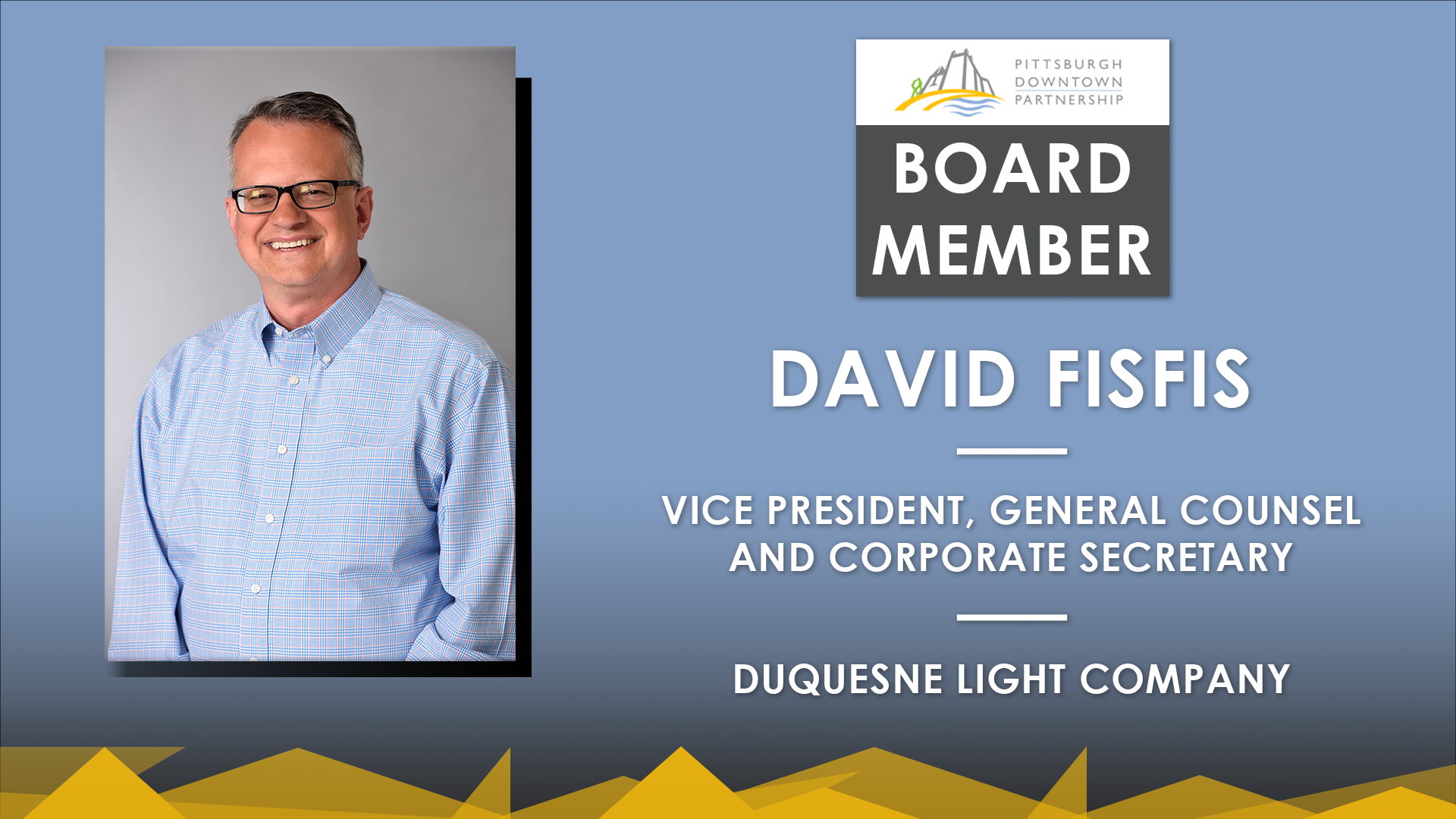 The Pittsburgh Downtown Partnership (PDP) has tapped into Duquesne Light Company (DLC) during its search for a new board member.
David Fisfis, who serves as the vice president, general counsel and corporate secretary at DLC, was appointed to sit on the board March 24. He will serve a three-year term.
"I'm a Downtown resident and I think I can bring an important perspective to the (PDP) board. I walked to work pre-COVID. I have a 24/7 perspective, because I see what's going on Downtown at all times," Fisfis said of his decision to become involved with the PDP.
He added that he still walks to work "from time to time," but follows all safety protocols upon entering the company building at 411 Seventh Avenue.
Coming Together to Support Downtown
The PDP is a nonprofit that tasks itself with creating unique programs to enhance the Downtown Pittsburgh experience for residents, workers and, of course, visitors.
Fisfis is quick to point out that both organizations are headquartered Downtown and that the success of DLC is connected to Pittsburgh.
"I look at the PDP as an opportunity in which we can be a vehicle to Downtown employees and the community by allowing them to take advantage of cultural events and other entertainment. Hopefully, it'll become more vibrant when we come out of COVID," he said.
Previous PDP and DLC Partnerships
The appointment of Fisfis to a board position isn't the first collaboration between DLC and the PDP. In 2016, DLC helped sponsor the "Energy Flow" display of lights on the Rachel Carson (Ninth Street) Bridge. DLC provided the labor for installing the lights while DQE Communications provided fiber technology to control and program the light displays on the bridge.
After its 18-month run, the lights from the display were repurposed and can now be seen decorating Garrison Place, off of Liberty Avenue near DLC's headquarters.
"We've been PDP supporters for a long time. I'm looking forward to continuing those types of efforts," he said.
A Light at the End of the (Pittsburgh) Tunnel
As the year progresses, Fisfis hopes that Pittsburghers "get more comfortable" with the rollout of COVID-19 vaccines and it leads to relaxed social distancing guidelines as the weather gets warmer.
"The PDP has some nice cultural events resuming this summer and into the fall," he said, "We want to draw people into the city and specifically Downtown for safe COVID-19 activities held outdoors."
Some of the plans involve a "pop-up" park at the intersection of Stanwix Street and Ft. Duquesne Boulevard, and the revamping of the Market Square Farmers Market. Saturdays in April will feature a "Car Bazaar" — similar to a yard sale, but vendors sell items out of the trunks of their cars in the parking garage across from Heinz Hall on Sixth Street and Penn Avenue. These events will also feature food and live entertainment.
David Fisfis: A Snapshot
Fisfis has been with DLC since 2011 when he was hired as general counsel and corporate secretary. At that time he oversaw legal services, compliance and internal audits. Since 2015, his responsibilities also have largely included managing the Rates group, energy policy and external affairs. Last year, he was given the added duty of business development.
Fisfis lives with his wife Downtown. They have three adult children: a daughter who is in college; one son who lives in Mt. Washington; and another son who, coincidentally, is a neighbor in the same building.
A season-ticket holder for both the Steelers and Pirates, Fisfis enjoys rooting for Pittsburgh pro teams. He also has attended several Penguins games since the team moved to PPG Paints Arena. He's a fan of the arts and enjoys live shows at the Benedum Center and Pittsburgh Public Theater, as well as Robert Morris University's "Pittsburgh Speakers Series" at Heinz Hall.
To learn more about the PDP and its mission, visit downtownpittsburgh.com.