DLC Sponsors Allegheny SolarFest; Shares Info About EVs, Interconnection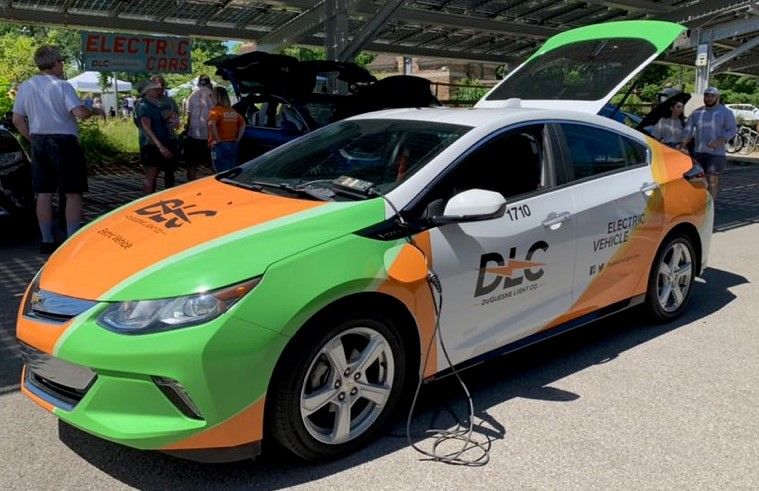 On Sunday, June 23, Duquesne Light sponsored and participated in the 5th Annual Allegheny SolarFest, a 100% solar-powered event that celebrates the power of the sun and provides attendees with a variety of information about how to go solar. This year's event, held at the Frick Park Environmental Center, featured an electric vehicle (EV) car show, food trucks, music and information on solar, energy efficiency, efficient solar home design, community solar projects and ways to strengthen Pennsylvania's renewable energy laws.
DLC employees provided attendees information about the financial and environmental incentives of owning an EV and answered questions about solar interconnection and net metering. Sarah Olexsak, Manager, Transportation Electrification, also provided brief remarks during the event.
​​
​"After surveying our customers, we understand that the more familiar someone is with an electric vehicle and its benefits, the more likely they are to consider buying one," said Olexsak. "Events like SolarFest bring our customers together with EV drivers and dealership representatives so they can check out some of the more than 40 EV models that are available and have their questions answered."
Look for Online Customer Education Tool Later This Year
Later this summer, Duquesne Light will introduce a customer education tool to its website, DuquesneLight.com. It will feature an electric vehicle search option, cost/incentive comparisons and a charging station finder. To learn more about DLC's electric vehicle efforts, visit the following link.