DLC Employees Volunteer in River, Trail Cleanup
Efforts Net 2 Tons of Trash and Debris along Ohio River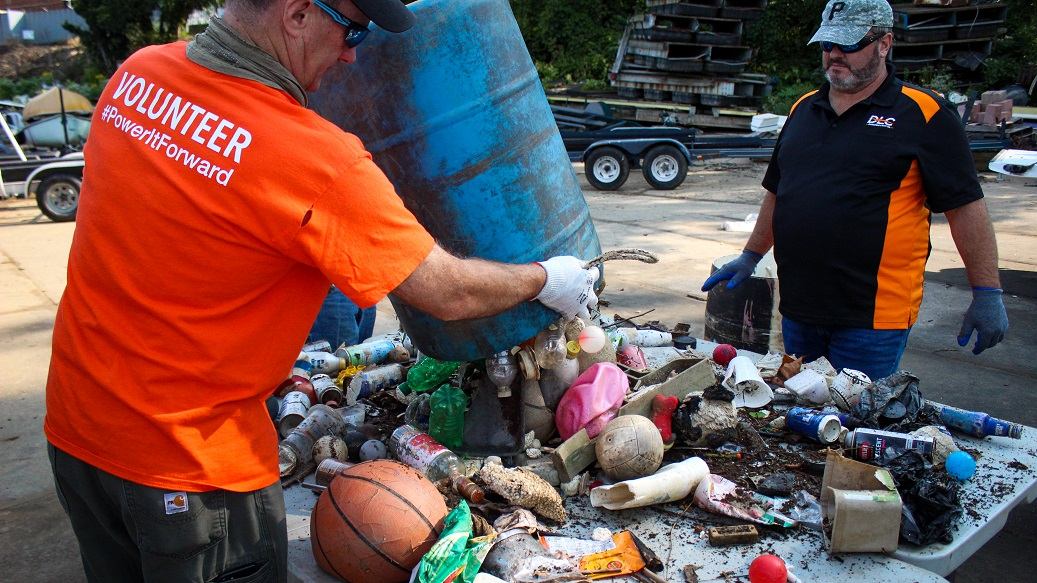 September 14, 2021
On Sept. 10, nearly 30 Duquesne Light Company (DLC) employees volunteered in the second annual River & Trail Cleanup.
In partnership with Friends of the Riverfront and Allegheny CleanWays, volunteers collected approximately 4,000 lbs. of trash along the Ohio River and Three Rivers Heritage Trail behind DLC's facilities on the Northside.
In addition to collecting trash along the trail and river banks, participants conducted a waste audit with Allegheny Cleanways to better understand which discarded items end up in local rivers. Volunteers also removed invasive weeds from the trail and near trees previously planted by DLC. New to this year's event, volunteers also planted a new pollinator garden at the trail entrance next to the company's facility. 
Volunteers from Duquesne Light Co. plant a pollinator garden along the Ohio River in the Northside on Sept. 10, 2021.
"We're grateful for this partnership," said Amy O'Neill, who works as development director for Friends of the Riverfront and Allegheny CleanWays. "During the past year, through multiple events, we were able to turn an overgrown area into a pollinator garden for everyone to enjoy."
From Branchport Beach Club to the Northside, participants collected trash of all sizes from both the trail and the river, including seven tires. Due to DLC's ongoing partnership and annual cleanups, this year's event compiled less waste compared to previous years.
Duquesne Light Co. volunteers assisted with a cleanup along the Ohio River on Sept. 10, 2021. Organizers said the event netted two tons of trash.
Kristina Kiraly, a meter specialist at DLC, won the prize for most interesting piece of trash found – a decomposing bowling ball.
"It was another great day of beautifying the trail and riverfront," said Andy Berchin, who serves as an environmental, health and safety associate at DLC. He was also one of the event's organizers.
Friends of the Riverfront was a Community Impact Grant recipient — DLC's latest microgrant program to support diverse, grassroots community organizations across our service territory. Learn more here.